Blueberry muffins are always a treat to wake up to and this recipe is simple and quick! Blueberries are super high in antioxidants, low in calories, fat free, a good source of fiber, sweet, delicious and irresistible.These blueberry muffins were not only appealing to the eyes, but also to the mouth.:)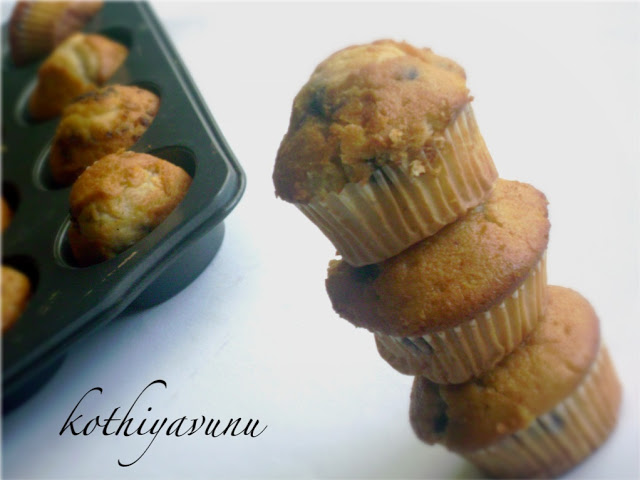 These blueberry muffins will go just as quick as you make them! I know there are lot of blueberry muffin recipes out there, and each person has his own take on it… so here is my version of it.
The recipe is adapted from a Martha Stewart baking book, named Martha Stewart's Baking Handbook! Nothing is more special than the extra special treat of this homemade blueberry muffin! Here it goes…
Recipe for Blueberry Muffins
Makes 12 standard size muffins
Ingredients :
All-Purpose flour : 11/2 cup
Whole Wheat Flour : 1/2 cup
Unsalted butter : 1 stick (at room temperature)
Baking powder : 1 1/2 tsp
Blueberries : 2 cups (fresh or thawed if frozen)
Salt : 1/2 tsp
Sugar : 1 cup
Eggs : 2 ( at room temperature)
Milk : 1/2 cup
Vanilla extract : 1 tsp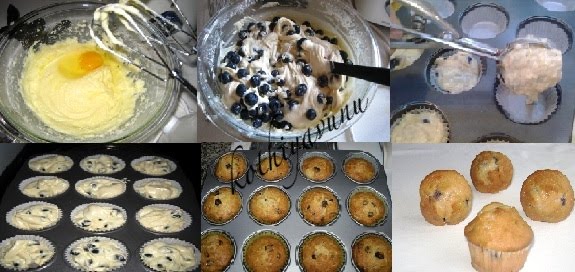 Method of Preparation :
1. Preheat oven to 375 degrees.
2. Grease and flour a 12-cup muffin pan by either using cooking spray or by buttering and flouring them, tapping out excess.
3. Whisk together the flour, baking powder and salt.
4. Using an electric mixer, beat butter and sugar until light and fluffy.
5. Beat in eggs one at a time and add vanilla extract.
6. Turn mixer speed to low and add flour mixture slowly until incorporated.
7. Add milk slowly and mix on low speed until just combined. Do not over mix batter (if you feel you did it, just let it rest for about 15 minutes before moving on).
8. Sprinkle the blueberries with a little bit of flour, no more than a teaspoon, just to coat them. Shake off excess flour. This step will prevent the blueberries from sinking to the bottom of the muffins.
9. Fold in blueberries carefully into the muffin batter and pour batter into prepared muffin cups. (Note : At this point you can choose to sprinkle them with some sugar to give an extra crunch and sweetness to them. I tried both ways and I prefer it without the extra sugar).
10. Bake for about 30 minutes. Test it by doing the toothpick test, it should come out clean if inserted in the center of a muffin.
11. Let cool and remove from pan, Serve and Enjoy!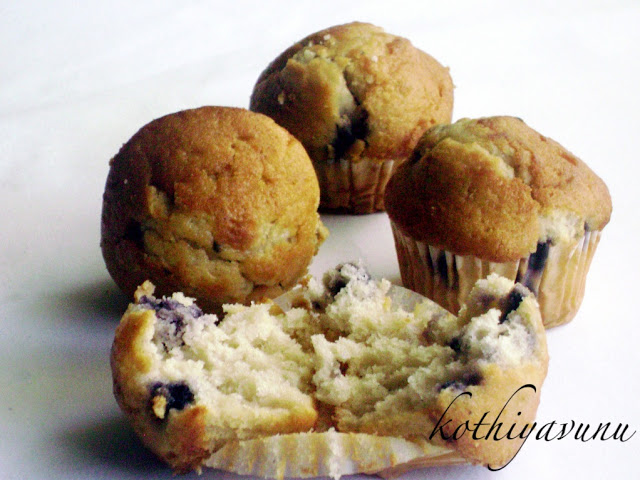 Check here for more Muffins recipes.
Happy Baking!
Sangeetha