Rezala is a royal dish originated in Bengal (India) and in Bangladesh as well. Rezala is incredibly known for its subtle flavours and tastes simply awesome.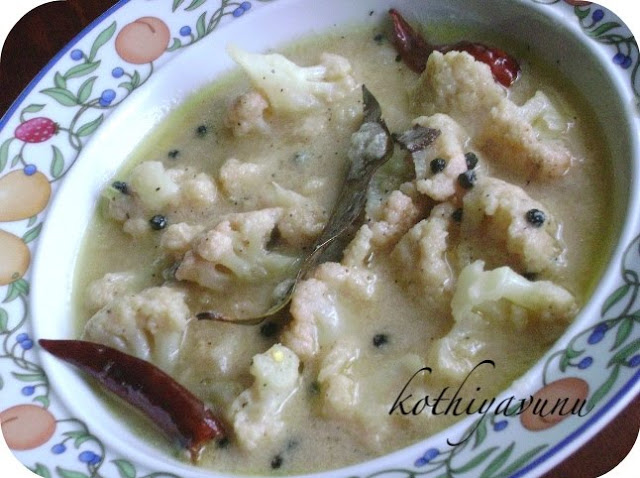 I came across this recipe at
Cooking and Recipes,
our ushinishda blog and followed the recipe exactly the same.Thank u ushinishda for sharing wonderful recipe with us. It pairs well with paratta or any roti varities…Do give a try and i am sure you will like it.:) For more Rezala recipe and its details check
here
.
Recipe for Cauliflower Rezala / Cauliflower in Yogurt and Spices Gravy
Ingredients
For Marinating :
Cauliflower : 1/2 of the 1 big (cut into florets)
Fresh thick yougurt : 1 cup /300 grms
Onion : 1 cup /300 grms
For the Gravy :
Bay leaf : 1
Clove : 2
Cardamom : 2 pods
Cinnamon : 1 inch piece
Freshly ground or crushed white or black pepper : 1 tsp
Sugar : 2 tsp
Salt to taste
For the Seasoning :
Bay leaf : 1
Cardamom : 3 pods
Clove : 3
Cinnamon : 1 inch
Dry red chili : 1-2
Black pepper corns : 1 tsp (heaped)
Ghee : 5 tbsp
For Garnishing :
Dry Red chili whole 5-6
Method of Preparation :
1. In a pan sauté the cauliflower for couple of minutes and keep it aside.
2. Blend the onion to a fine smooth paste.
3. Add curd to the onion paste and mix throughly in a blender or mixer.
4. Marinate the cauliflower with the grounded onion curd paste and the ingredients given in "For the Gravy" for 30 minutes. (Note : If you dont have time, proceed for cooking)
5. Add sugar and salt; bring to boil and cook covered for 5-8 minutes or untill its is done and adjust salt. (Note : Adjust water to get a thin and not so thick consistency)
6. Heat the ghee in a pan/ kadhai, add ingridents give in "For Seasoning". and saute for couple of minutes, as soon as the aroma comes, pour the seasoning into the cooked cauliflower gravy.
7. Cover and boil for 2 minutes and garnish with the dry red chilli.