Happy Krishna Janmashtami to all dear readers!
Janmashtami also known as Gokulashtami marks the celebration of the birth of Lord Sri Krishna. Sri Krishna was born in the 'Rohini' nakshatram (star) to King Vasudeva and Devaki Devi on the eighth day of the dark fortnight in the month of Sravana. This festival is also known as Sri Krishna Jayanti and Krishnashtmi. To know more about the festival see
here.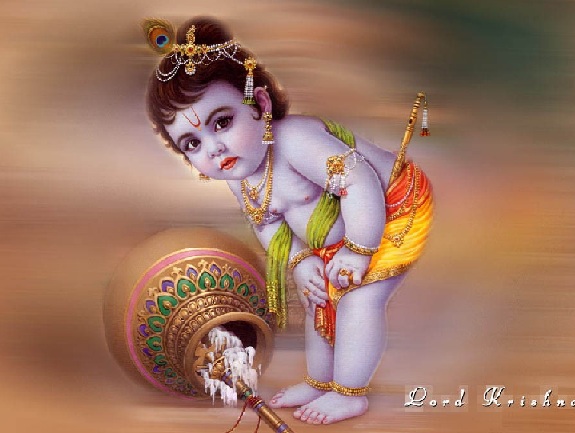 Lord Krishna is said to be fond of butter and sweets, so this day we prepare all sweets that are Lord Krishna's favourite. Crunchy snacks like cheedas and murukkus, and sweets like pal payasam or aval payasam, unni appam etc..are prepared. Cheeda/Seedai is a south indian recipe and it is a very famous snack made from deep frying rice flour balls.Cheeda /Seedai is known to create catastrophies in the kitchen,This snack is very easy to prepare. Though first time makers must be careful, if you don't make the dough right, the moment when you out the small balls in the oil, it will start bursting. Making cheeda has always made be nostalgic. It is little time consuming to make, but its worth all the effort..Now lets move to the recipe..


Recipe for Kaliyadakka/Cheeda /Uppu Seedai / Savoury Fried Rice Balls – Sri Krishna Janmashtami Special
Preparation Time : 8hrs for soaking the rice and 1/2 hr for preparing the balls

Cooking time : 15-20 minutes

Makes : 40-50 (depending upon the size of the balls)
Ingredient :
Rice Flour or Boiled Rice : 1 cup
Urad Dal Flour : 2 tbsp
White Sesame seeds : 1/2 tbsp
Grated coconut : 3 tbsp (freshly grated preferable)
Cumin Seeds : 1 tsp
Butter : 2 tbsp at room temperature
Salt to taste
Oil for frying


Method of Preparation :
1. Dry roast Urad dal in a pan, powder it using blender and sieve/sift well before making it into a dough.
2. If using boiled rice soak the rice for 8 hrs and grind it along with grated coconut and mix all other ingredients well without adding water or if your using rice flour then mix all the ingredients together and slowly sprinkle water and start preparing thick tight dough. Do not add too much water else it will splatter when deep frying.
3. Once the dough is ready, Take a very little piece of the dough and roll using your palms into a small round to the shape of small marbles and leave them in a clean cloth for few min's so that excess water is absorbed.
4. Use a tooth pick and make a hole in each ball. This helps to avoid bursting.
5. Heat oil to deep fry, first drop 2-3 balls and do a test..if that doesn't pop then go ahead and drop a bunch of balls into the oil and deep fry them.
6. Toss them so that they are evenly fried. When they turn golden brown remove and drain onto a tissue. Fry the rest and store in sterilised air tight containers when completely cool.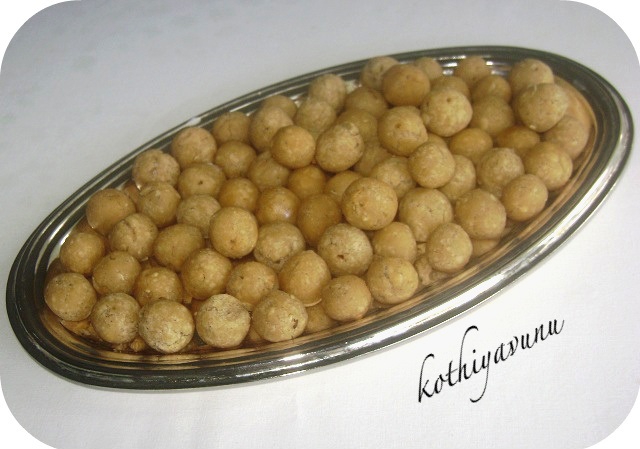 Caution and Notes :
Grind the urdu dal flour to very fine powder, even a little coarse grain will make balls burst out in the oil when deep frying.
If your using frozen grated coconut thaw it well.
Using excess water to make the dough can also cause the cheeda's/seedai's to burst.
Make a hole with a toothpick on each ball before deep frying. It will help the balls from bursting.
When deep frying, as always keep the fire on a low to medium flame, otherwise the outside will cook fast and become black but the inside will remain uncooked.
These are ones i know, Experienced persons may please share your variations or any other reasons
for the bursting and tips to avoid it happening. I will update them here!
Check here for more Krishna Janmashtami recipes.
Pal Payasam /Chawal ki Kheer
Unniappam /Neyyappam /Sweet Rice Fritters
Mango Coconut Burfi
Milk Sweet /Milk /Doodh Peda
Motichoor Ladoo /Motichur Ke Laddu
Boondi Ladoo
Mullu Murukku
Kalakand
Gulab Jamuns
Aval Varattiyathu /Aval Vilayichathu /Sweetened Beaten Rice Flakes
Aval Nanachathu /Sweetened Beaten Rice Flakes
Aval Payasam /Poha Kheer
Happy Krishna Janmashtami!
Sangeetha