How about Choora Meen Thoran-Tuna Thoran -Kerala Style -Tuna Stir Fry with Coconut?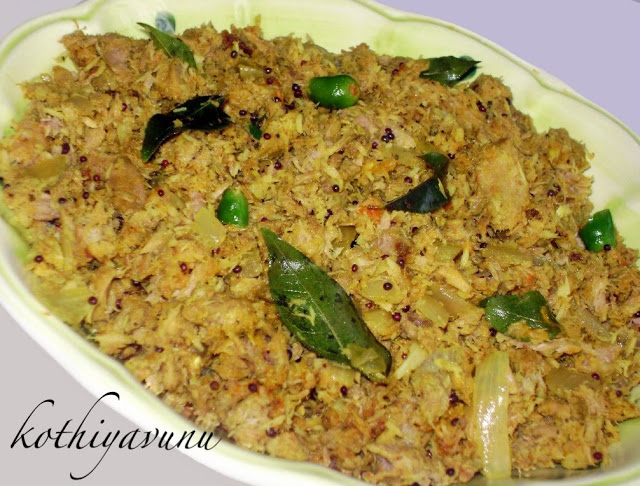 Thoran is a dry dish traditionally made of a finely chopped vegetables mixed together with grated coconut and briefly stirred on a pan over a hot fire. Non-vegetarian thorans are also equally popular ones.
Fish Thoran -Meen Thoran is such an easy and versatile dish, made using any kind of fish, here I used Tuna-Choora as we call in Malayalam (Malayalam is a language spoken in Kerala, South India.) Tuna thoran is a dry side dish made using canned tuna or fresh tuna and grated coconut. Apart from being very tasty it is very healthy and easy to prepare. This is one recipe that my mother used to make often at home and I love it, especially with Ayila-Indian mackerel.
Let's see how Kerala Style Tuna Thoran is made in my mom's kitchen. Hope you will like it, as much as my family did.
Other Non-Vegetarian Thoran-Stir Fry & Tuna Recipes You Might Like
 Chicken Thoran-Chicken Stir Fry
How to make Choora Meen Thoran-Tuna Thoran Recipe| Kerala Tuna Stir Fried with Grated Coconut
Choora Meen Thoran-Tuna Thoran Recipe
Easy & Healthy! Tuna thoran is a dry side dish made using canned tuna or fresh tuna and grated coconut.
Ingredients :
Can of Tuna : 1 (or) Fresh Tuna fillet : ½ kg /1.1 lb
Shallots/Small Red onions : 5-7 (chopped)
Green chillies : 2-3 (slit lengthwise)
Garlic : 1 tsp (chopped)
Ginger : 1 tsp (chopped)
Grated Coconut : 4-5 tbsp
Turmeric powder : ¼ tsp
Red Chilly powder : ½ tsp
Garam masala or Chicken masala : ¼ tsp
Mustard seeds : ½ tsp
Curry leaves :1 sprig
Oil : 2 tbsp
Salt to taste
How to Make :
Squeeze out all the water or oil from the canned tuna or if your using fresh fish, cook the fish with turmeric powder, salt and water. Cool and shred fish meat finely, remove the bones and keep it aside.
In a pan heat oil and splutter mustard and curry leaves.
Add chopped shallots,chopped garlic,ginger,green chilly, few curry leaves and saute well till the onion become translucent.
Add all the spice powders and mix well.
Add the canned tuna or add the cooked sherred fish meat and saute for a while, (Note : Canned tuna is already cooked, so we don't have to cook it before.)
Cook covered in medium-low flame for 5 minutes. Finally add grated coconut and rest of the curry leaves, mix well and cook uncovered in a medium flame for about 5 minutes. Keep stirring and drizzle little oil, if its sticking to the bottom remove from the fire. Serve with steamed Rice or Roti /Chappati. Enjoy!
Notes
Prepare the thoran using coconut oil, if you want the authentic Kerala taste.
You can use any fresh or frozen fish fillets like King fish, Indian Mackerel, Shark, Seer fish, Sardines or Anchovies.
Those of you who have not tasted it, do give a try and enjoy this
Kerala Style Tuna Thoran -Choora Thoran
. Don't forget to let me know your opinion.
Happy Cooking!
Sangeetha
Like this Recipe? Sign up, and get more recipes delivered directly to your inbox.