Lemon rice is a speciality of state of Tamilnadu (South Indian). This is a tangy,delicious and highly aromatic rice preparation with a distinct lemony flavor.Lemon rice is easy to whip up when you are short on time.
Pickles
,
Papads
and
Chutneys
can be a great combinations to add on. If you like lemony flavor, this is for you.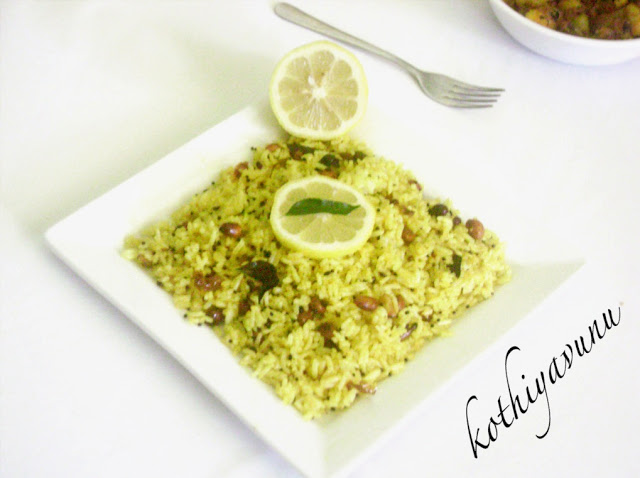 Lemon Rice Recipe – Elumicham Sadam Recipe


Ingredients :
Rice : 1 1/2 cups ( Any Indian variety rice, like basmati)
Urad dal /Split black gram : 1 tbsp
Chana dal /Split gram : 1 tbsp
Fenugreek seeds : 1/2 tsp
Dried red chili : 2-3 (Broken into two)
Peanuts : 1/2 cup
Mustard seeds : 1/2 tsp
Turmeric powder : 1/2 tsp
Lemon juice : 3 tbsp
Freshly grated coconut : 1 tbsp (optional)
Asafetida : a pinch
Curry leaves : a sprig
Cooking Oil : 2 tbsp
Salt to taste


Method of Preparation :
1. Clean and soak the rice for about 30 minutes. Drain the water and boil the rice in salted water until almost done. Rice gets cooked in its own steam when left covered. So it is best to leave it slightly uncooked. Drain and keep aside.
2. Heat some oil in a nonstick pan, add the mustard seeds, when its starts to splutter add asafetida, red chillies and toss them for minute.
3. Add the urad dal, chana dal, and methi seeds ans saute for about thirty seconds till the lentils turn light brown.
4. Toss in the peanuts, throw in the curry leaves and stir in the turmeric powder. Stir-fry for another thirty seconds.
5. Now you can add the cooked rice. Toss the rice in the pan so that the spices mix evenly in the rice. Ensure that the rice is evenly yellow.
6. Add salt and lemon juice and toss the rice again. As a finishing touch, garnish with grated coconut.Serve and Enjoy!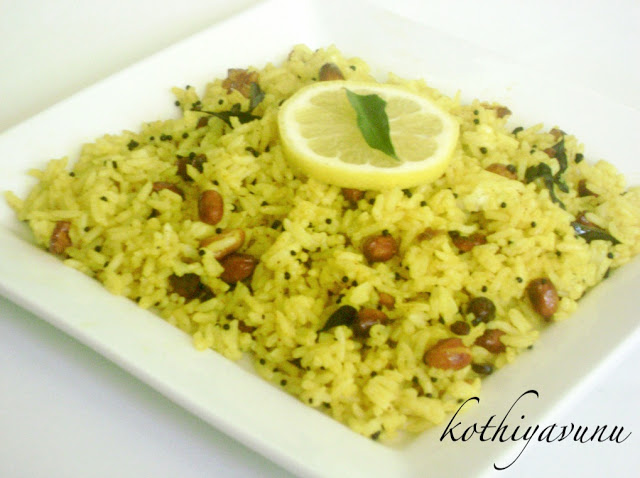 Notes :
You can even use cooked rice from the previous meal to make lemon rice. With pre-cooked rice, your cooking time is reduced to less than 10 minutes and while tossing the rice in the skillet, do not scrape the bottom of the vessel. The rice at the bottom hardens and should not be served.
Some prefer to boil lemon juice and do the seasoning to mix with rice. I add lemon juice in the last without heating it, this helps retain vitamin C of lemon.