Malaysian Chicken curry or Kari Ayam in malay is a typical chicken curry cooked in almost all malaysian homes. Many malay dishes revolve around a Rempah, which is a spice paste or mix similar to an Indian Masala. Rempahs (curry paste) are made by grinding up fresh or dried spices and herbs to create a spice paste which is then sauteed in oil to bring out the aromas.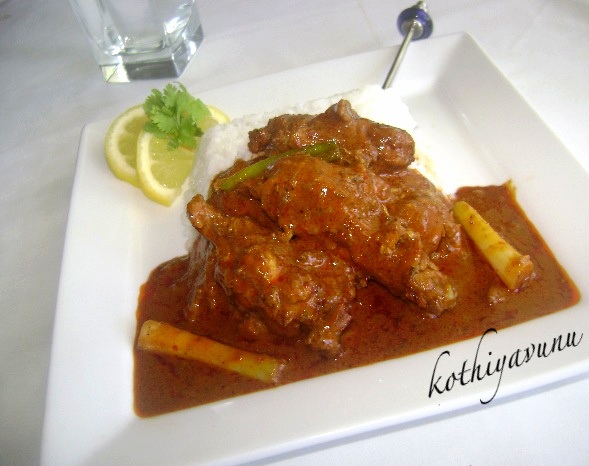 The addition of coconut milk makes it milder.This combination of herbs and spices gives the dish an authentic Malaysian flavor and keeps it nutritious.
Do give a try and enjoy this Malaysian Chicken curry as much as we did !


Recipe for Malaysian Chicken Curry /Kari Ayam
Preparation Time : 10 mins

Cooking Time : 45 mins

Serves : 4


Ingredients :
Chicken Thigh and Breast : 1 1/2 lb / 2.5 kg (cut into small cubes/pieces)
Lemon grass : 2 stalks (Fresh, cut into 4-inch lengths, use only the white part, pounded)
Kaffir lime leaves : 6-8 piecies
Coconut milk : 1 1/2 cup
Lime juice : 1 tbsp
Salt to taste
Vegetable Oil : 2 tbsp

For Malaysian Spice Paste /Rempah :


Whole Dried Red chilli or Guajillo/New Mexico chiles : 5 nos or about 1/2 lb wiped clean, stemmed, and seeded (Using Guajillo makes it milder and gives nice colour red color to the curry)
Whole Coriander seeds : 1 tbsp
Whole Cumin seeds : 2 1/2 tsp
Whole Fennel seeds : 2 tsp
Cinnamon stick : 1/2 inch piece
Candlenuts or Whole macadamia nuts : 4-6 nuts
Shallots /Small Onion : 5 (sliced)
Galangal : 1 1/2 inch piece
Ginger : 2 1/2 tsp minced ( (from about 1 inch knob)
Garlic : 4 cloves roughly chopped
Fresh turmeric : 1/2 inch or substitute with turmeric powder : 1 tbsp
Method of Preparation :


1. Soak the chiles with cold water for 10-20 minutes or until softened. Drain and blot dry and set aside.
2. In dry medium skillet over moderate heat, dry roast coriander, cumin, and fennel seeds and cinnamon stick for 5 minutes or until fragrant. Stir/ toss constantly to make sure the spices don't burn.
3. Transfer to spice grinder or mortar and pestle and process to fine powder.
4. In mortar and pestle, food processor, or blender, combine spice powder, soaked chiles, macadamia nuts, shallots, ginger, galangal, garlic, turmeric, and 2 tbsp of water and purée until mixture becomes smooth paste.
5. Cut off and discard top of each lemongrass stalk, leaving 6-inch stalk, then smash stalks with side of large heavy knife. Cut each stalk into 1-inch pieces.
6. In large saucepan over moderate heat, heat oil. Add spice paste /Rempah and sauté frequently until quite toased and oil starts to ooze from paste, it takes about 5 minutes. (Note : Do not burn the spices)
7. Sprinkle chicken pieces with salt and add to pan.
8. Sauté chicken stirring occasionally for 5 minutes. Now add lemongrass and coconut milk and bring to boil.
9. Reduce heat to moderately low and simmer, uncovered, stirring occasionally, until chicken is just cooked through 30-35 minutes. (Note : If sauce separates during cooking, stir in water 1 tbsp at a time, to bring sauce back together)
10. Transfer chicken to serving bowl and sprinkle with roasted coconut. Serve hot with Roti Canai,
Chapathi
,
Parotta
or White Rice and Enjoy!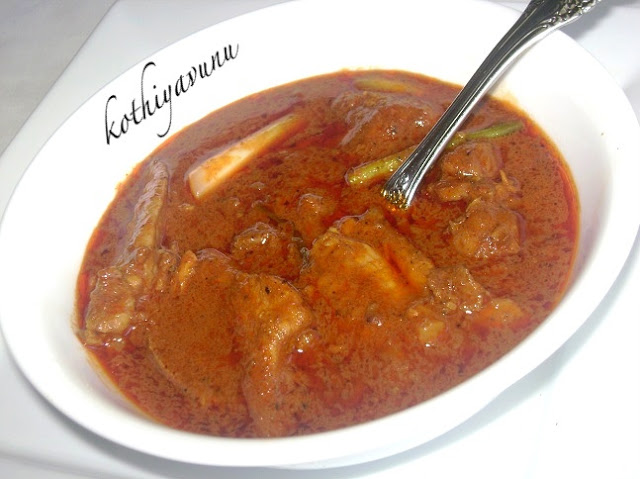 Notes :
Additional ingredient may be added : Potatoes, Belacan (fermented shrimp paste), Fresh curry leaves and can substitute with beef, lamb/goat, turkey and pork.
If you prefer spicier dish, then add 1-2 tbsp red chili powder when blending the spices.
Click here for more Chicken recipes
Happy Cooking!
Sangeetha