Paratha by itself is very healthy, if it is with the flavor of avocado isn't sounds more healthy and delicious!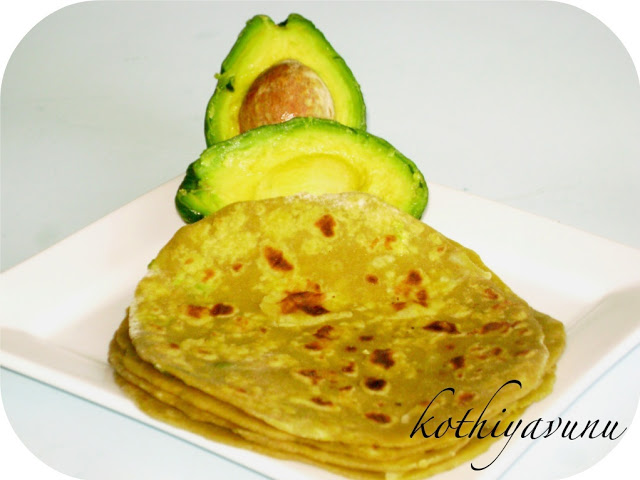 We all know avocados provide nearly 20 essential nutrients, including fiber, potassium, Vitamin E, B and folic acid. It is colloquially known as the Alligator Pear, reflecting its shape and the leather-like appearance of its skin. There are so many fabulous ways to use it…so here i am sharing avocado paratha, which is a perfect way to enjoy the goodness of avocado. Ripe avocado is mashed up and mixed with wheat flour along with other spices to form a soft dough. This delicious parathas make a wonderful heavy breakfast or brunch. Great to enjoy at home and also for travel. Those of you who have not tasted it, do give a try and you will be hooked.:-)
Avocado Paratha Recipe / Avocado Chappathi /Indian Flat Bread with Avocado
Makes 10-12 paratha's depending on the size


Ingredients :
Whole Wheat Flour : 2 cups
Ripe Avocado : 1
Onion : 1/2 of one medium (grated)
Green chilles : 2-4 or to taste (finely chopped)
Garlic : 6-8 pods (grated)
Lemon Juice : 1 1/2 tbsp
Coriander leaves /Cilantro : few (finely chopped)
Salt to taste
Water as required.


How to make Avocado Paratha-Avocado Chappathi :
1. Cut a ripe avocado around the seed and twist, which will separate them into two halves. Using a spoon scoop out the flesh in a bowl.
2. Add the grated onion, garlic, chopped green chillies, chopped cilantro, lemon juice, pinch of salt to the scooped avocado and mix well until they are well incorporated
3. Add this mixture to the wheat flour, combine everything to a crumbly texture. (Note : Avocado has inherent moisture content, that helps the dough to mould well, so add water as needed)
4. Add water little by little and knead to make a soft dough, cover and let it rest for 30 minutes.
5. Now take the wooden board and sprinkle some flour on the board to avoid sticking.
6. Roll out the dough ball evenly in a nice round shape or desired shape of your choice.
7. Heat the tava griddle on medium flame,when the pan is heated.
8. Place the paratha and when the dough becomes lightly dry on side flip over to other side and cook till it puffs up (Note : If it takes time to puff up, just flip it over every few sec.)
9. Smear up some ghee/oil to the paratha.
10. Serve hot with any
subzi
of your choice & Enjoy!!!
Check here for more Avocado recipes


Avocado Mini Facts:
Checking Ripeness : Gently press the avocado with your thumb. If it's unyielding, like a rock, then it's not ready yet. If your finger easily sinks into the side, then it's overripe. What you want to feel is a slight yield when you press. Stay away from avocados that are too soft as they may already have roots sprouting inside them.


Preserving the Other Half : Want to save half of an avocado? Save the half with the pit still embedded. Squeeze some lemon juice over the surface and wrap as tightly as you can with plastic wrap and then store in an airtight bag or container for up to two or three days.
Good Day!
Sangeetha