Liver fry is very popular dish in South India. Liver is an excellent source of dietary iron and it's healthy too. Especially the mutton liver is a very nutritional one.
This is a spicy dry preparation and is strongly flavoured with the spices. If you need it milder, you may adjust the spiciness by increasing or cutting down amount of pepper powder.This is a very simple and delicious dish to serve over white rice or with any
Indian bread
.
Here goes the recipe for all liver lovers!
Spicy Liver Fry Recipe – Karal Varuthathu Recipe – Eeral Varuval Recipe
Preparation Time : 30 mins
Cooking Time : 20 mins
Serves : 4


Ingredients :
Chicken Liver /Mutton Liver /Beef Liver : 1/2 kg /1 lb (I have used chicken liver)
Shallots / Small red onion : 1/2 cup (finely sliced) or Onion : 1/2 cup (finely sliced)
Garlic : 1 tbsp (crushed)
Ginger : 1tbsp (crushed)
Green Chillies : 7-9 (slitted) or to your tolerance level
Turmeric Powder : 1/2 tsp
Red Chill Powder : 1 tbsp (or to your spice level)
Black Pepper Powder : 1 tbsp (Freshly grounded, add or reduce according to your taste & spice level)
Garam Masala Powder : 1 tsp
Cumin Powder : 1/4 tsp
Curry Leaves : handful
Coconut oil : 1 tbsp
Salt to taste
How to make Liver Fry Recipe – Karal – Eeral Varuthathu :
1. Cut liver into small sizes cubes, Take a bowl add live pieces into it, add 1/2 tsp turmeric powder or 1 tbsp of vinegar or with little milk to it and soak it for 30 minutes; clean and wash them well for 2-3 time with water and drain it in a strainer so that all blood and water drains out. Keep it aside. (Note : Livers have a strong, distinctive flavor and soaking in vinegar, turmeric powder or in milk makes the taste milder and also it helps remove any left over toxins and blood from the liver).
2. Heat oil in a pan, add curry leaves and crushed garlic, ginger and saute for couple of minutes now add the sliced red onion/shallots and green chillies, saute until it turns to translucent and golden brown in color.
3. Add all the dry spices powders and fry till oil separates.
4. Add the cleaned liver pieces; mix and toss it till all liver pieces combines well with masala (3 minutes approximately).
5. Pour in 1/4 cup of water, cover and cook on medium heat for 6-8 minutes or till all the water evaporates.
6. Optional – Add some freshly ground pepper if you want it little spicy and some more flavor.
7. Add coconut oil, salt and fresh curry leaves and dry roast it in medium heat till browned up.(5 minutes approximately)
8. Delicious liver fry is ready. Serve with steamed
rice
or with
Naan
,
Paratha
,
Roti
and Enjoy!
Notes :
Liver should not be cooked for too long or in too much water. so care should be taken when cooking the liver. Once it is overcooked the liver pieces will become rubbery texture.
When cooking liver always remember to add the salt when the liver is half cooked that helps liver to turn very tender and soft.
Add or reduce pepper powder, chili powder according to your taste.4. Using freshly ground pepper adds to it taste and I prefer to use shallots instead of onions as it gives a great flavor to dish.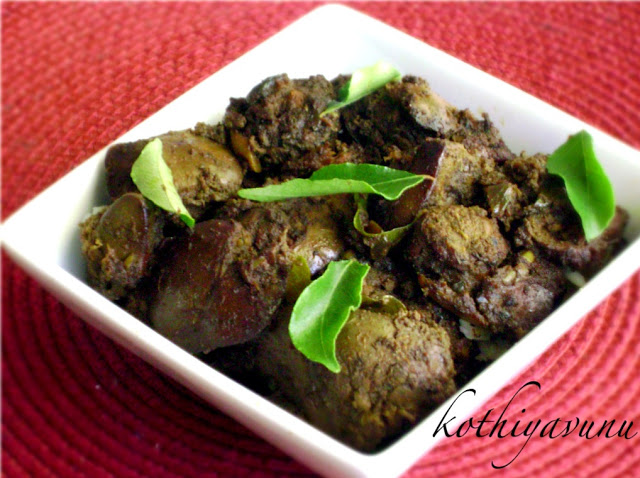 Check here for more Non Vegetarian Side Dishes.