Hope you all are having a wonderful day,wherever you are. The dish I present today is Malai Kofta Curry.
The word "Kofta" is derived from the Persian word "Kufta", which means "to beat" or "mince" the raw meat. It is available in both vegetarian and non-vegetarian. There are endless variations out there like Lauki Kofta, Palak Panner Kofta, Shahi Aloo Kofta, Malai Kofta, etc..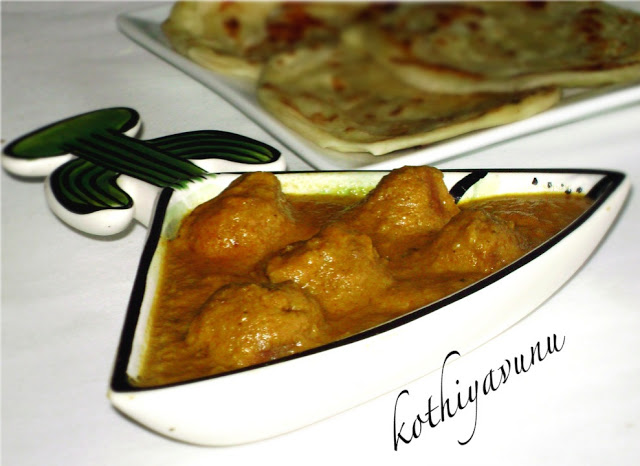 One of the most popular, favoured and delectable kofta preparations of all time is malai kofta, its spicy and soft cottage cheese (Paneer) dumplings which are deep fried and then simmered in a rich tomato gravy laced with butter and topped with cream. This is a dish I often call for at restaurants.
This an excellent side dish for parties and goes well with all kinds of
Indian breads
and rice preparations like
Pulao,
Fried Rice
,
Ghee Rice.
While the preparation time and the procedure may apparently seem tedious, it is really worth a try!
Here is how I made it..try this delicious recipe and enjoy its taste as it lingers on your tongue and your senses!
Malai Kofta Recipe – Cottage Cheese Dumplings Simmered in Creamy Sauce
Ingredients :
For Kofta :
Panner : 1 cup (shredded)
Potato : 1 (large, bolied and mashed)
Mixed Vegetables (Carrot, Beans & Green Peas, etc) : 3/4 cup (boiled & mashed)
Green Chillies : 2-3 (finely chopped)
Cashew /Pista or Almonds & Raisins : 1/4 cup (chopped)
Coriander Leaves /Cilantro : few (chopped)
Garam Masala : 1/4 tsp
Corn Flour /All-Purpose Flour : 1 tbsp
Oil for Frying
For Gravy :
Onion : 2 (large, food processed or finely, chopped)
Tomato Puree : 2 cups or Tomato : 2 nos (finely, chopped)
Ginger-Garlic paste : 1 tbsp
Turmeric Powder : 2 pinch
Coriander Powder : 3 tsp
Red Chilli Powder : 1 tsp
Cumin Powder : 1/2 tsp
Garam Masala : 1/2 tsp
Fresh Cream /Malai : 1/2 cup
Black Cumin /Sahi Jeera : 1/2 tsp
Warm water : 1/2 cup
Oil : 2 tbsp
Salt to taste


For Cashew Paste : (Optional)
Cashew nuts : 4 nos
Poppy Seeds : 1/4 tsp
Milk : 3 tbsp
Cream /Malai : 1 tbsp


How to maka Malai Kofta :


For the Cashew Paste:
1. Soak poppy seeds,cashews in milk for 1/2 hour and grind it along with malai to make a paste. (Note : this step is optional)
For Kofta : (Makes 6 koftas)
1. Mash the potatoes, mixed vegetables, paneer and mix together. (Note : Squeeze out all excess water from the above mixture)
2. Add the chopped green chillies, corainder leaves, garam masala and salt to this mash and mix well. (Note : The resulting dough should be firm. If not add some bread crumbs)
3. Divide them into equal proportions, stuff each portion with little raisins and chopped cashew nuts. Seal them properly and roll into perfect round shape.
4. Coat it with some cornflour or all purpose flour and keep it aside.
5. Heat the oil on a medium flame in a frying pan. Deep fry these rounds till pale golden in colour and drain the excess oil on paper towels and set it aside.
For the Gravy :
1. Heat 2 tbsps of oil in a deep pan, add the chopped onions, little salt and saute until moisture is evaporated and till light brown in color.
2. Add ginger garlic paste andsaute for couple of minutes.
3. Add
tomato puree
or chopped tomatoes and cook until oil separates from the mixture. Switch off and let cool the mixture.
4. Grind them into a fine paste and keep aside.
5. Now again, heat remaining oil and add sahi jeera /black cumin, add the onion tomato paste along with all spices powders and salt, saute till the oil begins to separate from the masala.
6. Add 1/2 cup of warm water to this masala to form a sauce/gravy and mix well. (
Note :
The gravy/sauce for this should be thick so do not add too much water)
7. Bring the sauce/gravy to a boil and then reduce the fire to a simmer.
8. Add fresh cream /Malai. (Note : If you don't have cream add little milk and mix fast with out curdling)
9. Now add the cashew paste and simmer for another 5 minutes until the oil separates.
10. Add finely grated paneer that will give good creamy texture and mix well, remove from the fire.
11. Arrange koftas in a serving dish and pour hot gravy on top, garnish with freshly stirred cream, chopped cilantro and serve immediately (Note : Put the koftas in the gravy just before serving, or else they will become soggy)
Do not soak the koftas in the gravy for long time, this makes them absorb all the water in the gravy and becomes soggy so the koftas should be put in just before serving the dish.
Sometimes while deep frying koftas tend to break part if the dough is too soft. So always try a small portion first see how it turns out, add the bread crumbs if necessary, to bind them together and coat them with corn flour/all purpose flour.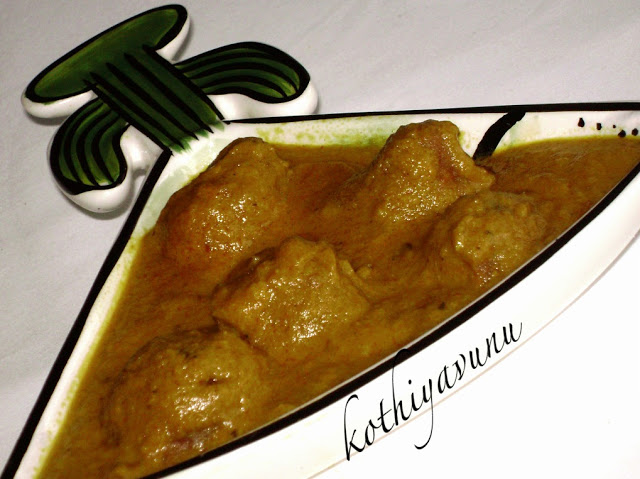 Check here for more Vegetarian Gravies and Curries.
Have a Great Day All!
Sangeetha