Oatmeal is a staple in a lot of our homes, it's high in fiber which aids in digestion and allows you to feel fuller, longer. While the health benefits of oatmeal may be irrefutable, the taste might not appeal to everyone. Fortunately, there are several ways you can customize your oatmeal to improve the taste. so I thought of sharing a oatmeal bread with u all.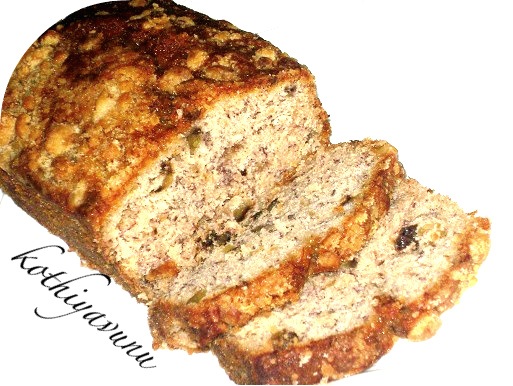 This recipe is adapted from Baking: From My Home to Yours by Dorie Greenspan, or read here. Dorie describes this bread as "lightly spiced, fruit-speckled, almost pudding soft." Yum…So needless to say that this bread is really soft and lightly spiced and a healthy breakfast or snacking; perfect for an afternoon spot of tea or coffee. The best part was it's very easy and moist with a fabulous crunchy topping and tons of flavor! Give a shot and Enjoy!
Oatmeal Breakfast Bread Recipe
Preparation Time : 10 mins

Baking time : 1 hour

Makes : 12 servings
Ingredients :
Light brown sugar : 1/4 cup (packed)
Walnuts /Pecans : 1/4 cup (finely, chopped)
Ground cinnamon : 1/4 tsp
For the Bread:
Old-fashioned oats : 1 cup
All-purpose flour : 3/4 cup
Whole Wheat flour : 1/2 cup
Buttermilk /Whole milk : 1/4 cup
Eggs : 2 large
Unsweetened applesauce : 1 1/4 cup
Flavorless oil : 1/3 cup (such as canola or safflower)
Baking soda : 1/2 teaspoon
Ground cinnamon : 3/4 tsp
Freshly grated nutmeg : 1/4 tsp
How to make Oatmeal Breakfast Bread Recipe :
In a small bowl, using your fingers, toss together the sugar, chopped nuts and cinnamon until evenly mixed and set aside.
To Make the Bread:
1. Center a rack in the oven and preheat the oven to 350 degrees F.
2. Butter a 9-x-5-inch loaf pan, dust the inside with flour and tap out the excess. Put the pan on a baking sheet
3. Whisk together the eggs, applesauce, oil and buttermilk until well blended.
4. In a large bowl, whisk together the flour, sugar, baking powder, cinnamon, baking soda, salt, nutmeg and cloves. Remove 1/2 teaspoon of the mix and toss it with the fruit, just to coat; set aside.
5. Stir the oats into the bowl. Pour the liquid ingredients over the dry and, using a large rubber spatula, stir just until everything is evenly moistened- this is a case in which less is more, so don't overdo the mixing.
6. Scatter the dried fruit over the batter and stir to blend.
7. Scrape the batter into the pan and sprinkle over the topping, tamping it down very lightly with your fingers so it sticks.
8. Bake for 50-60 minutes, or until the bread is beautifully browned or until a toothpick inserted into center of the loaf comes out clean.
9. Transfer the bread to a rack to cool for about 5 minutes, then run a knife around the sides of the pan and unmold. Invert and cool to room temperature right side up.
10. Serve and enjoy with cup of tea!
Click here for more Bread recipes.
Happy Baking!
Sangeetha