In Kerala cuisine, there are so many plantain recipes you will come across. Among those, Plantain fritter or Pazham Pori – Ethakappam has been the popular and the favorite snack of Keralites.
Pazham pori – Plantain fritters is made out of a special variety of plantain called "Nendrapazham" which is highly nutritious and good source of potassium and vitamins A & C.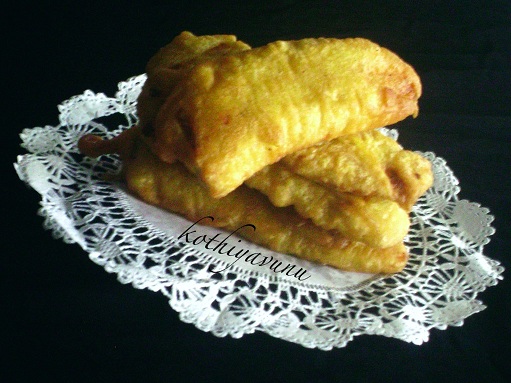 The plantain slices dipped in sweetened flour and then deep fried in oil.This snack is common street item in Kerala and one of the fastest and hot selling snacks in trains.This snack is often fried in most of the homes and relished by all along with a cup of steaming tea or coffee. It's also a very tasty, fast and easy to make. Add it to your snack menu this week, either for your family or as a party dish for your friends!
Pazham Pori Recipe | Ethakka Appam Recipe | Ripe Plantain Fritters Recipe

Ingredients :
Ripened Banana /Nendrapazham : 1 large
All Purpose Flour /Maida : 3/4 cup
Rice flour : 3 tbsp
Milk : 2 tsp
Turmeric powder : a pinch
Sugar : 2 tsp (adjust accordingly to the sweetness of plantain)
Salt : a pinch (just to adjust the sweetness)
Cardamom : 2 pods (Crushed , optional)
Baking Powder : a pinch (optional)
Oil for frying
How to make Pazham Pori | Ethakka Appam | Ripe Plantain Fritters:
1. Peel the banana skin and cut into two.Take one potion and cut into thin slices lengthwise. (3-4 pieces)
2. Mix the remaining ingredients except oil together with enough water and make it into a smooth batter. (Note : The batter should be in a medium thick consistency, care should be taken not to form lumps)
3. Now heat a shallow frying pan and pour oil.
4. Dip the banana pieces thoroughly in the batter and slowly arrange them to frying pan.
5. Fry the banana and turn it over till crisp and golden brown color and drain in paper towels.
6. Serve with cup of tea or coffee and Enjoy!!

Cheers!
Sangeetha