Wishing you all a very Happy and Prosperous Diwali !
Diwali or Deepawali has emerged as the most popular of all Hindu festivals. It's the festival of lights. The word deep means light and avali means a row (i.e) a row of lights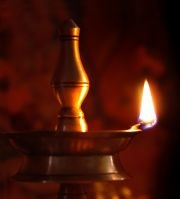 This auspicious day symbolically marks the triumph of good over evil or knowledge over ignorance for Hindus all over the world. In India, where the festival is celebrated on a huge scale. It's marked by four days of celebration, each of the four days in the festival of Diwali is separated by a different tradition, but what remains true and constant is the celebration of life, joy and goodness.To know more about the festival see
here
. Traditionally gifts would be exchanged throughout Diwali as an expression of love and affection, these would often be sweets, religious idols, or coins. So here is my gifts to you all…
Ras Malai is a traditional popular Indian dessert which said to be originated in state of orissa on the east coast of India. Rasmalai literally translates into liquid (Ras) and clotted cream (malai). Rasamalai are dumplings made out of cottage cheese bathed in sugared milk. The milk is flavored with pistachios, saffron or rosewater. It is rather rich in taste but extremely satisfying for any dessert connoisseur.This delicious dessert is sure to make an impression! Enjoy!
Rasmalai Recipe /Cheese Dumplings in Sugared milk
Preparation Time : 30 mins

Cooking time : 60 mins

Makes 12
Ingredients :
For Malai Dumplings :
Milk : 4 cups
Lemon juice : 2 tbsp dissolved in 1 tbsp of hot water
Sugar : 1 1/2 cups
Water : 4 cups
Cardamom powder- 1/4 teaspoon
For Ras (the rasmalai syrup)
Milk : 3 cups or use 2 cups half and half milk ( for creamy rasmalai)
Sugar : 1 1/4 cups or to your taste
Sliced almonds and pistachios : 1 tbsp
Cardamom powder : 1 tsp


How to make Rasmalai | Indian Famous Dessert Rasamalai :
For Malai Dumplings :
1. Heat milk in a heavy bottomed over medium-high heat, stirring frequently and bring it to boil for about 8-10 minutes.
2. When it starts boiling, add the lemon juice slowly and stir the milk gently. and wait for the milk to curdle completely.
3. Remove from the heat and let it cool for about 3-5 minutes.
4. Once the milk fat has separated from the whey, Pour over a thin muslin/cotton cloth and tie it with a tight knot. On straining this milk, the curd is obtained is called "paneer".
5. Wash paneer well using muslin cloth under cold running water and squeeze well to remove lemon juice flavor.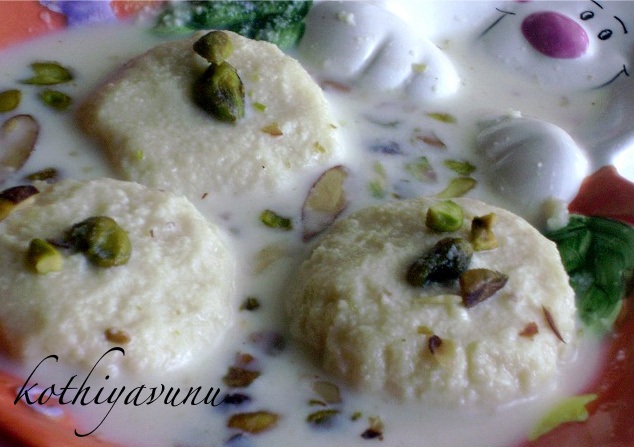 6. To take out the excess water squeeze the cloth, or press the wrapped paneer under a heavy pan for about one hour (Note : To check if enough water is out of the paneer, take a little piece of paneer on your palm and rub with your fingers. After rubbing the paneer for about 15-20 seconds, you should be able to make a firm but smooth ball.If the paneer is too dry, add a few drops of water, using the water squeezed from the paneer)
5. Knead paneer for about 5-7 minutes to make a smooth dough.
6. Make round shape flat balls of about 1 inch in size (8-10) of the dough and keep aside.
7. Next make sugar syrup. Mix sugar, water and cardamom powder in a saucepan and bring it to boil.
8. Add paneer balls to the hot syrup on a medium heat and cook for about 15-20 minutes with lid partially covered.
9. Remove the paneer malais from the sugar syrup carefully and let it cool.
For Ras (Rasamalai Syrup) :
1. Add milk in a saucepan and bring it to boil. Boil this on over low flame for about 10-12 minutes.
2. Now add sugar, cardamom powder and bring it to boil for about 3-5 minutes.
3. Keep on stirring continuously, until it is reduced to thick consistency.(It should be reduced to 2 cups of milk).
4. Let the milk cool down for about 3 minutes. Then add malais one by one to the milk mixture and garnish with almonds and pistachios.
5. Refrigerate for about 6-8 hours.
6. Serve chilled and Enjoy!
Click here for more Sweets recipes.
Happy Diwali !
Sangeetha