The leftover citrus peels are tossed out in the garbage by most of us, but there are plenty of alternative uses for the peels. Best of all, the most popular candied citrus peel is a great way to use leftover peels, especially if you are already puttering around in the kitchen making..say..Fruit Cakes, Cookies!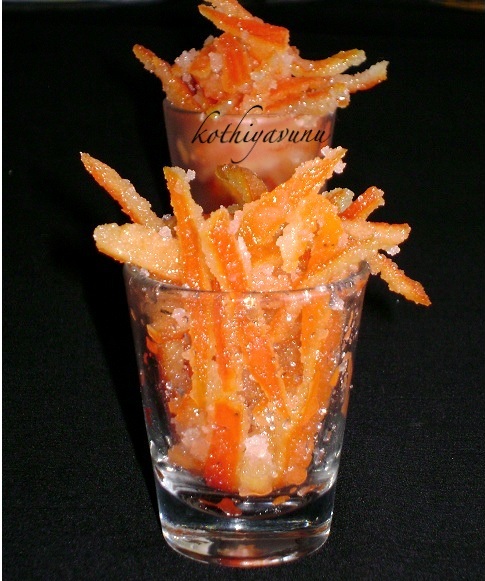 Candied orange peel is the skin or peel of an orange that has been preserved in a sugar syrup. Believe it or not, Freshly candied citrus peels are superior in flavor, relatively cheap, incredibly simple, easy and tastes great. Since the homemade candied peels tastes so much better than store-bought I definitely think it's worth the trouble. These make for a delicious, best alternative to most candies for kids and adults alike. They're also good in recipes for anything that uses candied fruits or you can eat the candied citrus peels plain..YUM or cover them in chocolate and see what happens 🙂
Recipe for Candied Orange Peel
Ingredients :
Oranges : 4 thick skinned, medium-sized
Sugar : 2 cups + 1/2 cup to coat zest strip
Water : 1 cup
Optional :
Butter : 1 tbsp
Dark or Semisweet Chocolate Bits : 1/2 cup
Method of Preparation :
1. Scrub the oranges well to remove any residue.
2. Using a vegetable peeler, trim the zest from oranges. Take care to not take off the pith, that's the white stuff. (Note : If you get some of the white pith, just scrape it off with a small paring knife).
3. Cut zest strips lengthwise to create thin julienne strips. (Note : The strips can vary in width depending on whether you intend to use them as a bakery ingredients or to garnishes cut 1/8 " wide or to dip in melted chocolate cut them 1/2″ wide).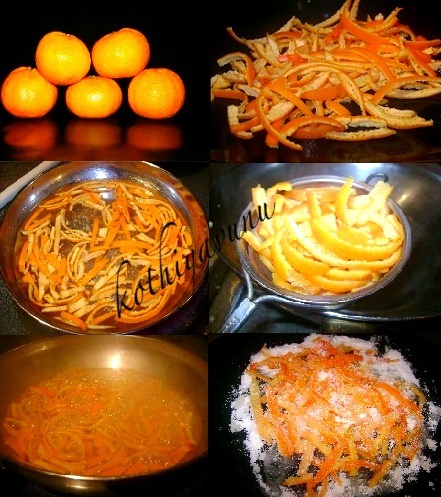 4. Place the peel in a small sauce pan and cover with cold water.
5. Bring to a boil. Simmer for 10 minutes, then drain. Repeat this process two more times. (Note : The skin has oil glands that hold all the aroma and flavor of the citrus. So the peel is repeatedly blanched in fresh hot water to reduce the bitterness from the pith without removing any of the aromatic oils from the skin).
6. Drain the peels for a second time and set aside.
7. Add the cold water and sugar to the saucepan and bring to a simmer, stirring until the sugar dissolves. When the sugar dissolves add the lemon and orange peels.
8. Continue to cook over low heat until the lemon strips turn translucent. The water and sugar should be starting to thicken. Cooking time will be approximately 10 to 15 minutes. (Note : Watch near the end to make sure the sugar doesn't caramelize).
9. When done cooking, remove strips from pan with a fork and roll them in powdered sugar.
10. Spread on baking racks or on a sheet of wax paper to dry, making sure strips are not touching each other. Let them dry well for at least an hour. You may need as much as two hours. Keep them there until they are good and dry to the touch.
11. It will take a day or two for the peel to dry completely. Once dry peels will keep for a couple of months in an airtight container.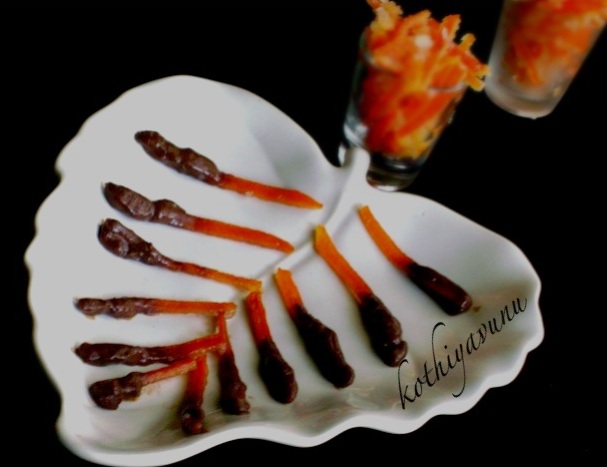 Varations : Take some of them and dip them into melted semisweet or dark chocolate for a different taste. The orange peels are especially good with dark chocolate. Melt 1 tbsp. of butter and add 1/2 cup of dark or semisweet chocolate bits. Dip the peels into it one at a time coating them about half way up. Use your rack and clean waxed paper to dry these also. They need to dry completely. Once the peels are dried, you can store them for several weeks but the chocolate will lose its gloss in about a week.
Tips :
1. Remove as much of the white pith as possible before boiling the peels, it can add a bitterness if left on. Also make sure to cook the peels long enough–you want them to be very tender (use a sharp knife to determine tenderness)
2. This method will work with any combination of citrus fruits, such as lemons, limes, grapefruit, tangerines, tangelos, or any other.
3. If you like, store the leftover citrus syrup for a few weeks in a container in the fridge and use it as a base for frosting or ice cream, or over fruit salad, or pancakes.
Recipe Source : Various internet sites
For more Dessert Recipes check here