Do chocolate truffles really need introduction??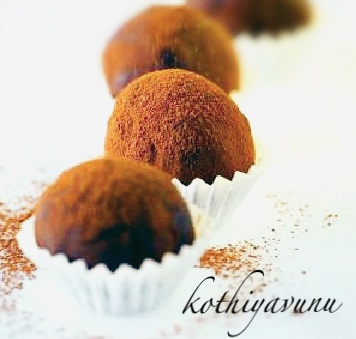 It's chocolate!!! Rich and elegant, but they are surprisingly easy to make at home. This irresistible desserts that will make you a welcome guest at any holiday party. Here u go for all chocolate lover. Do give a try and enjoy this Chocolate Truffles as much as we did !
Chocolate Truffles Recipe
Preparation Time : 10 mins + Time to set : 2 hrs
Cooking Time : 15 mins
Makes : 30-35 Truffles
Recipe : Adapted from Joy of Baking
Ingredients :
Butter : 2 tbsp
Heavy whipping cream : 1 cup
Bittersweet Dark chocolate : 1 pound /455 grms
Any liqueurs or flavorings.( Frangelico, Grand Marnier, etc) : 2 tsp (optional)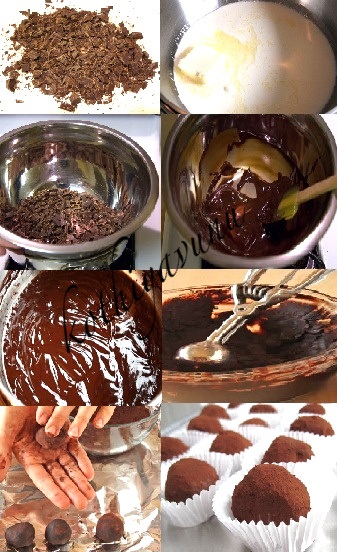 How to make Chocolate Truffels :


1. Cut the chocolate into pieces using a large serrated knife. Small, uniformly sized pieces will make melting the chocolate evenly easier.
2. Place the butter and cream in a medium non-stick saucepan.
3. Heat the cream and butter over medium low heat until small bubbles formed at the sides of the pan.
4. In the meantime, place your chopped chocolate in the top of your double boiler. Place the double boiler over low heat. (Note : Don't forget to fill the bottom of your double boiler with water. If you don't have a double boiler, you can improvise with a saucepan and a bowl).
5. Melt the chocolate over the hot water (not boiling). Stir the chocolate until completely smooth when the chocolate turns to shiny.
6. Pour the heated cream into the melted chocolate mixture and stir until smooth.
7. Add your liquor or flavoring if desired.
8. Remove top portion of the double boiler and allow it to cool on a rack for one hour or until room temperature. Cover with plastic wrap and refrigerate for four hours or until set.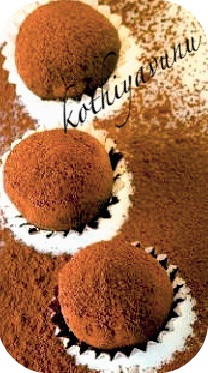 9. Once the ganache has set, by using ice cream scooper or teaspoon or a melon baller, scoop the chocolate and roll it into balls. Pour cocoa (or garnish of choice) on to a large plate for rolling the truffles.
10. After you have rolled the truffle into a ball, roll the truffle in cocoa powder or your desired garnish and set aside
11. Once you are finished rolling the truffles, Place them to the refrigerator for storage. Allow them to set for several hours or overnight.
Notes :
For more variations you can dip in chocolate for a crunchy coating or roll the truffles in hazelnuts (good if using Frangelico), roll in coconut, roll in sprinkles.
Be sure to select a chocolate that you enjoy the flavor, for a more kid-friendly try semi-sweet chocolate.
Truffles store very well. They can be refrigerated for a couple of weeks or frozen for several months.
Check here for more Dessert Recipes.

Cheers!
Sangeetha