Dum Aloo is classic and popular Kasmiri dish. Dum means slow cooked over very low heat in the steam generated in a covered pot and aloo means potato. Dum Aloo is commonly prepared with Baby Potatoes- the small sized potatoes. Kashmiri Dum aloo – a mildly spiced dish of baby potatoes cooked in a yogurt based curry.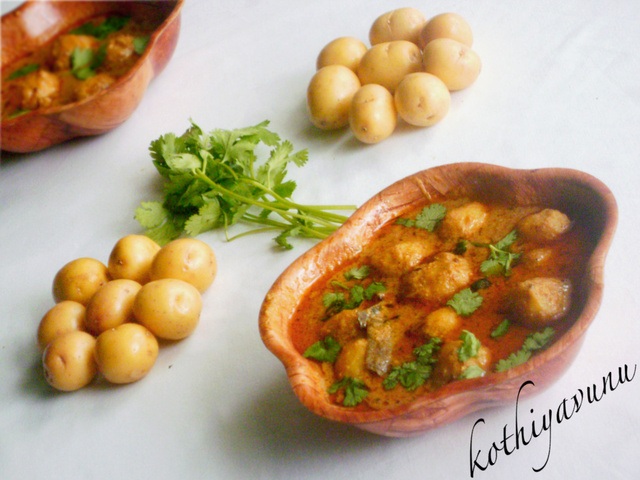 Here, I have baked aloo instead of deep frying as asked by traditional recipes which makes this dish healthier. You can also choose between cooking it in the traditional method (stovetop), or popping it in the oven – either way, it's delicious. I have tried making Dum aloo in both ways, i perfer baking the potatoes and it works best for me. It can be served as a main course, along with rice,
Naan
,
Poori
,
Chapatti
, or as a side dish.
Makes a healthy side dish for everyday weekday meals, but can also be served at a party or potluck where its fragrance and color will be sure to steal the show! Enjoy!
Recipe for Kashmiri Dum Aloo /Dum Aloo /Baby Potatoes in Yogurt Curry
Preparation Time : 15 minutes + (Optional) Soaking Chillies 2-4 hrs
Cooking Time : 30 minutes
Serves : 4-5
Ingredients:


Baby potatoes : 15-20 or 1 lb
Dried Red Chillies (Guajillo) : 2 or 2 tsp of Kashmiri Chilli Powder
Shallots : 1 cup (finely sliced)
Green Cardamom : 4 pods
Black Cardamom : 1
Cinnamon : 2 inch stick
Cloves : 2
Garlic : 2-3 cloves (finely, chopped)
Ginger : 1 tsp (finely, chopped)
Turmeric Powder : 1/2 tsp
Coriander powder : 2 tsp
Fennel powder : 2 tsp
Cumin Powder : 3/4 tsp or if your using cumin seeds, dry roast gently and ground into a powder
Garam Masala : 1/2 tsp
Tomato puree : 1/4 cup or Tomatoes : 2 (finely chopped)
Yogurt: 1 cup
Oil : 2 tbsp
Salt to taste
Method of Preparation :
1. Soak the chiles with 2 cups of cold water for minimum 2-4 hrs. With spoon press and stir the chilies to maximize the redness of chili water, strain or if your using kashmiri chilli powde mix it with 2 cups of water.
2. Peel, wash and mix a teaspoon of salt in a bowl of water (about 3 cups). poke the potatoes gently all over with a fork and then soak in this water for 15-20 minutes and drain and wipe dry.
3. Line a baking tray with aluminium foil and grease it. Place aloo on tray and drizzle 1 tbsp oil on them.
4. Bake them at 250 degree C till it is roasted and reddish brown on the top or if you want to try in traditional way then boil the potatoes with their skin and peel the skin and poke the potatoes gently all over with a fork. Heat the oil and deep fry the potatoes until crispy and golden brown in color. remove and set it aside.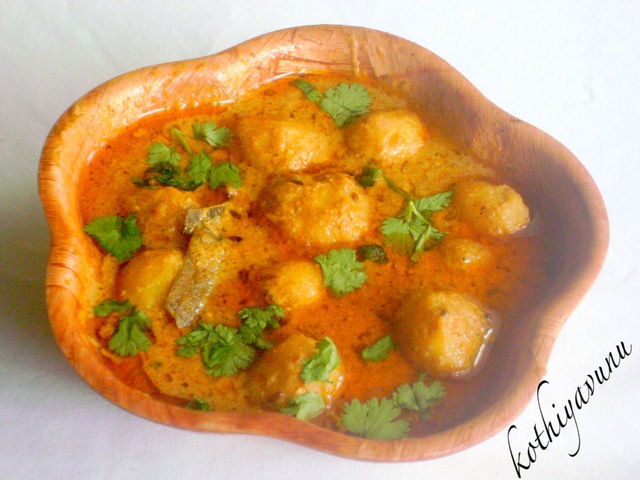 5. Whisk the yogurt and keep it aside.
6. Heat oil on medium heat in a large pan and add cinnamon, cloves, green cardamom,black cardamom and garlic and saute for couple of minutes.
7. Now add the sliced shallots and saute till it turns to medium brown.
8. Add chopped ginger, turmeric,coriander, fennel powders and saute well for couple of minutes. (Notes : Be careful not to burn the spices)
9. Add the whisked yogurt and mix well stirring continuously till the yogurt mixes completely in the gravy, now add the tomato puree and saute for 2 minutes.
10. Add the chili water (Note : Adjust the consistency with water), salt to taste and baked or fried potatoes.
11. Cover with tight lid and seal the edges of the pan with the dough to ensure no steam can escape. Put on the stove, cook on a low flame for 10-15 minutes or Preheat oven to 350 F /180 C and place the sealed pan in preheated oven and cook for 10-15 minutes.
12. Turn off the flame or take it out from the oven, remove the cover and add the cumin and garam masala powders, and close it with lid again quickly. Leave it for 5 minutes.
13. Serve hot with Naan , Poori, Chapatti,or rice and Enjoy!