Tandoori chicken is a is a speciality dish of Punjab (NorthWest India) but is now popular throughout the country and in Indian restaurants abroad. Tandoori chicken is traditionally cooked in clay oven called tandoor, but it can be prepared in conventional oven or on a barbeque oven. A tandoor is a large round deep clay oven that has a lid rather than a door; In shape and size it is similar to a large amphora. Hot coals or charcoal is placed in the bottom to heat it.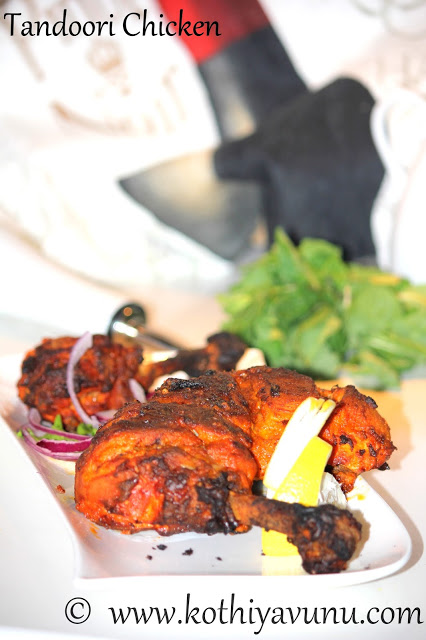 My Tandoori chicken recipe is not made in the traditional Tandoori oven, I used conventional oven to make this..The chicken is marinated in a yogurt seasoned with some spices. This tantalizing Tandoori chicken makes the perfect dish to serve company. Or just whip it up for your family-it will fast become an everyday chicken favorite!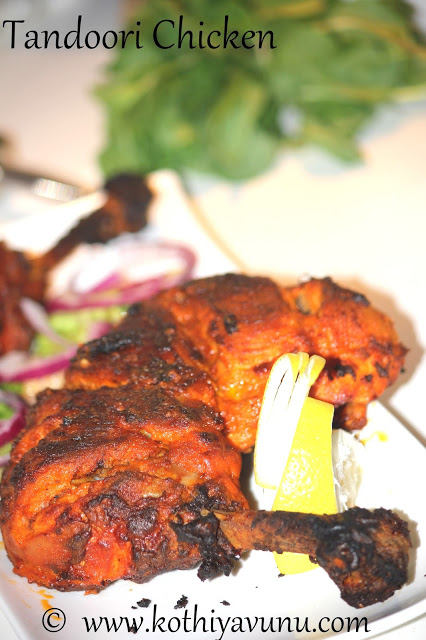 Tandoori Chicken Recipe


Ingredients :
First Marinade :
Chicken Whole : 800 grm /1.7 lb or 8 leg pieces /Drumsticks
Lime Juice : 1 tsp
Kashmiri chili powder : 1 tsp
Ginger-Garlic paste : 1 1/2 tsp
Salt to taste
Second Marinade :
Ajwain : 1/2 tsp
Gram flour : 4 tbsp
Yogurt : 1 cup
Kashmiri Chilly Powder : 2 tsp
Mustard Powder : 1 tsp
Ginger Garlic Paste : 2 tsp
Garam Masala Powder : 1/2 tsp
Kasoori Methi Powder : 1/2 tsp
Mustard Oil : 4 tbsp (I have used olive oil)
Salt to taste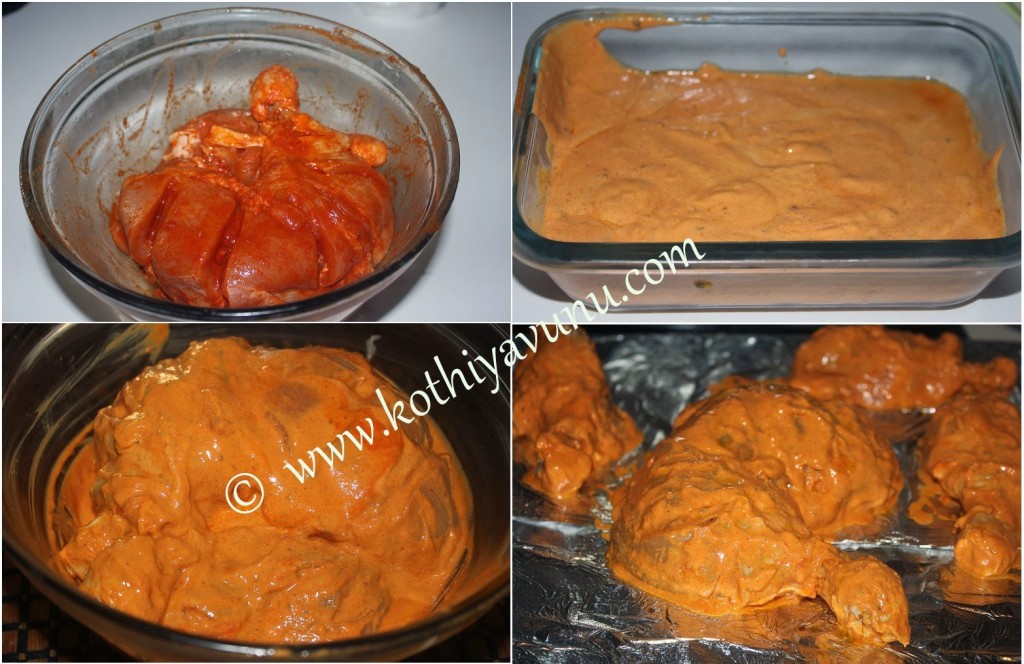 How to make Tandoori Chicken :
1. Prick the flesh of the chicken all over with a fork. Using a sharp knife, cut slashes in the flesh to allow the marinade to penetrate. If your using chicken legs then make 2-3 deep slits on the fleshy part of the chicken legs till close to the bones. Place the chicken in a large shallow dish.
2. Mix the ingredients listed in first marinade and massage the chicken on all sides using your hand into the slits and massage it well. Place them in the refrigerate for 20-30 minutes.
3. Heat 2 tbsp of mustard oil and add ajwain seeds, gram flour and roast it in a slow flame for a minute till you get a nice aroma. (Note : Care should be taken not to burn the gram flour;  the best way is to stir continuously and take the pan off the heat, back to the heat time and again). Allow this to cool.
4. Meanwhile mix the ingredients listed in the second marinade except the oil along with the cooked gram flour paste, salt to taste and finally add the oil and stir until well-mixed.
5. Pour the mixture over the chicken and rub it into the slit, turning the chicken several times and cover and leave it in refrigerator for 8 hours or overnight. (Note : More you marinate better the taste. Do not marinate for longer than 2 days). Remove the chicken from the refrigerator at least 30 minutes before cooking.
6. The chicken may be grilled or roasted. If using a charcoal grill, prepare a fire for direct-heat cooking. Position the grill rack 5 inches from the fire. Allow the coals to burn until white ash covers them and the heat is moderate.
7. Remove the chicken from the marinade, pressing lightly to extract excess marinade, and brush with oil. Place the chicken pieces on a well-oiled grill rack and; grill, covered, with the vents open, turning 3-4 times, 45 minutes or until the juices run clear when a piece is pierced near the bone with a knife.
8. If roasting, preheat the oven to 500 degrees F.  Place an aluminum foil on a baking tray, brush with oil  and place the marinated chicken and bake for 10-15 minutes; take out the tray carefully using your oven mitts. Turn them over and baste it with marinade using a brush or a spoon, return to oven and bake again  for 10 mins until the juices run clear, after baking, broil high it for about 5-8 minutes again turning the sides in between or until the juices run clear when a piece is pierced near the bone with a knife.
9. Serve with sprigs of cilantro and slices of cucumber, onion, and lemon wedge and enjoy!
Notes :
Temperature setting and cooking time may vary depending on oven so adjust the timing accordingly.
In restaurants tandoori chicken are red in color. They add color, but i don't prefer adding color rather I would add more Kashmiri chilli powder for the color and it's always better to avoid the color and eat it with the natural golden color.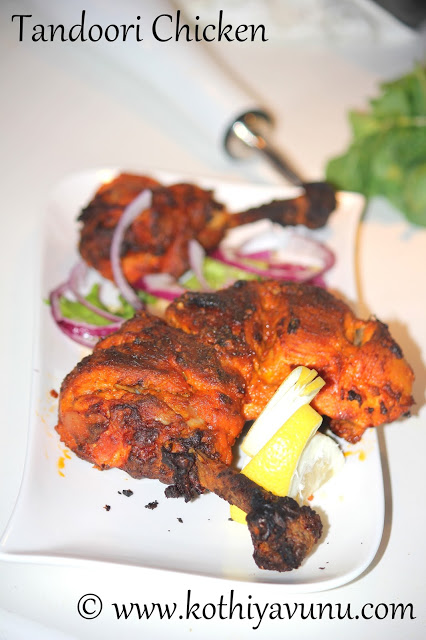 For more Chicken recipe check
here
Happy Cooking!
Sangeetha