Meat Pie!! Australians love meat pies. Australian Meat pie is a hand-sized meat pie made with minced meat in gravy covered with pie crust on the bottom and puff pastry on the top and its often consumed as a takeaway food snacks.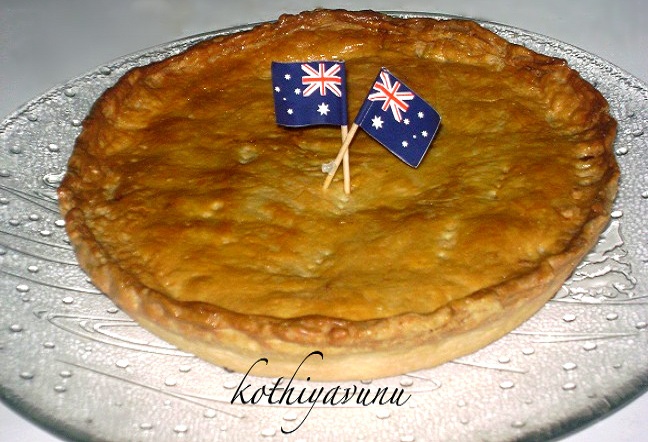 My Australian friends always talks about the foods he misses back home. I thought I would give surprise to them so I searched high and low for a recipe that i could make for them and found the recipe here. I tried it and they came out great. My friends loved it and got the thumbs up from them on the first bite!!! This is a Keeper..Whether you're hosting a festive party or a casual get-together with friends, this Aussie's Meat Pie will make entertaining easy!


Recipe for Australian Meat Pie


Serves 4-6


Ingredients :
For Gravy :
Ground Beef : 1 lb / 1/2 kg
Onion : 1/2 (finely chopped)
Tomato Ketchup : 1/4 cup
Worcestershire Sauce : 1 1/2 tsp
Beef Bouillon Cubes : 2
Oregano : 1/2 tsp
Ground Nutmeg : a pinch
Black Pepper to taste
Plain Flour : 3 tbsp
Puff Pastry : 1 sheet (For individual pies, 2 sheets of each pastry will be required)
Water : 1 cup (divided)
For Short Crust Pastry : (Makes one 9″ pie crust)
All Purpose-Flour : 1 1/4cup
Cold Unsalted Butter : 1/2 cup (cut into small pieces)
Ice cold Water : 4-5 tbsp
Salt : a pinch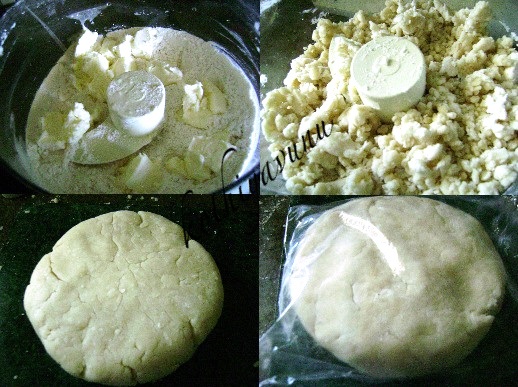 Method of Preparation :



For Short Crust Pastry :
1. In a blow mix flour,salt and butter. Rub flour and butter together with finger tips until the mixture resembles course bread crumbs. Add water a small amount at a time while stirring. The dough should be fairly stiff or If your using food processor, in work blow whisk together the flour and salt, add the unsalted butter, cut into cubes and pulse three times with three counts per pulse to lightly mix the ingredients.With the motor running, pour ice water into the workbowl just until the dough just starts to get noticeably crumbly.
2. Knead the dough on a lightly floured surface using your hand, till everything comes together and make a ball.
3. Roll ball into disk (
Note :
Be careful not over knead dough) cover with a plastic wrap and refrigerate for 30 minutes to 1 hour.
Rolling the Pie Crust :


1. Use a piece of parchment paper sprinkled with flour, sets the dough down and rolls it from the center out toward the edges, rotating the dough after every stroke. Ideally, you can see little pieces of butter in the dough, that means the dough hasn't been overworked and that your crust will be light and flaky. (Note : Rolling on parchment because makes dough to spin it around and can lift the edge of the paper to ease your dough onto your rolling pin when you need to move rolled dough into the pan).
2. Stop rolling when the crust reaches about 1/8 inch thick and is at least an inch bigger than the edges of your pan.
3. Roll up the dough onto the rolling pin, then lets it unfold off of the rolling pin into the pie pan.
Making Filling :
1. Pre-heat oven at 400 F/250 c degree.
2. In a large pan, brown meat and onion over low heat.
3. Add 3/4 cup of the water, bouillon cubes, tomato ketchup, worcestershire sauce, pepper, oregano, and grounded nutmeg.
4. Bring to the boil and simmer 15 mins.
5. Blend flour with the remaining 1/4 cup water until it becomes a smooth paste.
6. Add to the meat and bring to the boil stirring continuously, boil for 5 minutes or until thickened then let it cool.
7. Add the cooled filling mixture to pie pan (Note: If the filling is hot, the pastry will go soggy.) moisten edges of pastry with water, then top with puff pastry pressing down gently to seal edges and trim edges.
8. Brush pastry with a little milk or with beaten egg yolk.
9. Fork all around the center of the pie. This allows steam to escape and helps the pies rise evenly. If the steam is trapped inside, the pastry will go soggy.
10. Press down with fork around rim to close up the two halves of the dough and then press down with you finger for decoration.
11. Bake in oven for 15 minutes and then reduce the temperature to 350 F /225 C degree and bake for 25-30 minutes or until golden brown.
12. Serve warm with tomato sauce and Enjoy!!
Notes : To make it more healthier you could stir in some vegetables like carrots, corn, peas etc. I guess you could use any ground meat.
Click here for more Baking Recipes.
Happy Baking!
Sangeetha