Thoran is a tradtional Kerala (South India) stir fry with grated coconut and spices. Thoran can be made using various vegetables like cabbage,carrot, beans etc… it is very easy to make and is an ultimate side dish with steamed rice.
Here i am sharing Pumpkin Stir fry /Mathanga Thoran filled with tons of nutrients. Not only do pumpkins have an understated taste that lends itself well to a variety of dishes, they also offer a host of health benefits.This wonder vegetable is very low in calories yet good source of vitamin A and C, and lots of minerals, including magnesium, potassium, and iron…Try and incorporate some pumpkin into your diet and reap the health benefits of this fantastic vegetable!
Recipe for Mathanga Thoran /Upperi / Pumpking Stir Fry


Ingredients :
Pumpkin : 1 cup (cleaned and chopped into small cubes)
Shallots /Small onion : 4-5 nos (crushed)
Turmeric Powder : 1/4 tsp
Crushed Chilly flakes : 1 tsp
Grated Coconut : 2 tbsp
Mustard Seeds : 1/2 tsp
Curry leaves : 1 sprig
Coconut oil : 1 tbsp
Salt to taste
Method of Preparation :
1. Heat coconut oil in the pan and splutter mustard seeds.
2. Add crushed shallots, crushed chilly flakes, curry leaves and saute until shallots turns golden brown.
3. Now add the grated coconut and saute for few seconds.
5. Add the chopped pumpkin, turmeric powder and salt along with 1/2 cup of water.
4. Cook over low flame till its done. (Note : Do not over cook the pumpkin)
5. Remove from fire and serve hot with steamed rice and Enjoy!!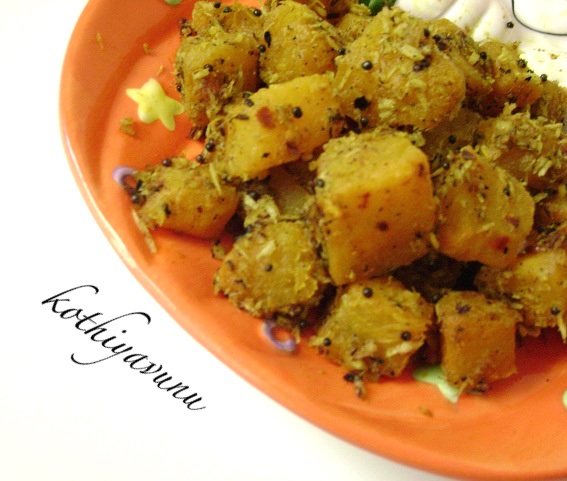 Click here for more Pumpkin recipes
Good Day All!
Sangeetha