Yet another popular recipe "Fish cutlet" (A flat croquette). A patty of chopped fish with mashed potatoes and coated with bread crumbs and then deep fried.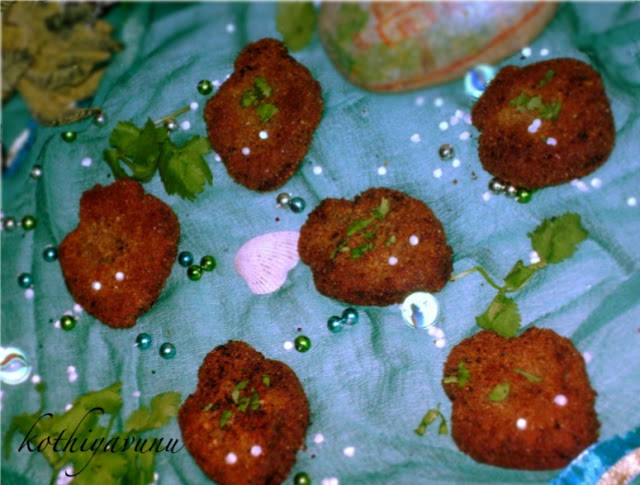 The below recipe has been tried and tested with Tilapia, but you can use any other boneless fish as well. This is one snack that I have made the most number of times in my kitchen..This delicious fish cutlet makes a great party appetizer, plus delicious and healthy too! Hope you all will enjoy making this as much as we did.
Fish Cutlet Recipe – Meen Cutlet Recipe

Ingredients:
Tilapia : 1 lb /1/2 kg fresh fish fillet (you can use any other boneless fish)
Potatoes : 2 (boiled and mashed, leaving some lumps)
Onion : 1 (large, finely chopped)
Green chilies : 2 (finely chopped)
Ginger : 1 inch (finely chopped)
Turmeric powder : a pinch
Garam Masala powder : 1/2 tsp
Black pepper powder : 1/2 tsp
Curry leaves : 2 sprig (finely chopped)
Coriander leaves : 3 sprig (optional, finely chopped)
Salt to taste
Egg : 2 nos
Corn Flour : a pinch
Breadcrumbs as much as needed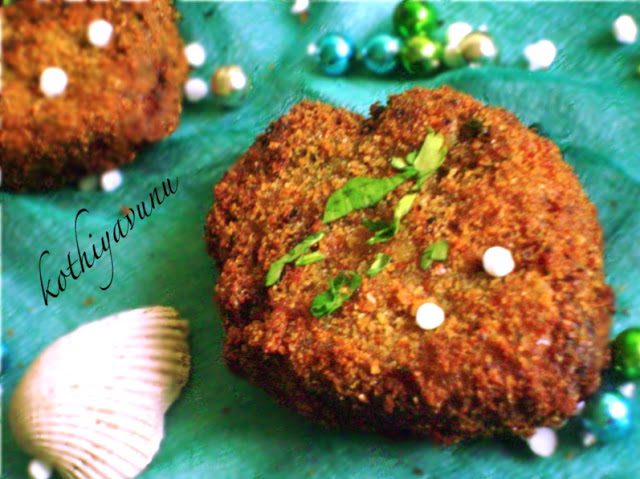 How to make Fish Cutlet – Meen Cutlet :
1. Cut the fish into big pieces and boil with a turmeric powder, black pepper powder and salt to taste
2. When the fish is cooked drain the water and shred the cooked fish fillets chunks into small pieces and set it aside.
3. Boil the potatoes; peel and smash well.
4. Heat oil in a pan/kadai, saute chopped onions until it turns to translucent.
5. Add chopped ginger, green chillies and saute for couple of minutes.
6. Add garam masala, chopped coriander leaves and salt.
7. Add the shredded fish pieces, mashed potatoes and combine well.
8. Remove from the fire and allow it to cool and mix well with your hands.
9. Make lemon sized balls out of it and roll into desired shapes.
10. In a bowl, beat the eggs with pinch of corn flour and salt.
11. Caot each patties in eggs and coat again with bread crumbs.
12. Deep fry it in oil and
13. Serve hot with tomato ketchup or any sauce of your choice and Enjoy!!