So Easy, So Delicious! Green Raw Mango Curry /Pacha Manga Curry exotically delicious and it is very easy to make. This curry is ultimate comfort food with some rice and any spicy vegetable stir fry on the side.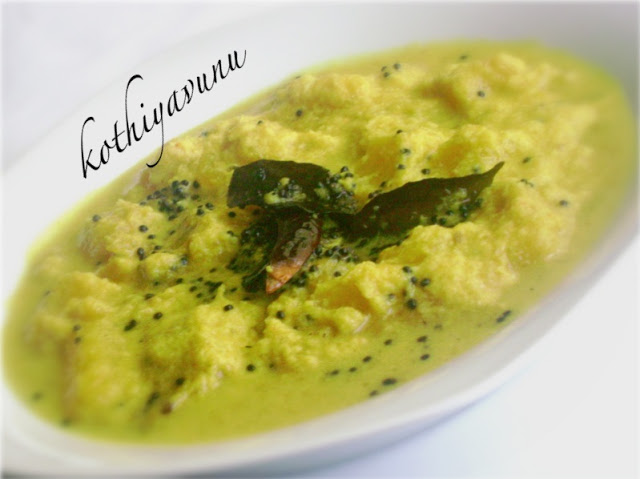 This is a least spicy curry cooked with grounded coconut and spices, so everyone including children enjoys it..There are different recipes of making raw mango curry and here is how it is made in my kitchen.. An authentic curry recipe for the vegetarian palate. Do give a try and Enjoy!!
Recipes for Pacha Manga Curry /Green Raw Mango Curry
Serves : 4
Pacha Manga /Raw Green Mango : 1
Grated Coconut : 1 cup
Cumin Seeds : 1 tsp
Green Chilly : 3-4 (slit lengthwise)
Gralic : 1 clove
Turmeric Powder : 1 tsp
Pepper Powder : 1/4 tsp
Fenugreek Seeds : 1/2 tsp
Mustard Seeds : 1 tsp
Curry Leaves : 1 sprig
Dried Red Chilly : 2
Coconut Oil : 2 tsp
Salt to taste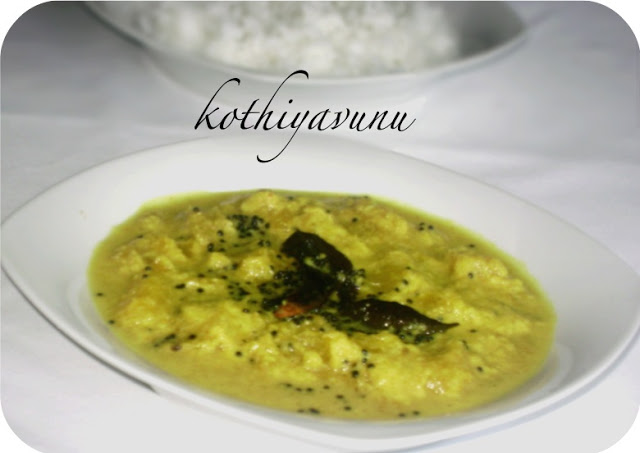 Method of Preparation :
1. Cut mango into small pieces discarding the skin.
2. Grind grated coconut, garlic and cumin seeds into fine paste adding little water.
3. Cook mango with turmeric powder, green chilli, pepper powder,fenugreek seeds, green chilly and salt in one cup of water.
4. When mango is cooked, add the grounded coconut paste along with 1/2 cup of water or required amount of water to make medium thick gravy and stir well.
5. When it starts to boil, remove from the fire (Note : Don't allow to boil).
6. Heat coconut oil in a pan. Add mustard seeds and when they pop out, add curry leaves, dried red chilly and saute for a minute.
7. Add this to mango curry. Delicious Raw Mango curry /Pacha manga curry is ready to serve.
8. Serve with steamed rice & Enjoy!
Click here for more Raw Mango Recipes.
Happy Cooking!
Sangeetha