Semiya Payasam /Vermicelli Kheer is a very popular traditional south Indian dessert, which is prepared at all special day including birthday, wedding or other festive occasions.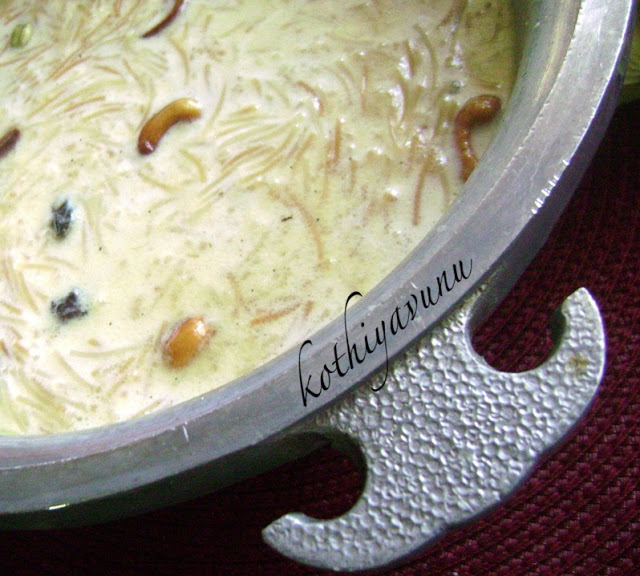 This used to be a regular in most of the Indian house when it comes to payasam. A preparation of milk and vermicelli sweetened with sugar. It has rich and creamy texture..Served warm, cold, or at room temperature, this creamy, tasting dessert is sure to please…Enjoy!
Semiya Payasam Recipe|Vermicelli Pudding Recipe-Vermicelli Kheer Recipe
Preparation Time : 10 minutes
Cooking time : 30 minutes
Serves : 4-6
Ingredients:
Vermicelli : 1 cup (broken into small strips)
Whole Milk : 2 1/2 cups (I used non fat)
Sugar : 1/2 cup or to your taste
Ghee /Clarified Butter : 2 tbsp
Raisins : 15-20
Cashew nuts : 10- 15
Dry ginger powder : 1/4 tsp (Optional)
Cardamom powder : 1/4 tsp
Salt a pinch
How to make Semiya Payasam – Kheer |Vermicelli Pudding:
1. Heat the ghee and fry raisins and cashews till light brown in color, remove and keep it aside for later use.
2. Roast the vermicelli in the remaining ghee till it turns to light golden color and set aside.
3. Heat milk in a thick bottomed pan and let it boil on medium heat.
4. Once it boils, reduce the heat and add the roasted vermicelli; cook it uncovered until vermicelli is cooked Keep stirring at regular intervals so that no lumps are formed.
5. Add sugar and pinch of salt and cook for couple of minutes until all sugar is dissolved.
6. Add cardamom powder and dry ginger powder (optional), stir well and allow it to boil. (Note : Don't boil for too long) Turn the heat off.
7. Add the fried cashews and raisins along with the ghee to payasam and mix well…Yummy payasam is ready. Serve hot or chilled and Enjoy!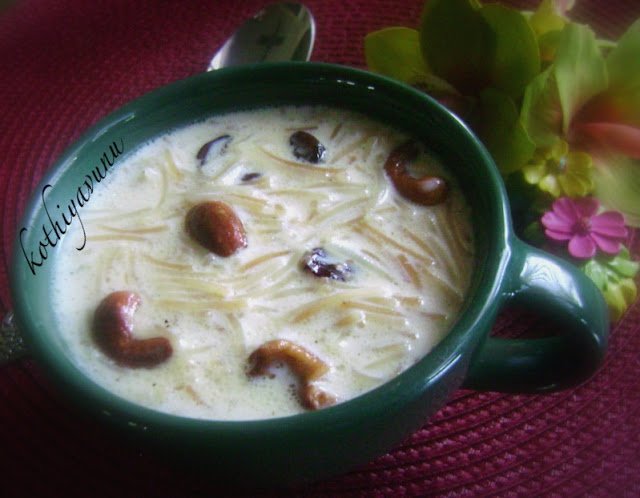 Variations:
To make saffron flavored payasam/kheer; Dissolve few strands of saffron in hot milk and add it to the paysaam/kheer in step 6 and boil for couple of minutes to infuse the flavour.
Notes :
The payasam/kheer normally tends to get thick as it cools down or when chilled in the fridge. Pour little milk and microwave them for a couple of minutes before serving.