Hello all Happy Valentines Day!
Here is another simple and yummy treat, I made for my kids classes V-Day school party today. My kids had a blast frosting and decorating, and they're very excited that I get to show off their hard work!!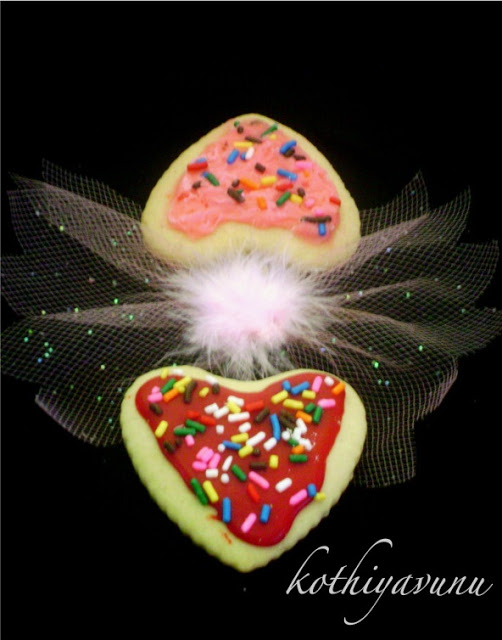 They are soft, tender and super simple, topped off with sugar cookie icing and some sprinkles for fun and color..Whether it's Christmas, Valentine's Day, Birthday, sugar cookies is a perfect gift for your loved ones and shows just how much you care…Give a try and Enjoy!
Valentine's Sugar Cookies Recipe
Makes 40 cookies depending on size of cutters.
Recipe Adapted :
Joy of Baking
Ingredients :
For Cookies :
All Purpose Flour : 3 cups /390 grms
Unsalted Butter : 1 cup /227 grms
Granulated white sugar : 1 cup
Baking Soda : 1/4 tsp
Baking Powder : 1/4 tsp
Salt : 1/2 tsp
Egg : 2 large
Pure Vanilla Extract : 2 tsp
For Icing :
Confectioner's Sugar : 1 cup
Light corn syrup : 2 tbsp
Milk : 2 tbsp
Almond or Vanilla or Lemon extract (choose your favorite) : 1/4 tsp
Assorted food coloring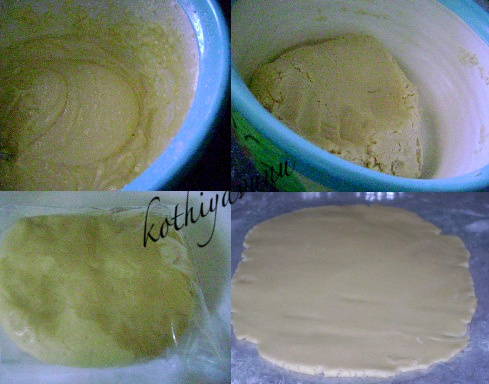 How to make Valentine's Sugar Cookies :


1. Combine together the flour, baking soda, baking powder and salt well.
2. In electric mixer or in hand mixer beat the butter and sugar until light and fluffy (about 3 to 4 minutes).
3. Beat in the egg and vanilla extract and beat till it is incorporated well.
4. Mix the flour and beat until a smooth dough; flatten the dough to form a disc and cover it plastic wrap. Refrigerate for about 30 minutes to one hour or until firm enough to roll.
5. Preheat the oven at 350 degree F /177 degree C and line baking trays with parchment paper.
6. Take out the chilled dough from the refrigerator and roll out on a floured surface to the thickness of 1/4 inch.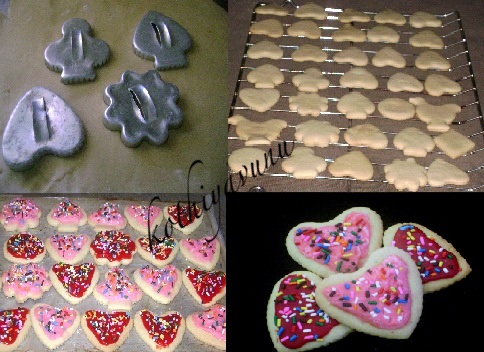 7. Cut out desired shapes using a lightly floured cookie cutter and transfer cookies to the prepared baking sheet.
8. Keep the unbaked cookies this in the refrigerator for 5-10 minutes.( Note : This is done to prevents the cookies from spreading and losing their shape while baking).
9. Bake for 10-12 minutes or until the sides start turning golden brown.
10. Remove from the oven and cool them on a wire rack.
For the icing :
1. In a small bowl, stir together confectioners' sugar and milk until smooth. Beat in corn syrup and almond extract until icing is smooth and glossy. If icing is too thick, add more corn syrup.
2. Divide into separate bowls, and add food colorings to each to desired intensity. Spread this on the cookie; once you are satisfied with the look, you can decorate it further with sprinkles ,sugar crystals, candies or your desired decoration. When completely done, let the cookies sit for about 25 minutes or more.