If you enjoy seafood, you'll love this sumptuous curry!!
This another exotic and popular fish curry from the God's own country, Kerala (South India). Fish plays a major role in the daily food preparation of an average Kerala family..The term "Varutharacha Curry" refers to Roasted Coconut Gravy.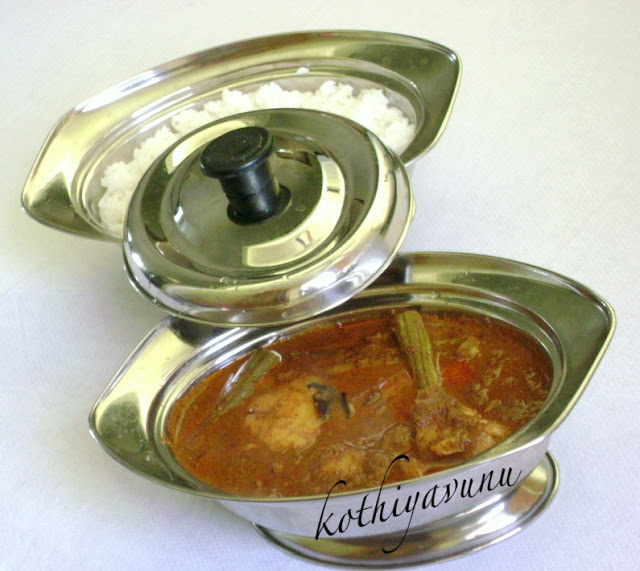 This curry is combination of fish, drumsticks and raw mango, simmered in roasted coconut with spices. It's simple to make and best eaten the next day as the flavors absorb better. Let me share this delicious fish curry with you all…Enjoy!
Recipe for Varutharacha Meen Muringakka Pacha Manga Curry /Fish with Raw Mango & Drumstick in Roasted Coconut Gravy
Any fleshy fish : 1 lb /1/2 kg (King fish,Pomfret,Tilapia, etc )
Drumstick : 4-6 slit side wise
Raw Green Mango : 4-5 medium pieces or it can substitute with kodampuli /fish tamarind : 2 pieces
Green Chillies : 2-3 (slit lengthwise)Water : 2 cups
Salt to taste
For Roasted Coconut Paste :
Grated Coconut : 1 1/2 cup (Grated)
Small Onions /Shallots : 5-7 nos
Turmeric Powder : 1/4 tsp
Red Chilly Powder : 2 tsp
Coriander Powder : 2 tsp
Fenugreek Powder : 1/4 tsp
Curry Leaves : 3 sprig
Coconut oil : 1/4 tsp

Method of Preparation :
1. Clean and wash the fish and drain off the excess water and set it aside.
2. Meanwhile roast the grated coconut with 2 sprig of curry leaves until completely dry.
3. Add small onions and saute for a few minutes.
4. Add all the spice powders and fry on a medium heat for a few minutes till it become brown color. (Note : Care should be take not burn the spices).
5. Cool the mixture and grind it well with 1/4 cup water in a mixer to a fine paste.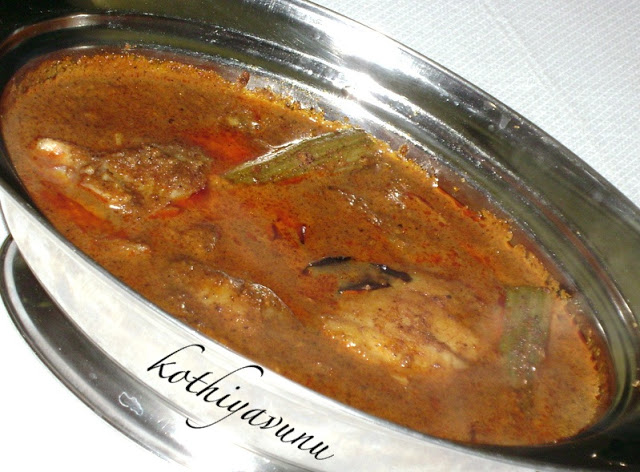 6. In a pan (preferably in 'Kalchatti' an earthen pot) pour grounded coconut mixture.
7. Add drumstick pieces, green chillies, raw green mangoes pieces, salt along with 2 cup of water and mix well. Switch on the stove and allow to to boil.
8. Once the curry starts to boil, add the fish pieces and cover it with a lid and simmer it for 5-8 minutes until the gravy thickens.
9. Tilt the pan/earthen pot in between such a way that everything is mixed well.
10. Remove from fire; Add the remaining curry leaves and sprinkle some coconut oil on the top of curry. Keep covered for 10-20 minutes.
11. Yummy Varutharacha Meen curry to serve. Serve with steamed rice or
Kappa/Tapioca
and Enjoy!!
Notes : Raw mango can be substituted with kodampuli /fish tamarind. If your using kodampuli /fish tamarind then soak them in 1/4 cup of warm water for 10-15 minutes and add to the pan on step 7 along with drumstick pieces and continue the process.
Tips : For best result allow the curry to stand for at least 2-3 hours or overnight and serve next days so that the gravy absorbs all the flavors. It tastes Yummy!!
For more Fish Recipes check
here
Happy Cooking!
Sangeetha