Simple, Classic Ratia!! Raita are salads in yoghut. Boondi raita is little different from regular raita's, instead of salads boondi (snack) is added and seasoned with mild spices and salt. Boondi is a small round fried droplets made out of chickpea flour (gram flour /besan).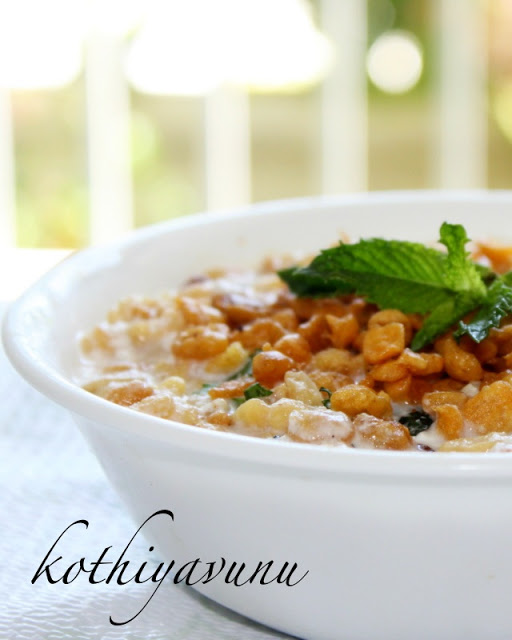 It is very easy to make at home but it's widely available in all Indian grocery stores. If you have all the ingredients ready, then it takes no time to whip this up. Just serve with
pulao
,
biryani
or any spicy
rice dish
and Enjoy!
Recipe for Boondi Raita /Crisp Gram flour granules in yogurt
Makes : 1 medium bowl
Ingredients :
For Boondi :
Chickpea Flour /Besan /Gram Four : 1/2 cup
Salt : 1/2 tsp
Baking powder : a pinch
Water to make batter
Oil for deep frying
For Raita :
Yogurt : 3 cups
Boondi : 1 cup
Roasted & Coarsely Ground Cumin seeds or Roasted Cumin Powder : 1/2 tsp
Red Chilli Powder : 1/2 tsp
Coriander Leaves to garnish
Green Chillies : 1-2 chopped to garnish (optional)
Salt to taste
Making Boondi:
1. Mix the gram flour, salt and baking powder with water to make a smooth pancake-like batter. Beat it up well.
2. Heat the oil in a frying pan on medium high heat. The frying pan should have at least 1 1/2 inches of oil. (Note: To test if the oil is the right temperature, drop a pinch of batter into the oil; if it rises immediately without changing color then the oil is ready to start frying.)
3. Add the mixed batter through a perforated spoon or boondi ladle (this is a large slotted spoon, with round holes) by spreading the batter with a spoon or a spatula so that small drops of boondi falls in the oil. (Note : While doing this, hold the spoon only 3 to 4 inches above the oil, to avoid splashing.)
4. Fry boondies on medium heat, turning frequently. They should be light golden colour when done. Remove using a slotted spoon. Place on an tissue paper and allow to cool.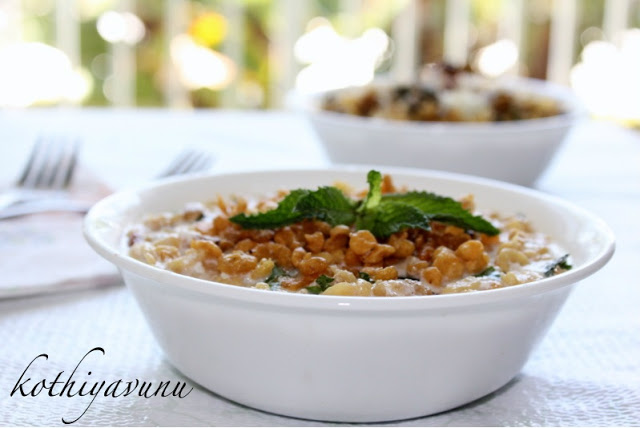 Making Raita:
1. Soak boondies in 2 cups of warm water for 5 minutes. Squeeze water out gently or drain in a strainer and set it aside. (Note : This makes boondi soft. If you want it crisp; skip the above step and add it to the yogurt mixture just before serving.)
2. Beat yogurt, salt, chilli powder and cumin powder together. It should be of custard consistency. If yogurt is too thick, add a little milk or water to thin it.
3. Add boondies and mix gently.
4. Garnish with a sprinkle of chilli powder and ground cumin, chopped coriander leaves and chopped green chillies (optional) .
Variations :
Raita can also be tempered : Heat 1 tsp of oil in a ladle, add mustard seeds, few curry leaves and 2 small whole red chillies when it starts splutter pour over the raita.



My First Giveaway Win!
Nima
from
madetotreasure
hosted a wonderful "crochet earing" spring giveaway and I was lucky to win!! Nima has a lovley crafty blog with awesome works!
Thank you very much for the generous gifts Nima! I am really happy to receive this pretty gift. Thank u!
Cheers!
Sangeetha