Yet another traditional and popular dish from the exotic world of Kerala cuisine "Chakka Erissery".
Well to talk about "Erissery" it's a part of Kerala Sadya (Feast) made with assorted veggies using ground coconut paste and seasoned with roasted coconut. Erissery is a favorite amongst most of keralites, since its unique taste together with the aroma gives you a feel of the home away from home…absolutely easy to make and light on ingredients.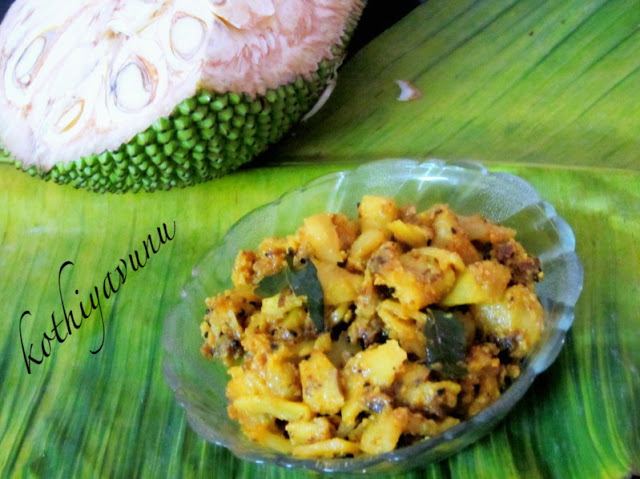 There are different varieties of erissery made with different veggies, with or with out pulses, here as the title suggest I've used Jackfruit (Chakka in Malayalam language) as a main ingredient. which is my favorite too….the recipe source credited to my MIL.:)
Now lets move on to the classic chakka erissery recipe. Do try and enjoy this authentic Kerala special with your loved ones…Enjoy!
Recipe for Chakka Erissery /Jackfruit with Roasted Coconut
Preparation Time : 20 minutes

Cooking time : 20 minutes

Serves : 4
Ingredients :
Chakka /Raw Jack fruits flesh : 1/2 kg /1 lb or 6 cups (chopped)
Red Chilli Powder : 1/2 tsp
Turmeric Powder : 1/2 tsp
Salt to taste
To Grind :
Small Red Onion /Shallots : 2-3 (optional)
Green chillies : 2
Grated Coconut : 1 cup
Cumin Seeds /Jeerakam : 1/2 tsp
For Tempering :
Grated Coconut : 4 tbsp
Curry leaves : 1 sprig
Mustard seeds : 1/2 tsp
Coconut Oil : 3 tsp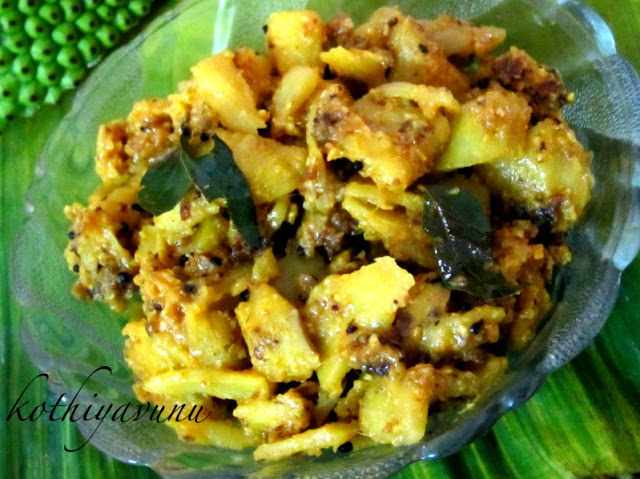 Method of Preparation :
1. Deseed the flesh pieces of the jackfruit, wash and chop them into 4-5 small pieces.
2. Cook the jack fruit/chakka pieces with sufficient water, chilly powder, turmeric powder and salt.
3. Meanwhile grind the ingredients listed above "To Grind" with little water to coarse smooth paste (Note : The paste should not be watery, it should be in chutney consistency.)
4. Add the ground coconut paste and mix thoroughly with jack fruit/chakka.
5. Heat a coconut oil in a pan , add mustard seeds when its starts to splutter, grated coconut and curry leaves and fry till they turn golden brown. (Note : Be sure not to burn it)
6. Pour this tempering and drizzle 1/2 tsp of coconut oil over the gravy, mix well and adjust the salt.
7. Serve hot with Kerala Red Rice and papadam and Enjoy!
Notes :
Here is a list of veggies that are commonly used for erissery, Elephant foot/Yam/Chena, Kaya /Raw Plantain, Kappalanga/ Papaya, Chakka /Raw Jack fruit, Kadachakka /Breadfruit, Mathanga /Red pumpkin combined with pulses, vanpayar (Red Beans).
Related posts :

Happy Cooking!
Sangeetha