Need something Sweet & Healthy?? Here it is!
This sweet treat is gluten-free, sugar-free, and all natural, made with dates, nuts, and rolled in coconut.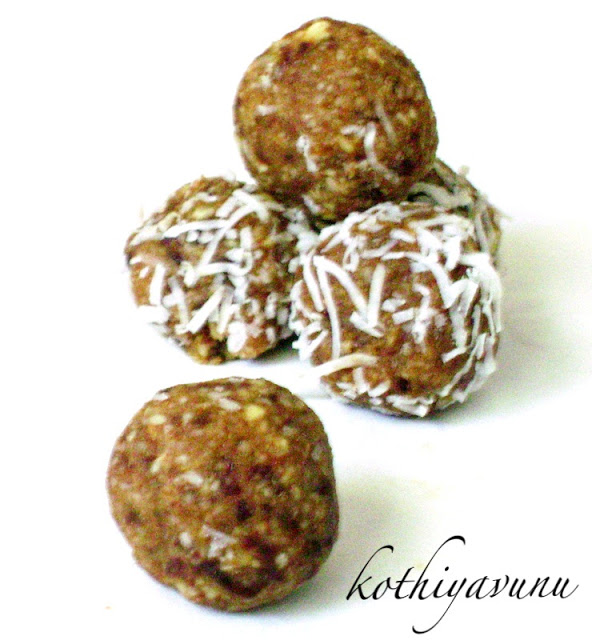 I whipped this up because I needed something quick and healthy for tea time snack and didn't have much in the house. It turned out great and my kids loved it..This one is a winner! Enjoy!
Easy Date Nuts Balls Recipe – Dry Fruit Laddu-Ladoo Recipe
Preparation time :15 mins
Makes: 8 – 10 balls/ladoo
Ingredients :
Pitted Dates : 15-20
Pistachios : 10-14
Almonds : 7-10
Cashews : 5
Golden Raisins : 5-8
Dried Apricot : 5
Optional :
Cardamom Powder : 2 pinches
Unsweetened Shredded Coconut : 1 cup + 1/2 cup for coating (sweetened is fine too, but the dates on their own are very sweet)


How to make Date Nuts Balls – Dry Fruit Laddu-Ladoo :
1. Soak almonds in warm water for 10-15 minutes and peel of their skin and pat dry.
2. Chop the dates, almonds, pistachios, cashews, raisins into small pieces with help of large knife or using a pestle or a quick pulse in the food processor.
3. Combine everything until well incorporated. The consistency should be fairly smooth and similar to a thick paste. Now add the cardamom powder and mix well.
4. Divide the mixture into around 8 – 10 portions.
5. Take each portion into hand and roll it in your palms to form small balls/ laddoos.
6. Optional – Roll them in shredded coconut. (Note : It reduces the shelf life of Laddu/ Balls.)
7. Store in an airtight container and serve as a snack and Enjoy!!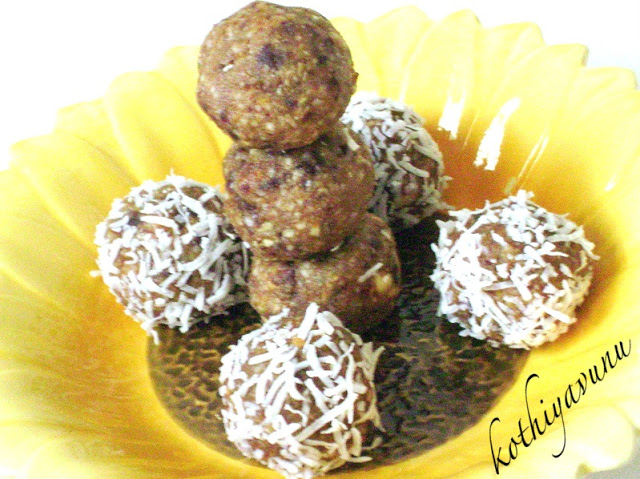 Notes:
Make sure dates are not too hard and dried, If dates are too hard, soak them for a hour or cover and microwave for couple of seconds.
Variations:
You can also add any kind of nuts and dried fruits according to your taste and preference.
Related Posts :
Motichoor-Motichur Ladoo/Laddu

Cheers!
Sangeetha