Another delicacy from Gods own country – Kappa Kinnathappam!
Kinnathappam literally means sweet rice cake, steamed in a plate. My mom used to make Kinnathappam for us when we were kids and it was one of my favorite afterschool snacks. I haven't had it for years, but when I saw this recipe in a cooker show, which was little different from traditional one. I was a bit curious to find out how it tastes so I decided to try.
I found it very easy to prepare and requires only few ingredients. As name suggests Kappa /Tapioca is star ingredient, which is combined with fresh grated coconut and jaggery. This healthy soft, spongy texture steamed cake pairs well with tea or coffee. Add it to your snack menu this week; try it and let me know how you like it 🙂
Kappa Kinnathappam Recipe – Tapioca Steamed Cake in a Plate
Preparation Time : 15 minutes
Cooking Time : 15-20 minutes
Serves : 4
Ingredients :
Kappa /Tapioca : 2 cups (grated)
Fresh finely Grated Coconut or Coconut milk : 1 cup
Jaggery : 1/4 cup or as needed
Cashews and Rasinis for Garnishing
Salt : a pinch
Ghee (Clarified Butter)/Oil : 1 tsp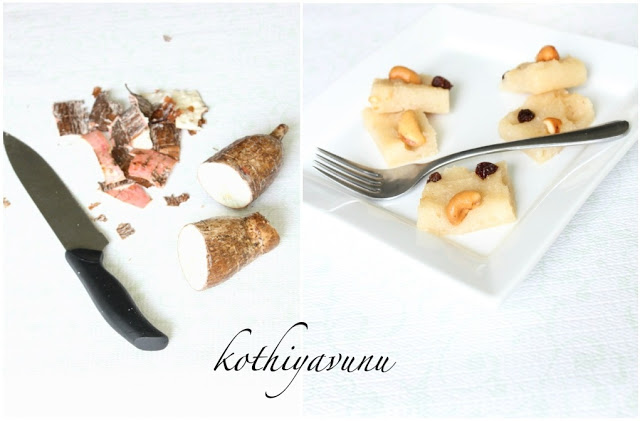 How to make Kappa Kinnathappam – Tapioca Steamed Cake in a Plate :

1. Wash, peel the skin and grate the tapioca; mix it with pinch of salt and keep aside for 10 mins, so that the water will drain. Strain and squeeze out the water completely from the tapioca.
2. In a blender add squeezed tapioca, finely grated coconut or coconut milk and jaggery, blend it without adding water to thick paste. (
Note :
The consistency should be like idli batter)
3. Grease the stainless steel flat plate with ghee (clarified butter)/oil and pour the batter to the plate.
4. Steam and cook for 5- 10 minutes, when its half done, open the lid add the rasinis and cashews on the top. Steam again for 10 -15 minutes or till done. (
Note :
To check whether its done insert the toothpick at the center, if comes out clean then its ready)
5. Remove from the steamer and open lid to avoid moisture and allow the kinnathappam to cool . (
Note :
Make sure it cool completely or it will stick to the plate)
6. Cut into pieces and serve as snacks with tea or coffee and Enjoy!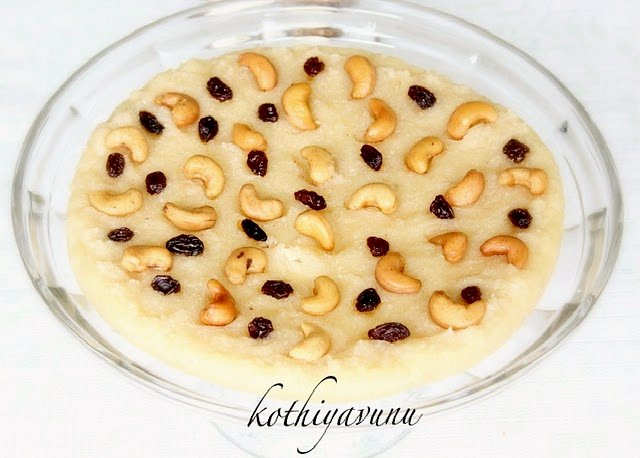 This recipe goes to Kerala Kitchen hosted by Magpie
Related Posts :
Vattayappam
Achappam
Unniappam
Kallappam
Godhambu Vellayappam
Velayappam
Click here for more Tapioca/Yuca/Cassava /Kappa Recipes
Good Day All!
Sangeetha