Have you tried Mango Almond Farina Bread?
I don't make many breads at our house because my kids isn't a huge fan of most of the breads I would enjoy. However, when I saw this recipe for Mango Farina Bread at Inji Site, I knew it would be a quick bread that would definitely get eaten at our house!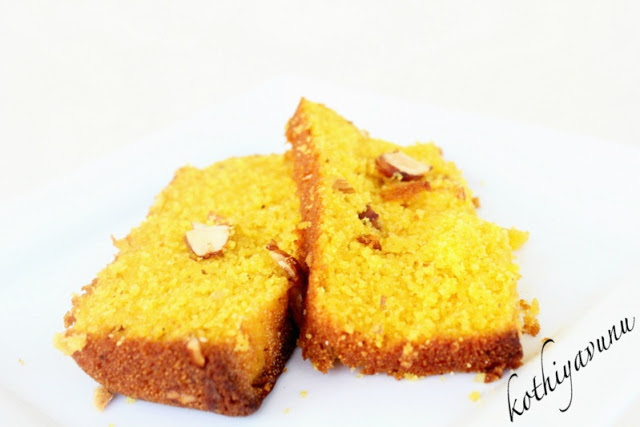 This is very easy to make, it took only 10 minutes to get in the oven. I'm not sure what happened with the cooking time, but my bread was ready in 30 minutes, In fact, I think I probably overcooked it a bit. Still, it was yummy…It's hearty and is definitely my new go-to roll recipe…Enjoy!
Mango Almond Farina Bread Recipe – Mango Almond Rava Cake Recipe
Preparation time : 10 minutes
Baking time : 30-35 minutes
Makes : One full loaves


Ingredients :
Dry Ingredients :
Farina/Sooji /Rava : 2 cups and 2 tbsp
Rice Flour : 3 tbsp
Sugar : 1 cup
Almond : 1/2 cup (finely chopped)
Baking Powder : 2 tsp
Cardamom Powder : 2 tsp
All Spice Powder : 1 tsp (Optional)
Salt : a pinch
Wet Ingredients :
Oil : 1/2 cup
Mango Pulp : 2 cups and 2 tbsp
Egg : 1
Lime Juice : 1 tbsp
For Garnish :
1. Preheat the oven to 375 F. Spray a 9-by-5-inch loaf pan with nonstick cooking spray. Set aside.
2. Mix all listed above dry ingredients together until well-blended.
3. Now add the wet ingredients to the above mix and mix thoroughly.
4. Let the batter sit for 10 minutes, so that sooji soak up the liquids.
5. Pour into the prepared pan and sprinkle the top with the almonds.
6. Bake for about 30-35 minutes. The bread is done when a tooth pick is inserted into the center of the loaf comes out clean.
7. Cool in the pan on a rack until just warm; turn out of the pan onto the rack to cool completely. Serve and Enjoy!
Notes :
For eggless version; omit two tbsp of rice flour and add one more tbsp of mango pulp.
Wrap the uneaten bread well in plastic; this freezes well.
Click here for more Bread Recipes