Kanjiyum Payarum!! It's a comfort food for most Keralites.
'Kanji' stands for Rice Gruel and 'Payaru' means Green Gram/Moong Dal. Rice Gruel is commonly eaten as a dinner or for breakfast by many families and is used traditionally in many cultures as a food to nurse the sick back to health.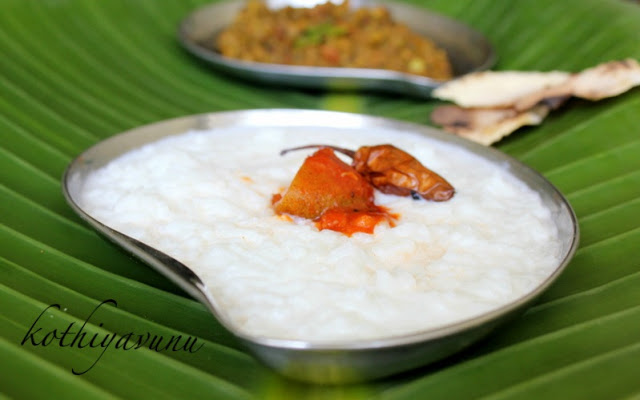 Kanji /Rice Gruel can be prepare with different types of rice like 'Kuthari'- double boiled version of rice or
'Unakkalari/Pachari' – Raw Rice or Podiyari – Broken rice etc. In Kerala, Traditionally it is made with Red Parboiled Rice / Kerala Matta Rice and served in a 'paala pathram'- bowl made out of the leaf of arickanut tree and with a 'playila'-Traditional soup spoon made of jack fruit tree leaf.
There are different variations like Pal kanji (Rice Porridge with milk), Podiyari kanji (Broken rice Porridge),Vishu kanji (Rice Porridge with coconut milk and spices),
Oushadha Kanji
/Karkidaka Kanji (medicinal-porridge), Gothambu kanji (Broken Wheat Porridge) etc…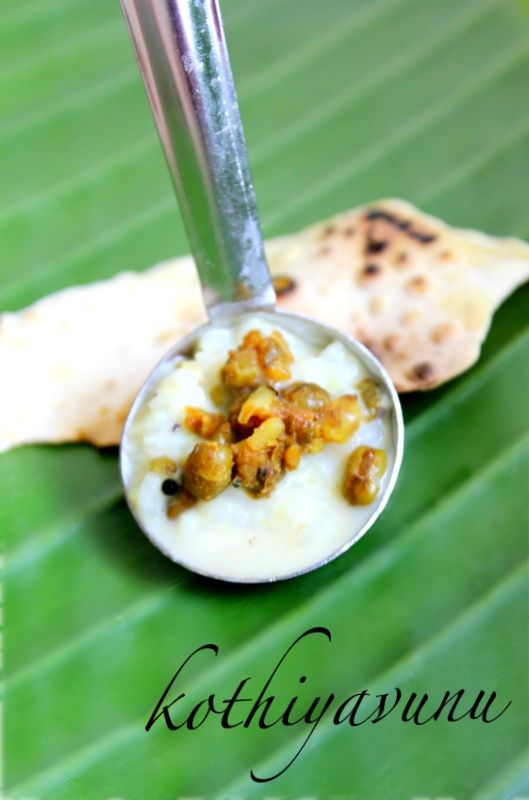 The recipe I am sharing here today is Pal kanji which is prepared with rice and milk. This is one of my kids favorites and am sure it will be loved by kids and adults equally..So, lets move to the recipe now. We enjoyed this dish along with Payar/Cherupayar Ularthiyathu, Pickle/Achar, and Chutta Pappadam /Roasted Pappad…so if you're a fan of Kanji/Rice Gruel, be sure to give this one a try!
Recipe for Pal Kanjiyum, Rice Gruel with Milk /Kanjiyum Payarum
Ingredients :
Red Parboiled Rice / Kerala Matta Rice : 1 cup (Here I have used White Par boiled Rice)
Water : 4 cups
Milk : 1 cup (You can use whole milk or non-fat as per your choice)
Freshly Grated Coconut : 1/2 cup
Salt to taste
Method of Preparation :
For Rice Porridge /Kanji :
1. Wash the rice and cook it together with the water in a pressure cooker for upto 2-3 whistles or until rice is done ; When its done; remove from the fire and settle down the pressure, open the lid and return the cooker to heat over medium heat. (or) If your using pot; Mix the rice with cold water in a large pot and bring to a boil on medium-high heat. Once boiled, simmer on low heat for 15-20 minutes until it gets thick.
2. Add grated coconut and milk; bring it to boil on medium low heat, stirring often for 5 minutes or till it is reduced to a your desired consistency.
3. Remove from heat and let it sit covered for 5-10 minutes.
Notes:
Pal Kanji has a tendency to thicken as it sits, so if it becomes too thick by the time you serve, You may add more water (boiled water), according to your choice of consistency.
Recipe For Payar/ Cherupayar Ularthiyathu /Green Gram /Moong Dal Dry Curry :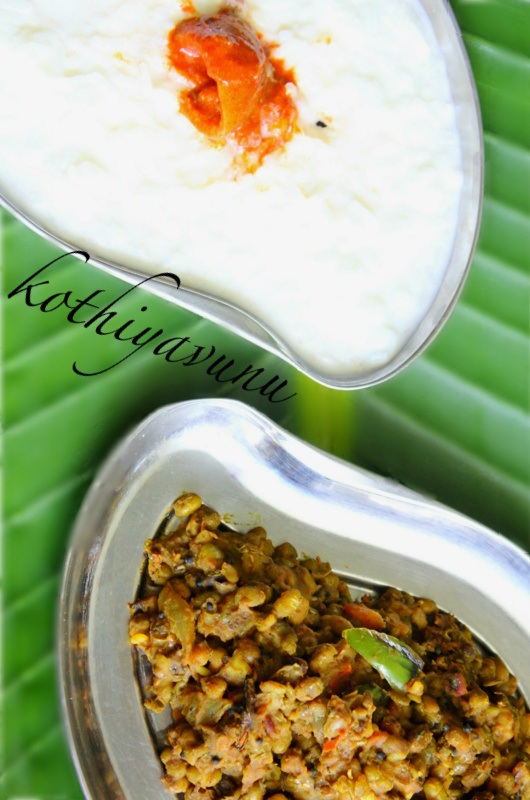 Ingredients :


Cheru Payar /Green Gram Moong Dal : 1 cup
Red Onion : 1 medium (chopped)
Tomato : 1 medium (chopped)
Garlic : 1 tbsp (finely chopped)
Ginger : 1 tbsp (finely chopped)
Green Chilli : 1 (quartered)
Mustard Seeds : 1tsp
Urad dal /Black Gram : 2 tsp
Dried Red Chillies : 2
Turmeric Powder : 1/2 tsp
Red Chilli Powder : 1 tsp
Cumin Powder : 1 tsp
Garam Masala : 1/2 tsp
Grated coconut : 3 tbsp
Coconut oil : 1 1/2 tbsp
Water : 1 cup
Curry Leaves : few
Salt to taste
Method of Preparation :
1. Soak the green gram overnight and pressure cook it with water and salt; set it aside.
2. Heat oil in a pan and splutter mustard seeds and curry leaves.
3. Add chopped onions and saute till it turns to translucent and now add green chillies,ginger-garlic paste and saute for a couple of minutes.
4. Add turmeric powder ,red chilly powder,cumin powder and gram masala powder and mix well.
5. Add the chopped tomato, salt and cook till it turns to soft and mushy.
6. Add the cooked green gram and combine well and allow it boil for few minutes; now add the grated coconut and toss well.
7. Serve with Kanji, rice or roti's and Enjoy!
Recipe for Chutta Pappadam /Roasted Pappad
Ingredients :
Pappadam /Pappad : As needed
Coconut oil : a drop

Method of Preparation :


Roast or grill in a open flame or popped in microwave oven till brown on both sides. Apply a drop of coconut oil.
Serving Suggestions :
Click here for more
Kerala Recipes.
Happy Cooking & Happy Eating!
Sangeetha