Classic Rogan Josh fingerlicking mutton curry with load of spices.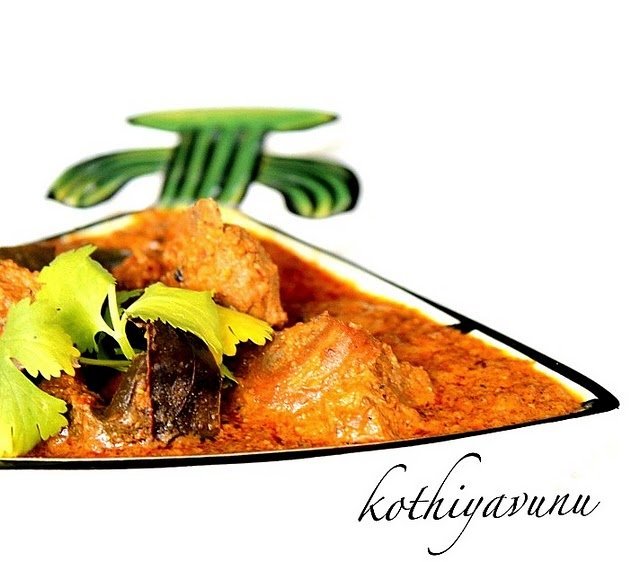 Rogan Josh is a very popular, classic Kashmiri dish, favorite of most non vegetarian population of India and is also a popular menu at Indian restaurant anywhere in the world. While you can use any kind of meat. Traditionally it's made with lamb or goat meat, cooked with the intensely fragrant Indian spice. Despite it intense red color it is not very fiery dish, only fiery in appearance made with kashmiri red chillies and red onions.
This curry is very fragrant and sumptuous, and can be made anywhere from mild to red-hot, depending on how much spice you prefer. A large number of rogan josh variations exist. Here I am sharing the recipe which I adapted from hawkins pressure cooker recipe cookbook. As you all know I'm a great fan of chef harpal singh recipe and I have his Rogan Josh recipe too which totally different version from the one I'm sharing today. Although there are a lot of ingredients, this is easy to make and very worth the while. It pairs well with Naan(Check here for Homemade Butter Naan), Roti or any Flat Breads, or even with Ghee Rice and Kashmiri Pulao.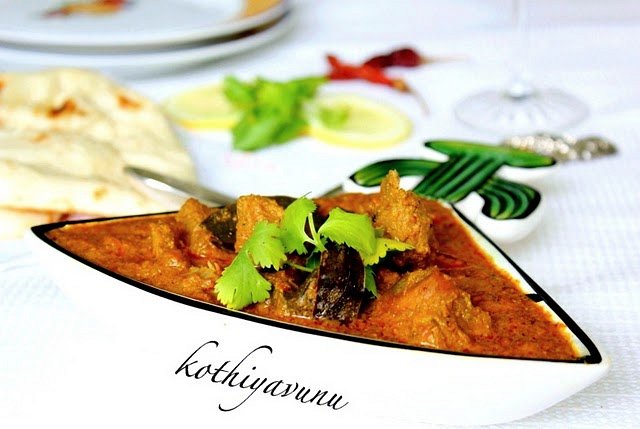 Other Popular Restaurant style recipes You Might Also Like:
Panner Butter Masala /Panner Makhani /Cottage Cheese Simmered in a Creamy Tomato Sauce
Butter Chicken / Murg Makhani /Chicken simmered in creamy sauce 
Malai Kofta /Cottage Cheese Dumplings Simmered in a Creamy Sauce 
Mushroom Butter Masala-Mushroom Makhani
Paneer Tikka -Grilled Cottage Cubes in Creamy Sauce
How to make Rogan Josh  Recipe – Kashmiri Lamb Curry  Recipe – Lamb in Spiced Rich Gravy Recipe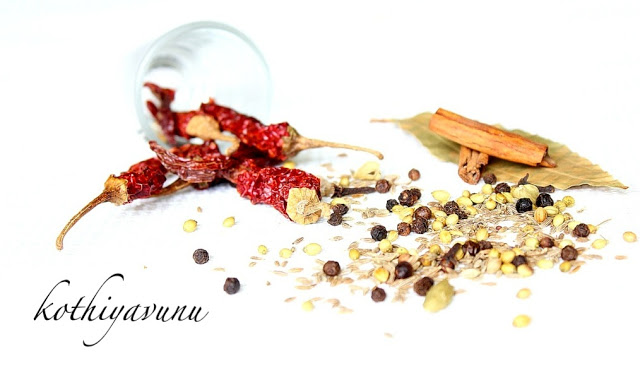 Rogan Josh -Kashmiri Lamb Curry Recipe
Fingerlicking Mutton-Goat Curry with loads of Indian Spices
Ingredients :
For Dry Roast :
Coriander Seeds : 1 tbsp
Cumin Seeds : 2 tsp
Poppy Seeds : 1 tbsp
Almonds : 16 shelled or substitute with cashew.
Cloves : 4
Black Cardamoms : 2
Black Peppercorns : ¼ tsp
Mace : large pinch.
Fresh Grated Coconut : 2 tbsp
To Ground :
Whole Dry Red Chilies : 5 or to your spicy tolerance level (soaked in ½ cup hot water for 15 minutes, water drained and reserved)
Garlic : 8 flakes
Ginger : 2 tsp
Grated Nutmeg : large pinch
For Gravy :
Goat /Lamb /Mutton Shoulder : 1 kg /2.2 lb (cut into bite-size pieces)
Vegetable oil or Melted Unsalted Butter or Both combined : ¼ cup
Bay leaves : 2
Cinnamon stick : 2.5 cms
Green Cardamoms : 5 slightly crushed
Onions : 1 large or 2 medium grated
Tomato : 2 medium chopped
Turmeric powder : 1 tsp
Kashmiri red chili powder : 1 tbsp or as needed.
Yogurt : ¾ cup beaten
Salt to taste
Water : 1 cup
How to Make :
In a pan, dry roast together all ingredients listed above "For Dry Roast" over low heat for couple of minutes or until fragrant and allow it to cool.(Note : Care should be taken not to burn the spices).
Transfer the cooled roasted spices to the blender along with the above listed ingredients "To Ground" and water in which the chilies were soaked little at a time and ground to a smooth, thick paste.
Heat oil or butter in pressure cooker, add bay leaves, cinnamon and green cardamoms and stir fry for few seconds, Reduce the heat and add onions and satue until onions are golden brown.
Add ground paste, chopped tomatoes, turmeric powder, chilli powder and combine well.
Add 1 tbsp of curd, stir and fry until curd is well blended (approximately ½ minute). Add the remaining curd, a tablespoon at a time till all the curd is used. Stir fry till the oil separates, about 3-4 minutes.
Add the salt and mutton pieces and fry till the meat is lightly browned. Add the water and mix well.
Close the cooker and bring it to full pressure on high heat, when its comes to high heat, reduce the heat and cook for 10 minutes.
Remove from the heat and allow to cool naturally.
Optional : If you perfer thick gravy. Return the cooker to heat over medium heat, cook uncovered, stirring occasionally, until the gravy thickens.
Yummy Rogan Josh is ready to serve. Serve hot with steamed rice or spiced basmati Rice or Naan or any Indian breads and Enjoy!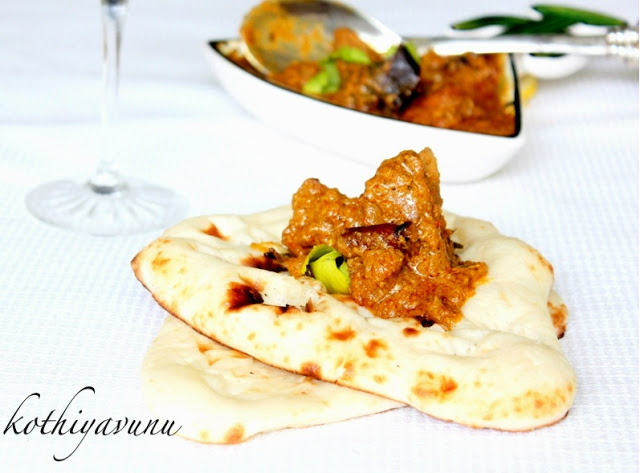 Do try this delectable aromatic, hot and deeply satisfying dish Rogan Josh-Kashmiri Lamb Curry, it sure will be yummy with hot steamed rice or spiced basmati  Rice, Ghee Rice, Kashmiri Pulao.  or  Naan or any Indian breads as you prefer and don't forget to let me know your opinion if you try. Enjoy! 
Have a Good Day All!
Sangeetha
Like this Recipe? Sign up, and get more recipes delivered directly to your inbox.