Spaghetti & Meatball sound delicious, don't they???
Spaghetti and Meatballs is a pasta dish consisting of spaghetti (a long, thin, and cylindrically shaped pasta that is of Italian origin) tomato sauce, and meatballs. The beauty of this dish is meatballs, of course!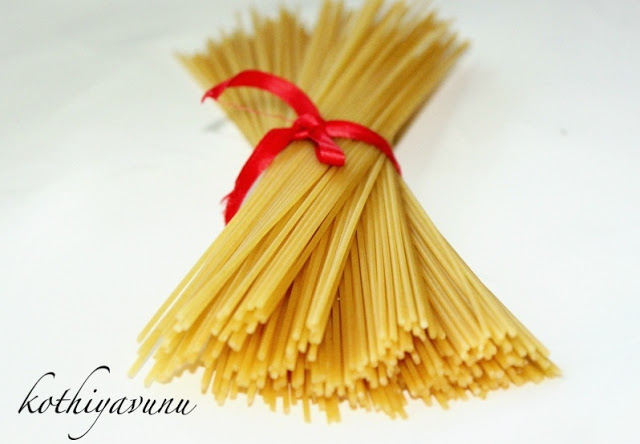 Most recipes call for pan frying the meatballs before adding them to the sauce, but one of my best friend Ms.Erma shared this baked meatball recipe, baking them is a whole lot easier and so much healthier & delicious. So I tried, tested and it's true.You can also choose between cooking meatball in the traditional method frying it in stove top, or popping it in the oven – either way, it's delicious! The sauce was tangy, a bit sweet and full of flavor while the meatballs were extra tender and moist.
This is my family's favorite, we all love this one and am sure it will be loved by kids and adults equally. Here is recipe for those who enjoys spaghetti and meatballs!
Recipe for Spaghetti and Baked Meatballs
Ingredients:
For the Meatballs:
Any Ground Meat (Beef /Pork/Lamb) : 1 lb /1/2 kg (Recipe call for beef and pork, but here I have used lamb)
Onion : 1 medium (finely chopped)
Fresh Breadcrumbs : 1 cup
Grated Parmigiano-Reggiano (Parmesan) : 1/2 cup
Worcestershire Sauce : 2 tsp
Garlic : 4 cloves (crushed and chopped)
Whole Milk : 1/4 cup
Parsley : 1/3 cup (finely chopped)
Oregano : 1 tbsp (finely chopped) or 1 tsp dried, (crumbled)
Black pepper : 1/4 teaspoon ( freshly grounded)
Egg : 1 large
Salt : 1 tsp
For the Sauce:
28-ounce cans whole peeled tomatoes in juice : 2 nos
Onion : 1 small (chopped)
Garlic : 2 cloves (chopped)
Parsley : 2 tbsp (chopped)
Dried Basil Leaves : 1 tsp or fresh Basil Leaves : 3 finely chopped
Oregano : 1/2 tsp
Paprika Powder : 1/2 tsp (optional)
Butter : 4 tbsp
Salt to taste
For Pasta :
Spaghetti : half of 1 box
Powdered Parmesan Cheese : 1/4 cup
Olive Oil : 1 tbsp
Fresh Parsley : 1 tbsp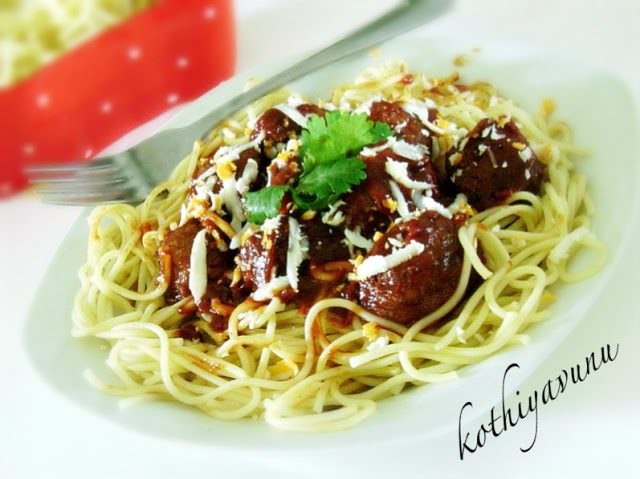 Method of Preparation:
For Sauce:
1. Drain tomatoes, reserving juice in a large bowl. Crush tomatoes with your hands and add to juice.
2. Heat oil in a saucepan and add the chopped onions and cook until softened, about 8-10 minutes.
3. Add garlic and saute for couple of minutes; now stir in tomatoes with their juice,
4. Add salt and pepper powder and simmer sauce, uncovered, stirring occasionally, until slightly thickened, 45 minutes to 1 hour. Adjust the salt and set it aside.
For Meatballs:
1. Combine the milk and bread crumb in a bowl then mash together with a fork until smooth.
2. Add all the remaining ingredients except the ground meat and mash to combine.
3. Add the ground meats to bread mixture gently mixing with your hands until just combined (Note : Do not overmix).
4. To make uniform sized meatballs, use a medium scoop. This recipe yields about 20-25 meatballs, depending on the size of your scoop. (Note : If you don't have a scoop, feel free to free form a round small golf size balls about 2 inch in diameter).
5. Place your meatballs in a single layer on a baking sheet and cover with plastic wrap.
6. Chill them in the refrigerator for at least 30 minutes (Note : You can even make them up to a day in advance)
7. Arrange the balls with dampened hands in a greased baking tray then preheat oven to 400 degrees F/200 degree C.
8. Bake for 15-20 minutes or until the meat balls turn slightly brown all over.
9. Add this meatballs to the tomato sauce prepared and gently simmer, covered, stirring occasionally, until cooked through, 20 to 30 minutes.(Note : If it's too thick, you can add little water accordingly)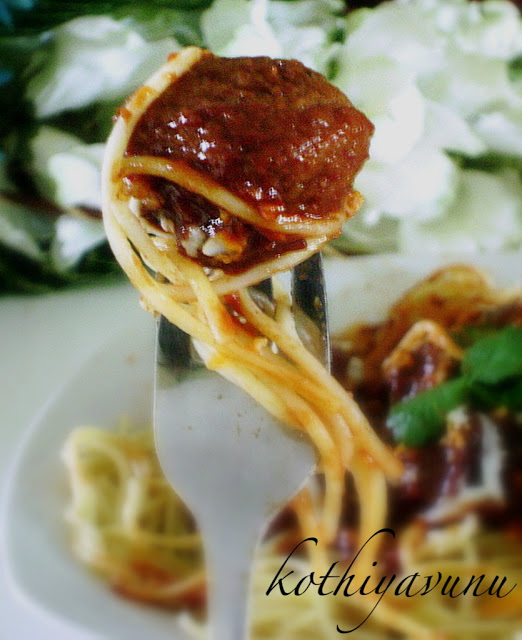 Cooking and Serving Pasta :
1. While the meatballs are cooking , Cook spaghetti in large pot of boiling salted water until just tender but still firm to bite, stirring occasionally. Drain and risne with cold water . Toss with little olive oil.
2. Using slotted spoon, transfer meatballs to platter. Add pasta to sauce in pot and toss to coat.
3. Divide pasta among plates. Top each serving with meatballs. Sprinkle meatballs with freshly grated parmesan cheese and fresh parsely on top.
4. Serve warm and Enjoy!
Notes :
Meatballs can be made and simmered in sauce 5-6 days ahead and chilled (covered once cool).
Meatballs with sauce can be frozen in an airtight container or in sealable bags up to 2 months.
Recipe Source : My Friend Ms.Erma Rodriguez.