Who doesn't love Icy treat, when it's hot outside?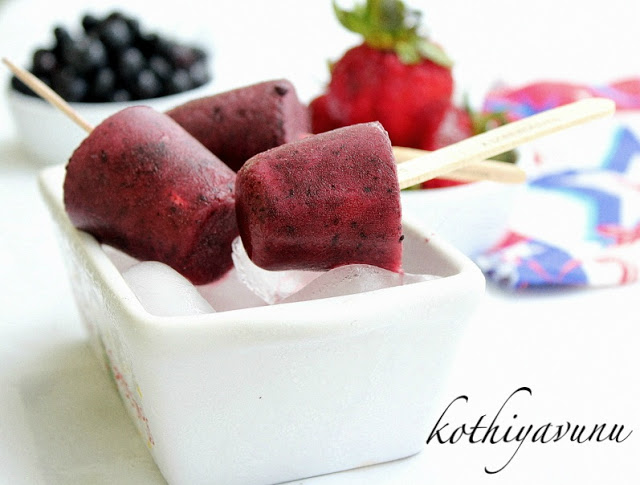 Cool down with this delicious, nutritious and 100 percent guiltless homemade popsicles, whose colors come straight from nature and fully packed with antioxidants, calcium, vitamin C, dietary fiber and more! A special way to get healthy fruits into our kids menu. Do try this kids friendly pops and beat the heat with this Icy treat! Enjoy!

Berry Popsicles Recipe | Strawberry, Blueberry Popsicles Recipe /Berry pops
Preparation Time : 4-6 hrs
Cooking Time : No cooking needed
Makes : 10 pops (depending on the size of your popsicle molds) or 10 small dixie style plastic cups pops.
Ingredients :
Blueberries : 11/2 cup
Strawberry : 11/2 cup (hulled and halved)
Agave : 6 tbsp (you can also use honey)
Almond Milk : 1/4 cup (you can also use whole milk, or soy milk)
Plain Yogurt : 1 cup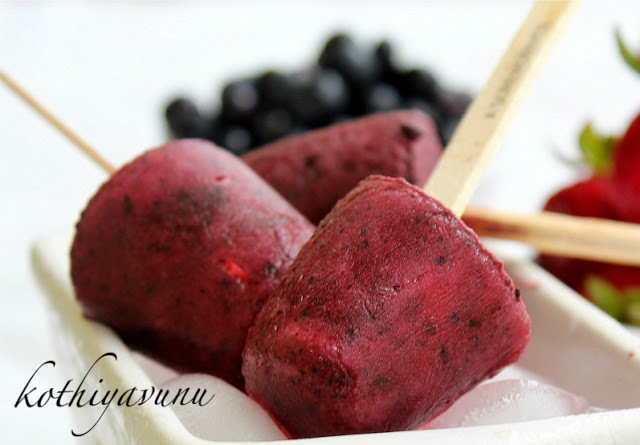 How to make Berry Popsicles /Berry Pops/ Strawberry-Blueberry Popsicles :
1. Place blueberries, strawberrys and 4 tbsp agave or honey (Note : I prefer agave for this recipe.) in a blender and puree until smooth.
2. Combine yogurt, almond milk, and 2 tbsp agave or honey in a bowl and whisk until smooth.
3. Mix the berry puree and yogurt, almond milk together and combine well.
4. Transfer purée to popsicle molds or into small dixie style plastic cups and cover cups with foil and freeze it for 4 hours.
5. Remove from the freezer and insert popsicle sticks into the center and freeze an additional 4 to 6 hours (preferably overnight.) or until frozen solid.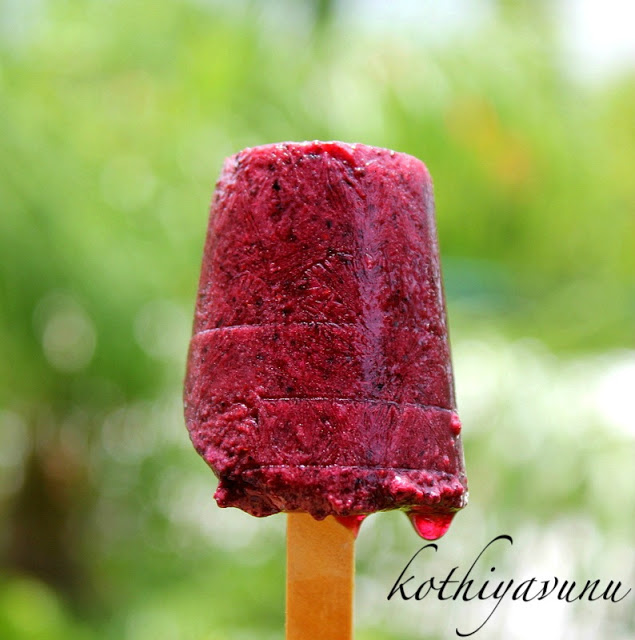 Related Posts:
Click here for more Dessert Recipes.
Have a Good Day!
Sangeetha