Hello Everyone, How are you all?? Here comes my blog 2nd birthday…. yep, Thank You !
This little space is celebrating another year of blogging with all my reader, friends and family. Wow I can hardly believe it; but as the saying goes 'Time flies'. Looking back, it's been a wonderful experience to share all my culinary experiments. Thanks a ton to all my dear readers, blogger friends and to my family, who were really kind to send their encouraging words as always.
Join with me to celebrate this two years of blogging with special Moist Chocolate Cake!!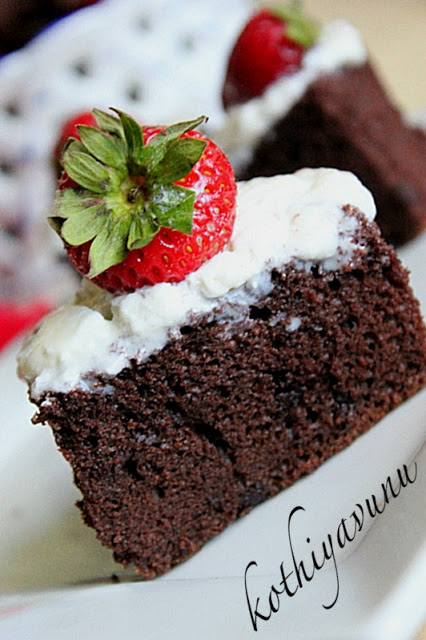 Before getting into recipe a note, You may have noticed, I haven't been posting and blog hopping as much. Life has been really busy with some personal works, each day a run, I hardly find time to blog. I will probably posting less at least for a while and I am not sure how frequent I can visit all your wonderful space, but ofcourse will try my best to catch up your post. I really hope you all will excuse and continue to support me, as you have always done, during this time as well !!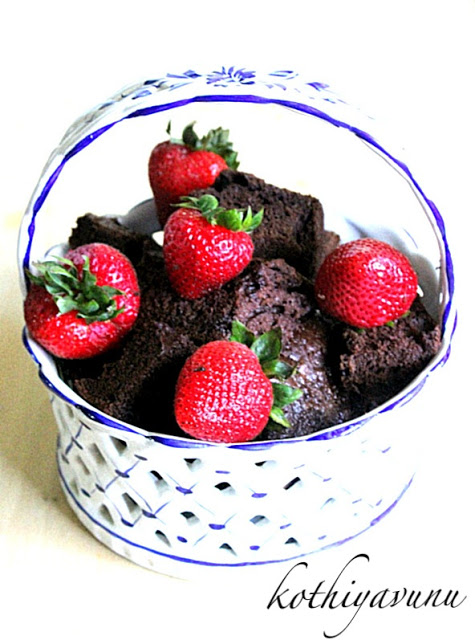 Coming back to recipe..Are you Looking for something that will make your guests say, what a cake…then this is a try!!
I had been hearing numerous raves about this Best Moist Chocolate Cake Recipe and was waiting for an excuse to make it. I finally made It.. Definitely lived up to all its hype, without question. It's very simple and best moist chocolate cake I have ever had..This is my go to chocolate cake and it never fails to be impress!!
Moist Chocolate Cake Recipe with White Vanilla Icing Recipe
Ingredients :
For Cake :
All Purpose Flour : 2 cups
Sugar : 2 cups
Hershey's Cocoa Powder : 3/4 cups
Baking Soda : 2 tsp
Baking Powder (Optional) : 1 tsp (This will make the cake rise just a little bit more than using the Baking Soda only)
Eggs : 2 ( large eggs)
Salt : 1 tsp
Buttermilk : 1 cup
Vegetable Oil : 1 cup
Vanilla Extract : 1 1/2 tsp
Boiling Water : 1 cup
For Vanilla Icing:
Powdered Confectioners Sugar : 1 1/2 lbs /24 oz
Butter : 1/4 Pound Stick (Softened)
Vanilla Extract : 1 tsp
Milk : as required to get the right consistency.
Pinch of Salt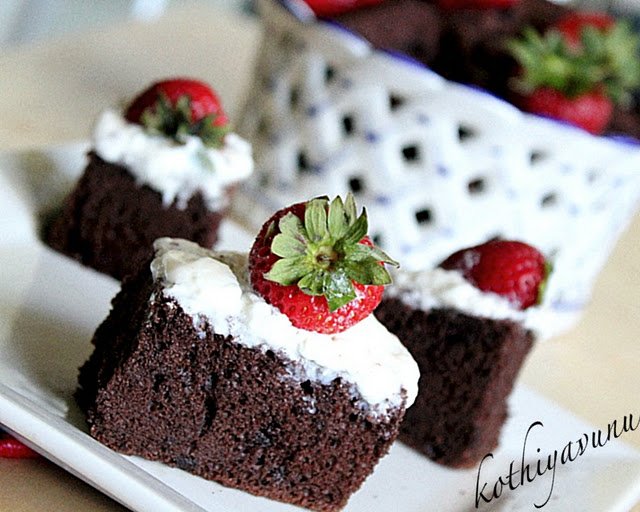 How to make Chocolate Cake – Moist Chocolate Cake with White Vanilla Icing :
To make Chocolate Cake – Moist Chocolate Cake:
1. Preheat the oven to 350 degrees. Grease and flour 9 x 13 inch pans and set aside.
2. Combine all the ingredients, except the cup of boiling water into a mixing bowl.
3. Mix at medium or medium high speed for a minute, now add 1 cup of boiling water and continue to mix until all ingredients are blended and smooth.
4. Pour the mixture into the prepared cake pan.
5. Bake it for 1 hr or until a toothpick inserted into the center comes out clean. If not bake it for an additional 5 minutes and then test again.
6. Remove from the oven and cool in the pan for 10 minutes and invert them onto wire rack and let it cool completely before cutting.
Notes :
You can use 1 cup of strong coffee instead of the boiling water. Doing so intensifies the chocolate flavor. If you're making it for children you might want to stick with the boiling water.
To Make White Vanilla Icing :
1. Place the powdered sugar, softened butter, and vanilla in a mixing bowl. Add a little milk.
2. Mix at high speed until smooth and creamy.
Frost the chocolate cake with Vanilla icing or your desired frosting and Enjoy!