Who doesn't love Strawberries?? And when you can have Muffins for breakfast, even better!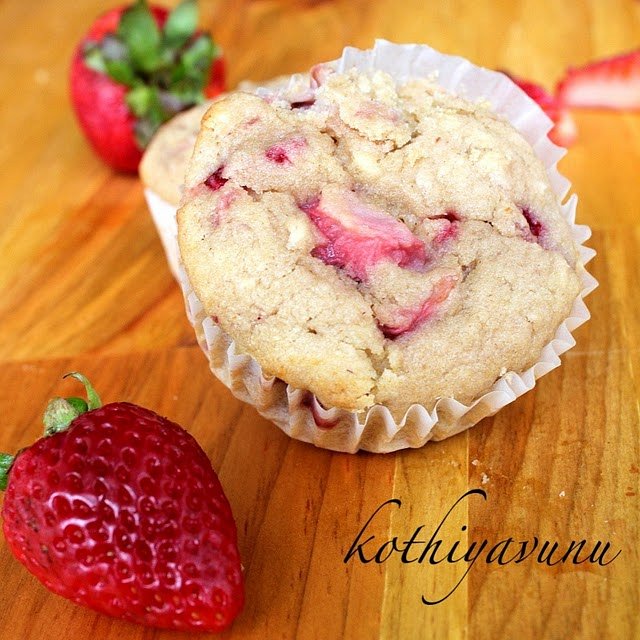 My elder daughter is ultimate fan of strawberries and she been craving baked goods like crazy the past few weeks, but didn't feel like making complicated cake or cookies, so I turned to these muffins. I love the
Blueberry Muffin
recipe from Martha Stewart's Baking Handbook. It makes the best muffins, hands down. So I stared at the strawberries and thought about why the blueberry recipe wouldn't work with strawberries instead, so I decided to try them, with a few changes. They were delicious, extra moist and tasty, because they are loaded with strawberries flavor and almond milk. My kids loved them, too, and within an hour, the entire dozen was nothing but crumbs.The one thing I would change for next time is quantity of strawberries, since cut up strawberry pieces are bigger than blueberries, use only about 1 1/2 cups of chopped berries for the muffins. I used a full two cups, and there are so many berries; the muffins are falling apart. But they are delicious, healthier and so much fresher-tasting. Hope you all will enjoy it as much as we do, Enjoy!
Makes 12 standard size muffins
Ingredients :
All-Purpose flour : 11/2 cup
Whole Wheat Flour : 1/2 cup
Unsalted Butter : 1/4 cup (at room temperature)
Baking Powder : 1 1/2 tsp
Baking Soda : 1/2 tsp
Fresh firm Strawberries : 11/2 – 2 cups (chopped ) (Avoid using frozen strawberries, which would be too watery)
Salt : 1/2 tsp
Sugar : 1 cup
Eggs : 2 ( at room temperature)
Almond Milk : 1/2 cup
Almond Extract : 1 tsp
How to make Strawberry Almond Muffins/Strawberry Muffins :
1. Wash strawberries, remove the hull, and pat dry; chop and set aside.
2. Preheat oven to 375 degrees and line a 12 cup muffin pan with paper liners or lightly butter or spray the muffin cups with a vegetable spray.
3. Whisk together the flour, baking powder, baking soda and salt.
4. Using an electric mixer, beat butter and sugar until light and fluffy.
5. Beat in eggs one at a time and add vanilla extract.
6. Turn mixer speed to low and add flour mixture slowly until incorporated.
7. Add almond milk slowly and mix on low speed until just combined. Do not over mix batter (Note : If you feel you did it, just let it rest for about 15 minutes before moving on.)
8. Sprinkle the strawberries with a little bit of flour, no more than a teaspoon, just to coat them. Shake off excess flour. This step will prevent the strawberries from sinking to the bottom of the muffins.
9. Fold in chopped strawberries (Note : Use only about 1 1/2 cups of chopped berries.) carefully into the muffin batter and pour batter into prepared muffin cups. (Note : At this point you can choose to sprinkle them with some sugar and 2 tbsp of sliced almonds to give an extra crunch and sweetness to them.)
10. Bake for about 18-20 minutes. Test it by doing the toothpick test, it should come out clean if inserted in the center of a muffin.
11.Transfer the pan to a rack to cool for 5 minutes before removing each muffin and placing on a wire rack to cool. Serve and Enjoy!