Who can resist coconut cookie? I can't, that's for sure. They make me feel like a kid again..:) If I were to pick one iconic cookie from my childhood, it would have to be coconut cookies. They are so yum and addictive.
Coconut cookie was one of the first cookie recipes, I learned to make by myself and we always had some around. This time, I wanted to make little healthier, so added oatmeal & pecan to it, but the best part of these cookies is the texture. They are thick, soft, and crunchy – just perfect!!
There are some recipes I return to again and again. Whenever I make oatmeal cookies, I always use the same recipe of Oatmeal Peanut Butter Cookies. Why? Because it will never fails…Now talking about the health side of these cookies; Coconut is highly nutritious and rich in fiber, vitamins, and minerals. Oats are packed with fiber too. They lower cholesterol, are rich in antioxidants and stabilizes blood sugar. Pecans are an excellent source of vitamin-E and are packed with many important B-complex group of vitamins, minerals, antioxidants..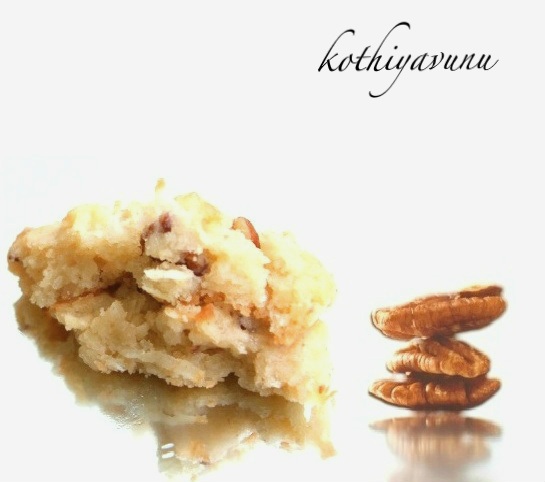 What could be better than a cold glass of milk and a couple homemade coconut cookies?? Or half a dozen cookies?? Crave on 🙂
Oatmeal Coconut Pecan Cookies Recipes
Preparation Time : 5-8 mins
Baking Time : 10 mins
Makes about 30 cookies.
Ingredients:
All Purpose Flour : 1 cup
Oats : 2 cups (rolled or quick but not instant)
Pecans : 1/2 cup (chopped)
Shredded Coconut : 1/2 cup
Butter : 1/2 cup softened (room temperature) Brown Sugar : 1/2 cups packed
Granulated
Sugar : 1/2 cup
Eggs : 1 large
Milk : 1 tbsp
Vanilla Extract : 11/2 tsp
Baking Powder : 1/2 tsp
Baking Soda : 1/2 tsp
Salt : 1/4 tsp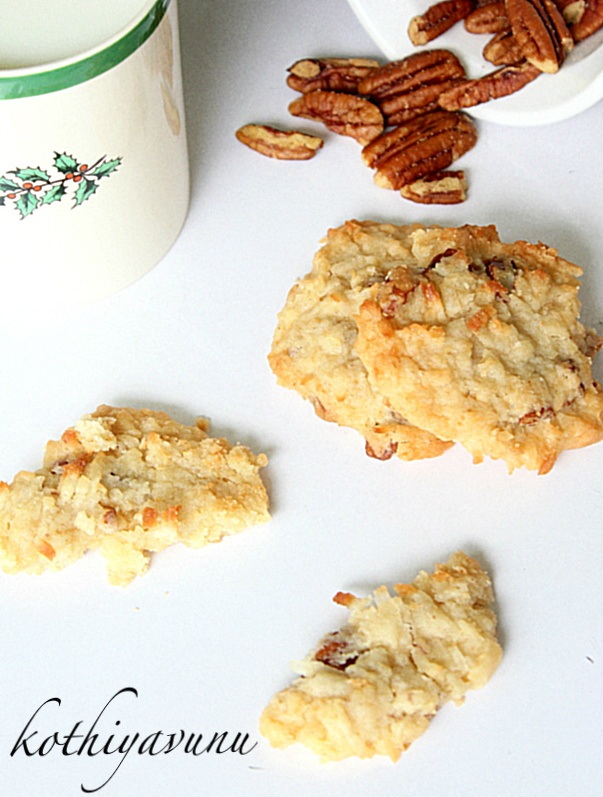 How to make Oatmeal, Coconut & Pecan Cookies Recipe:
1. Pre-heat the oven to 375 degree F /190 degrees C and line a baking sheet with parchment paper.
2. In electric mixer or in hand mixer cream the butter and sugar until light and fluffy (about 3 to 4 minutes).
3. Beat in the eggs one at a time, followed by the milk and the vanilla extract.
4. In a medium bowl, stir together the flour, baking soda, baking powder and salt. Either by hand or with the mixer on low speed, gradually beat the flour into the creamed sugar butter mixture until just incorporated.
5. One ingredient at a time, with mixer on low, add the shredded coconut, oats, and chopped pecans.
6. Drop one tablespoon of cookie dough onto the cookie sheet, placing about 1 1/2 inches apart so they have room to spread. (Note : Keeping your cookies the same size helps them to bake evenly.)
7. Bake it for 8-10 minutes, until golden brown at the edges and light golden at the center. (Note : Rotating the baking sheets front to back and top to bottom halfway through the baking time.)
8. Cool on baking sheet for at least couple of minutes before transfering to a wire rack to cool completely.
9. Serve with cold milk or cup of coffee and Enjoy!