Who will say No to Paneer, definitely none at my home. We just love paneer and its quite a routine for me to pick them on every grocery shopping. Chicken Tikka being popular and most famous appetizer for parties, here comes Paneer tikka as a wonderful vegetarian alternative. Paneer /Indian Cottage Cheese pieces and bell pepper smeared with flavored yogurt paste and placed on skewers and roasted to get a crisp snack..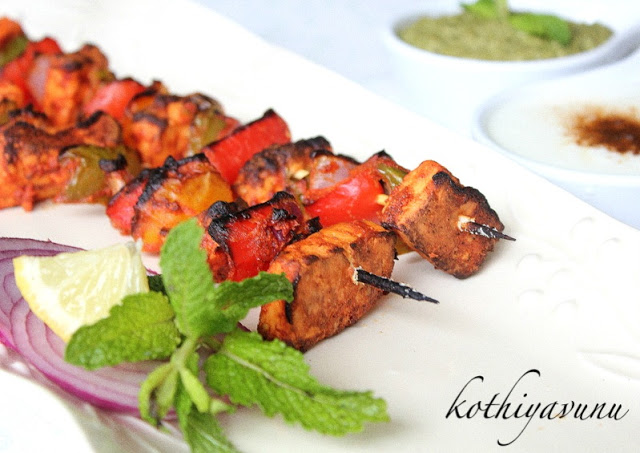 Couple of weeks before we had bbq party at our friends home and I prepared these..To my surprise Paneer tikka stood as star recipe of the day…It was a big hit and everyone fell head over heels on the these tikkas..:) Sprinkle chaat masala and some lemon juice on it and relish it with mint chutney, Tastes absolutely divine, so here we go Paneer tikka bursting with flavor for die-hard-paneer lovers!!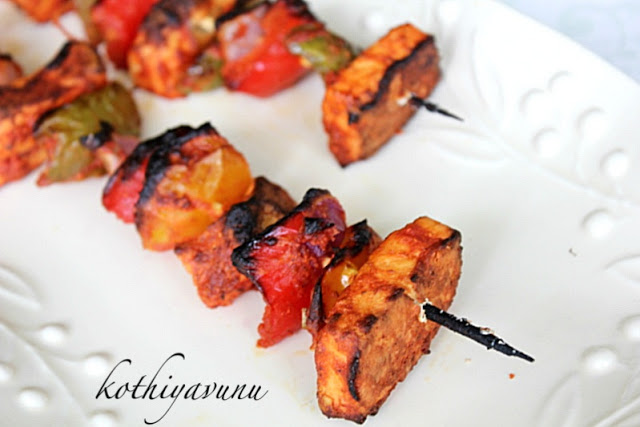 Tandoori Paneer Tikka Recipe – Spiced Skewered Grilled Cottage Cheese Recipe
Preparation Time : 2-4 hrs
Cooking Time : 10 minutes
Serves : 4
Ingredients :
Paneer : 8 0z / 250 grms (cut into 1/4 inch thick and 1inch long pieces)
Bell Pepper /Capsicum (red, green or yellow) : 2 (cut into small square pieces)
Onion : 1 (cut into small square pieces)
Butter : 1 tbsp
Ajwain Seeds /Carom Seeds : 1/4 tsp
Thick Yogurt /Hung Curd : 1/2 cup
Kashmiri Red Chillies /Paprika : 1 tsp or to your tolerance level
Gram Flour : 1/4 cup
Garlic Paste : 1 tsp
Ginger Paste : 1 tsp
Lemon Juice : 2 tsp
Mustard oil : 2tbsp
Turmeric Powder : 1/2 tsp
Tandoori Masala : 1 tsp
Chat Masala : for Garnish
Salt to taste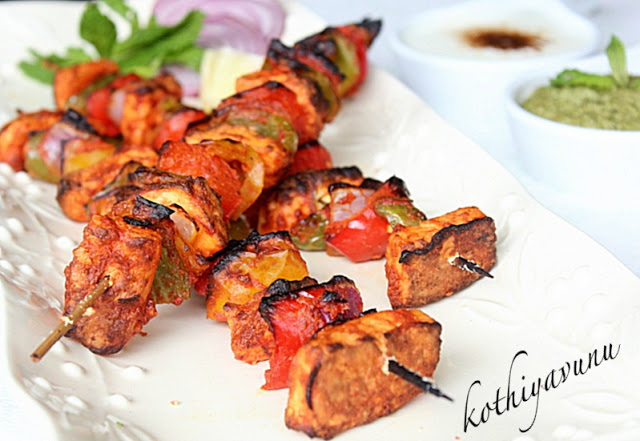 How to make Tandoori Paneer Tikka :

1. Melt butter in a pan and add the ajwain seeds and gram flour and roast it in a slow flame for a minute till you get a nice aroma. (Note : Care should be taken not to burn the gram flour; the best way is to stir continuously and take the pan off the heat, back to the heat time and again). Allow this to cool.
2. Soak the bamboo skewers in water for 5 minutes. Take them out and wipe them and set it aside or you can use metal skewers without soaking them in the water.
3. To prepare marinate : In a large blow, add 1 tbsp of above roasted gram flour mix, yogurt, kashmiri red chilli powder, ginger garlic paste, lemon juice and mix well.
4. Heat mustard oil till the smoke comes and remove from the fire, now add turmeric powder and stir well; add the turmeric oil into the above marinate mixture and combine well.
5. Mix paneer cubes, capsicum/bell peppers, onion pieces into above marinate mixture and mix well
6. Arrange paneer pieces on soaked bamboo skewers or metal skewers with the capsicums pieces, onions and set aside for around 2-4 hrs in a refrigerator. (Notes : As paneer is very soft and can break very easily so arrange carefully.)
7. Place the paneer tikka skewers on baking tray covered with aluminum foil, brush with little oil on top.
8. Broil the Paneer in the oven on high for 8-10 minutes each side. (Note : Temperature setting and cooking time may vary depending on oven so adjust the timing accordingly.)
(or) grill the paneer tikkas on a tandoor or barbecue grill over a moderate heat for 6-8 minutes or till light brown in color from all sides (Note : Do not overcook it or the paneer will become chewy.)
9. Remove and sprinkle chaat masala and some lemon juice on it and relish it with
mint chutney
and Enjoy!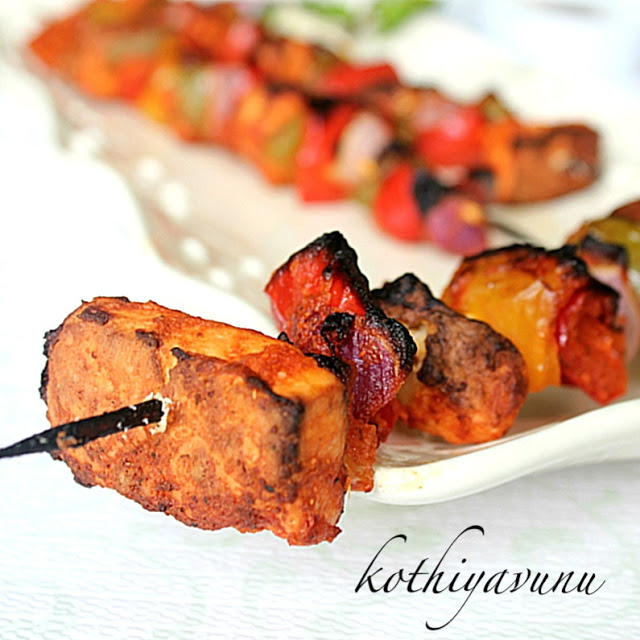 Alternatively you can cook Paneer tikka on Tava/Pan :
Follow the above step 1 to 7. Heat a non- stick tava and place the skewer on a medium flame using oil till the paneer is light brown in colour from all sides. Serve immediately sprinkled with chaat masala and some lemon juice on it and relish it with
mint chutney
and Enjoy!
Notes :
This recipe works very well for the chicken tikka as well.
The Paneer and the Tandoori Masala can be made at home or can bought at any Indian grocery store. Here I have used store bought paneer and tandoori masala.
Check here for more Starter Recipes.
Until next time, Bon Appetit,
Sangeetha