Another favorite delicacy of non-vegetarian population of Kerala!
Kerala Parotta with Chilli Beef is hot favorite among Keralites (residents of the South-Indian state of Kerala.) Beef pieces cooked in freshly ground spices and sauteed with onions and coconut slices gives it a rich and aromatic flavor. This is one of famous Thattukada (Kerala's version of a street side fast food) and Kallushap/Toddy Shop dishes. To know more about Toddy check here.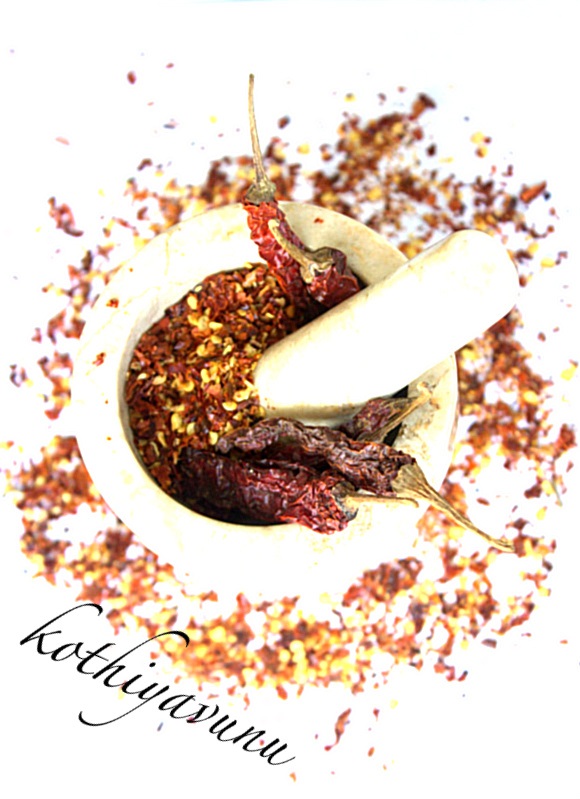 This spice-rich Kerala Style Chili Beef preparation has hundreds of regional variations and it also goes by several names; some people call it Erachi Ularthiyathu (Sauteed Beef) or Erachi Olathiyathu, while others call it Nadan Style Chilli Beef. This curry would be very spicy, Using a chilli powder is not recommended for this recipe, instead red chilli flakes are used so you may adjust the spiciness by increasing or cutting down amount of chilli flakes or if you're like me enjoy pumping up the heat, feel free to add more chili flakes.:-)
It is very simple to prepare and tastes too good. It pairs well with almost anything you can think of Kerala Parotta, Rice, Appam, Kappa or any Roti/ Indian Bread varities, etc…If you love spicy food this is must try, promising to tingle your taste buds and leave you craving for more..:)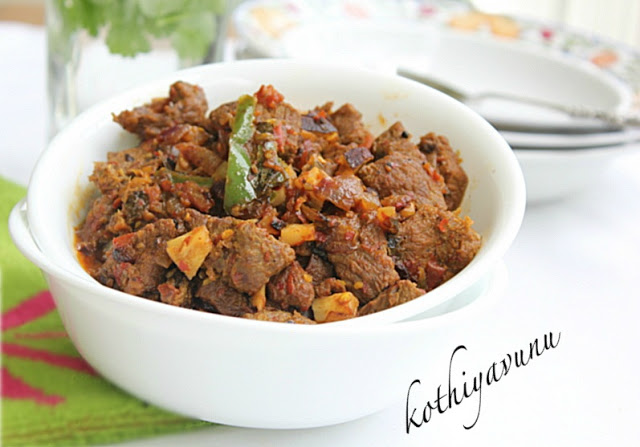 Recipe for Nadan Chilli Beef Recipe – Beef Ularthiyathu Recipe – Kerala Style Chilli Beef Recipe
Preparation Time: 1 hour
Cooking Time : 20 minutes
Serves: 4
Ingredients :
To Marinate :
Beef : 1 kg /2 lb (cut into small cubes)
Red Chilli flakes / Crushed Chilli Flakes : 4 tbsp or to your torelance level
Garlic : 2 tbsp (crushed)
Ginger : 2 tbsp (crushed)
Curry leaves :1 sprig
Vinegar : 2 tbsp
Salt to taste
For Sauteing :
Shallots / Small Red Onions : 1 1/2 cup (thinly sliced) or Onion : 11/2 cup (thinly sliced)
Green chilies : 4 nos or to taste (split length-wise)
Curry Leaves : 2-3 sprig
Thin Coconut Slices/ Thenga kothu : 1/2 cup
Coconut Oil : 1/2 cup


To Dry Roast & Grind Coarsely :
Freshly Crushed Peppercorns / Kurumulaku Podi : 1/2 tsp
Fennel seeds / Perinjeerakam : 1/2 tbsp
Cinnamon Stick / Karuvapatta : 1″ piece
Clove / Grambu : 4 nos
Cardamom / Elakka : 4 pods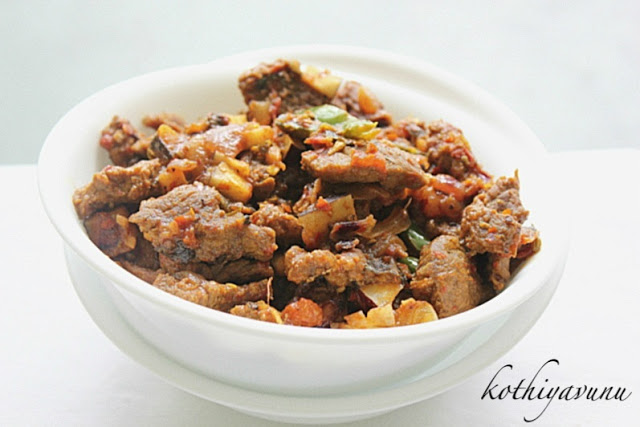 How to make Chilli Beef – Beef Ularthiyathu :

1. Wash and chop beef to small sized cubes; drain it and set it aside.
2. Heat a pan on a medium heat till hot. Reduce the flame to simmer and dry roast the ingredients listed above 'To Dry Roast & Grind' on the pan. Stirring often till the spices give off their aroma and begin to get slightly darker; remove from fire. Allow to cool.
3. Grind the above roasted spices into a coarse powder.
4. Marinate the beef pieces with above roasted spices and the listed ingredients "To marinate ' and refrigerate it for about 1/2 to 1 hrs
5. Pressure cook the marinated beef pieces without adding any water for about 2-3 whistles or put the above marinated beef piece into a large deep vessel without adding any water and cook on a medium flame till the meat is tender. (
Note :
Do not add any water as the meat will give off its own juices.)
6. When it done or when the pressure settled down open the cooker and cook uncovered in a medium-low flame till all water in it is evaporated and beef pieces become almost dry.
7. Meanwhile heat the pan with 3 tbsp of oil and fry the coconut slices to light brown color, remove and transfer it a paper towel.
8. In the same pan add the remaining oil and add finely chopped shallots/onions and green chilies and saute until turns to translucent and brown in color, now add the curry leaves and saute for couple of minutes.
9. Now add cooked beef pieces and combine well and roast it over medium-low fire till it turns dark brown in color. (Note : Stir in between to avoid burning and it takes 15 minutes approximately)
10. Once the beef starts to dry and have attained the dark brown color then add fried coconut slices and combine well. (Note : This dish traditionally has no gravy at all and is dry so if water is present, make sure to dry it off, but my pics of this dish shows little gravy. I made this for my friends and they prefer it with little gravy.)
11. Tasty Chilli Beef Fry is ready to serve. Serve with Parotta, Rice, Appam, Kappa or any Roti/ Indian Bread and Enjoy!!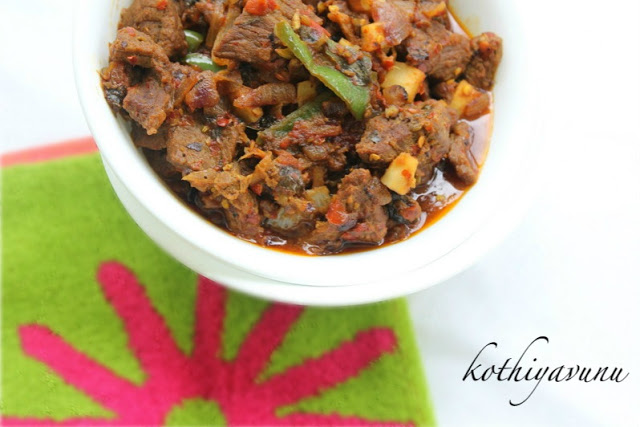 Notes :
This is a very hot dish. Add or reduce chilli flakes and pepper powder according to your taste. Optional – To bring down the heat, if you want can substitute red chilli powder with paprika powder.
Using freshly ground pepper and chilli flakes adds to it taste and I prefer to use shallots instead of onions as it gives a great flavor to dish.
You can buy chilli flakes in Indian grocery stores or even make it at home by crushing the dried whole red chillies using coffee grinder or mortar and pestle.