This is a long due recipe for me…though I make this often, either I will forget to take the snap or it will be finished by then..:)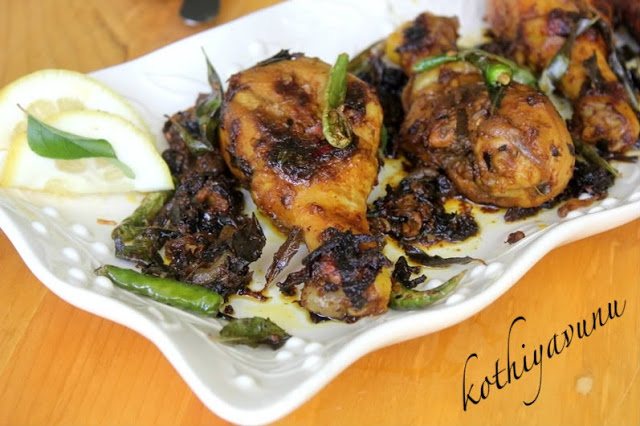 This is one chicken recipe that my entire family loves and keep asking for.The best part of this recipe is it doesn't need more oil and tastes too good..It can be made as a side dish, or as the star player. Either way, this chicken fry is super easy to work with and when done, it is perfectly crisp on the outside and juicy inside. It pairs well with Rice, Roti's, Kerala Parotta, etc or enjoy as an snack. If you haven't tried this yet, do try and you will be hooked!!
Recipe for Nadan Kozhi Varuthathu /Kerala Style Chicken Fry
Preparation Time : 1 hr

Cooking Time : 20 minutes

Serves : 4
Ingredients:
To Marinate :
Chicken Thigh or Breast : 2 lb /1 kg or Chicken Drumstick : 6 nos
Garlic : 1 1/2 tbsp (crushed )
Ginger : 1 tbsp (crushed)
Red Chilly Powder : 2 tbsp or to your tolerance level
Coriander powder / Malli podi : 1 1/2 tbsp
Gram Masala : 1 tsp
Freshly grounded Black Pepper Powder /Kurumulaku Podi : 1 1/2 tbsp or to your tolerance level
Cumin powder / Jeeraka Podi : 1/2 tsp
Fennel Powder /Perumjeerka Podi : 1/4 tsp
Lemon Juice /Vinegar : 2 tsp
Water as needed
Salt to taste
To Fry :
Onion : 1/4 cup (thinly sliced) (optional)
Green Chillies : 4-6 nos (Slit lengthwise)
Curry Leaves : 2 sprig
Oil : 3-5 tbsp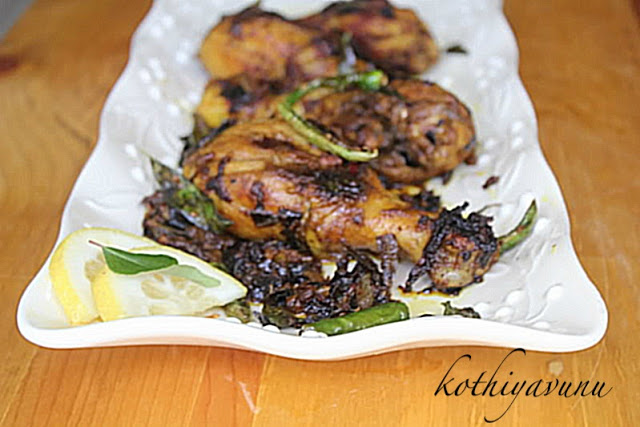 Method of Preparation:

1.Wash chicken pieces, make 2-4 slits on each chicken pieces / drumsticks and pat dry using a paper towel.
2. In a blow, marinate the chicken pieces with all the above listed ingredients 'To Marinate' adding little water and cover the bowl with a plastic wrap and refrigerate for a minimum of 1 hours or overnight.
3. Pressure cook the marinated chicken pieces without adding any water for about 2 whistles. or heat a saucepan, close and cook the marinated chicken pieces until it turns to tender.
4. When its done, open and release the pressure fully or open the saucepan and again cook it uncovered over a low flame, untill the gravy thickens and water dries up and the oil clears. (
Note :
At this point, you can see that the oil has cleared from the chicken) Allow it to cool and combine the chicken well.
5. Heat oil in a pan, add sliced onions, green chilles, twig of curry leaves and now shallow fry the chicken pieces for about 5-8 minutes and then turn it around and continue frying for another 5-8 minutes or until the chicken is evenly browned and its crispier on the outside (
Note :
Make sure you keep the heat at low-medium, so that the inside of chicken gets cooked well too and flip the chicken pieces frequently to avoid burning.)
6. Remove from the fire and transfer it to a paper towel and allow to slightly cool.
7. Serve hot as side dish with steamed
Rice
, or with any
Indian Breads
,or
Kerala Parotta
& enjoy!