Craving for condiments.. Here it is!
Pickle is a traditional condiment used with Indian meals. Back home in Kerala pickles is pronounced as 'achaar' or 'uppillittuthu', each type of pickle being given its own name. Achar/Pickles are usually a must have in Sadya's/Kerala feast served on the left corner of the banana leaf.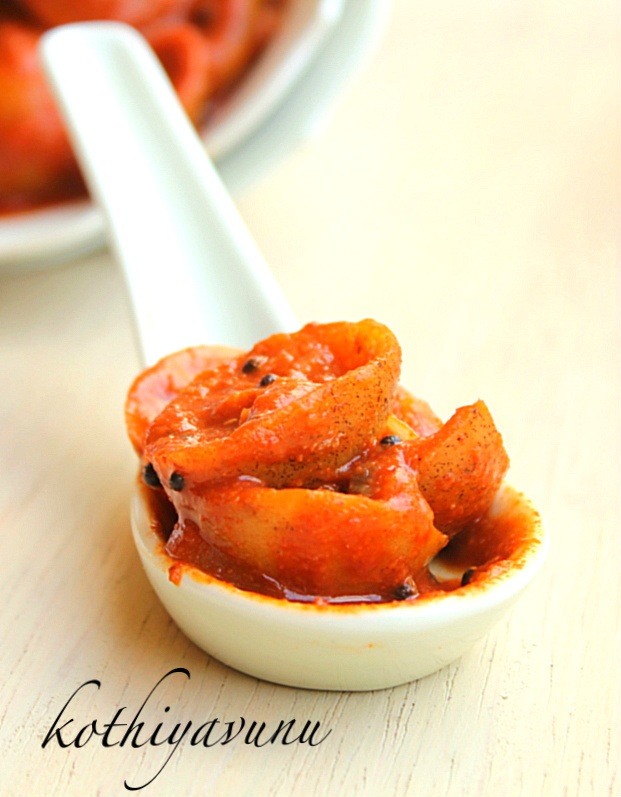 Home made pickle always taste good than the store-bought one. When it comes to pickle it reminds me of my husband cousin 'U' who is a except in preparing pickles and he prepares in the most authentic way. In their house kitchen shelves are lined with an array of cylindrical ceramic jars (Bharani) containing different varieties of pickles. Whenever we visit India, we pick atleast 5-6 bottles of variety pickles. I can say this In & around Thrissur (a city in the Indian state of Kerala) his homemade pickles are very famous and one of the best, so I thought it was a good idea to blog this recipe and save it.
Trust me folks, I highly recommend it because this pickle recipe rocks and it's prepared in most authentic way though, its quite a lengthy process to make, but its worth all the effort and it's taste is much more authentic.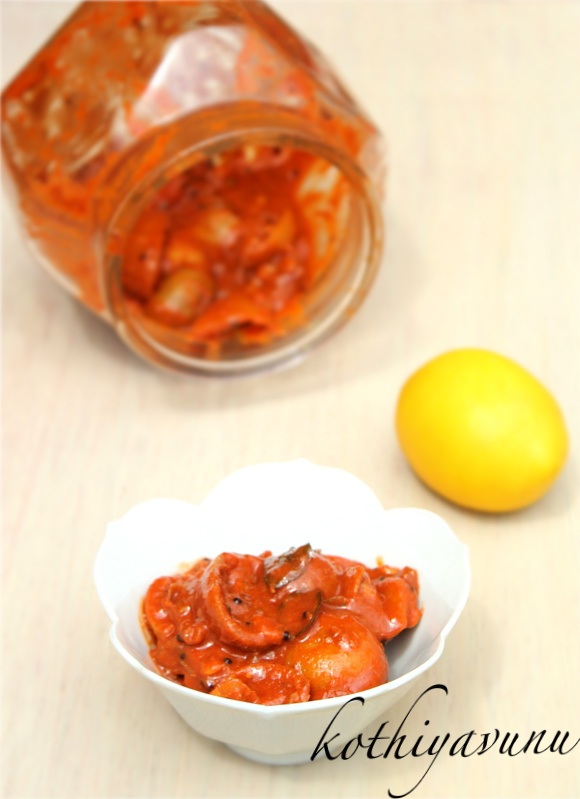 If it can be made with the right proportion of ingredients and preserved in a dry ceramic jar (Bharani ) or a glass jar it can be kept for years.There are different recipes of making "Lemon Pickle"/"Naranga Achar" and here is recipe, I used given to make the mouth watering tangy traditional lemon pickle…Do try this and let me know how you like it 🙂 Enjoy!

Naranga Achar Recipe – Naranga Kari Recipe – Authentic Kerala Style Lemon Recipe – Lime Pickle Recipe
Preparation time : 30 minutes + 22 days
Ingredients:
Cheru Naranga / Yellow Lemon /Lime : 1 lb /1/2 kg
Enough Water for cooking the lemon
Garlic : 12 cloves
Whole Dried Red Chili : 5 nos
Turmeric Powder : 1 tsp
Red Chili Powder : 4 tbsp
Fenugreek Powder : 1/2 tsp
Asafoetida Powder /Kayam : 1/2 tsp
Gingely Oil /Sesame Oil /Nallenna : 4 tbsp
Vinegar : 1 tsp or as required
Mustard Seed : 1 tsp
Curry leaves : 2 sprig
Salt as required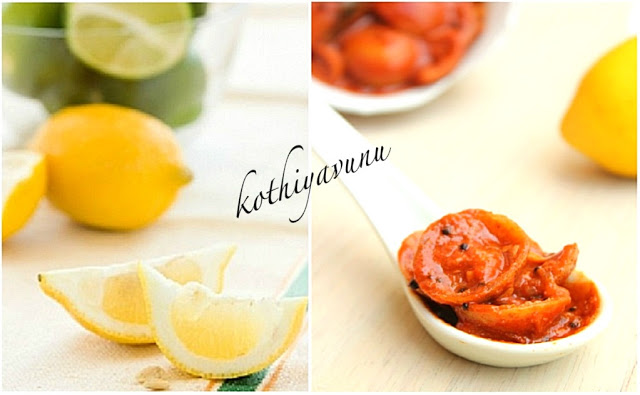 How to make Naranga Achar-Kari – Lemon Pickle – Authentic Style :


1. Clean, wash and pat dry lemon/lime.Steam in steamer or idli vessel for 8-10 minutes.Remove from the fire and take out the lemon from steamer. Let it cool and wipe it well with a kitchen towel. (or) In a big pan, boil enough water and immerse the lemon in the boiling water and cook until the lemon become tender. (Note : Approximately it takes 10 mins. Do not overcook the lemon/lime, then you can't make it into slices.) Remove from the fire and take out the lemon from the water and let it cool and wipe it well with a kitchen towel. Cut the lemon into quarters and then cut each quarter into a half along the length. Then cut each resulting piece into quarters or thirds.(or) You can also opt not to steam or boil and cook lemon in water, instead you can just cut and quarter the lemon and proceed. If lemon is thick-skinned kind, then it would be better if you boil and cook in the water or steam them.
2. In air tight dry glass jar or in a ceramic jar (bharani); add chopped lemon pieces,turmeric powder, salt according to your taste and pinch of sugar, mix well and keep for 10 to 15 days in room temperature and place it in the sunlight everyday morning. Shake the jar once everyday or stir the mix once a day using a clean,dry wooden spoon. (Note :You will see that as the days progress the skin of the lemon starts softening and turning brown along with liquid at the bottom getting thicker than on the very first day.Let the jars sit in sun till the lemons are totally soft, brownish in color and the liquid is more like a syrup. You will need to shake the jars periodically.If you don't have the patience to wait for 10-15 days, then just keep it for 3-4 days and follow rest the procedures, but the taste of pickle may not be exactly the same as the authentic one.)
3. On the day you are making the pickle, take it out and drain the water if any (Note : This helps to reduce the sour taste) or if you prefer pickle to be little gravy and sour then reserve the drained liquid from the lemon.The liquid is syrupy and has an intense salty scent.
4. Slice the garlic pods lengthwise and set it aside.
5. Heat the 2 tbsp of sesame oil/gingely oil in pan. Add the mustard seed, when it's starts spluttering, add the curry leaves and dry red chillies; saute for 30 second. Add the garlic slices into it and saute until it turns to nice brown color.
6. Simmer the flame. Add the red chili powder, asafoetida powder, fenugreek powder, curry leaves and saute for couple of seconds.(Optional – If you want pickle to be little gravy then add reserved liquid from the lemon if any,or add 1/4 cup of water and bring to a boil, when the gravy is thick, remove from the fire.)
7. Allow the mix to cool down and then add the lemon slices; mix well and adjust the salt. Remove from fire and let it cool.
8. Add vinegar and combine well in a such a way that vinegar has to get into all the part and leave it in the pan for 4-6 hours,but you can omit this step if you want.
9. Transfer it in an air tight glass jar or in a ceramic jar (bharani) and add 2 tbsp of gingely oil. Keep it in a room temperature for a weeks for the flavor to set in and then refrigerated it for further use.
10. Traditional Kerala style Lemon pickle/Naranga achar is ready! Serve and Enjoy with anything as you wish! Pairs well with curd rice!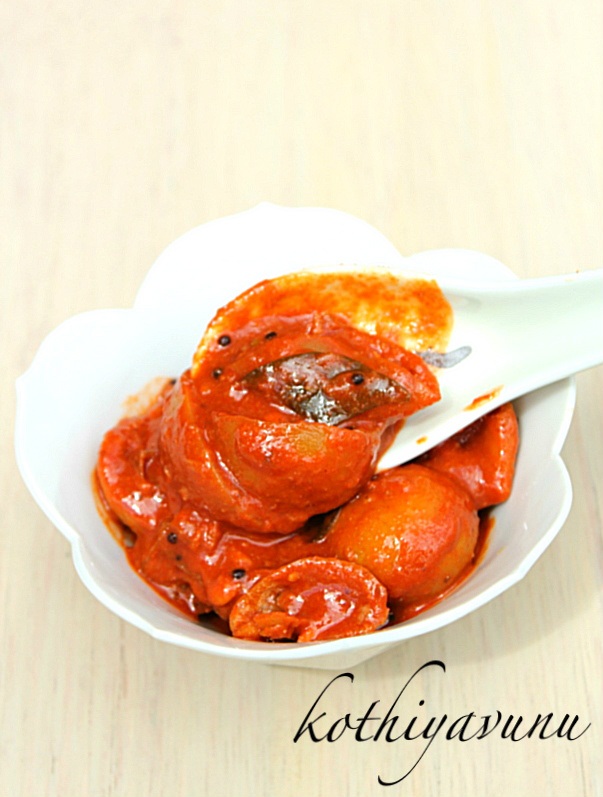 Notes :
Use limes or lemons that has lots of juice.
You can also opt not to steam or boil and cook lemon in water, Instead you can cut lemon and turmeric powder,salt and proceed to keep in sunlight. If lemon is thick-skinned kind, then it would be better if you boil and cook in the water or steam them.
Be cautious not to get the pickle in contact with water…Use only clean dry spoon to scoop the pickle from the jar. Do not use wet spoon which adds moisture and the pickle very easily get "fungus" and that spoils the whole pickle.Even a small drop of water makes this pickle spoil soon. Even while serving the pickle, make sure the spoon you put in this container is very dry. Better yet, transfer small quantity in a smaller container which can be used to serve.
Any pickle should taste salty when it is prepared. The salt gets absorbed by the pieces as time passes. If it tastes just perfect when the pickle is prepared, it gets spoiled soon.
Open the lid of lemon once in about 2 weeks and mix with a clean dry spoon. This helps in redistribution of salt.
If you wish you can add any other oil, using sesame oil gives authentic & special flavor to the pickle and it helps pickle stay longer.
If the oil seems to less add boiled and cooled oil to the top of the pickle..This will prevent fungus.
Add or reduce the chilly powder to the pickle. If you adding more chilly powder then roast it before adding and mix well. It wont be spicy since the sourness of the lemon will compensate its heat.
Avoid using steel container for storing..Always store in dry ceramic jar /bharani or a glass jar and please note to clean the bottle and caps you planning to use for lemon pickle with hot water and wipe and dry well without any water content.
Related Posts :

Happy Cooking!
Sangeetha