Hello to all! Hope things are great with you all…Well, it's high time I posted something here..As I've mentioned in the earlier posts, I was too busy with some personal works, so I'm having a hard time to get back to blogging…I myself can't believe that I was too busy, Looks like it'll be like this for the next few days too…so I thought I'll just drop in and say hi and share this recipe for the Onam Sadya (Kerala Feast)..'Simple Vellarikka/Cucumber Pachadi'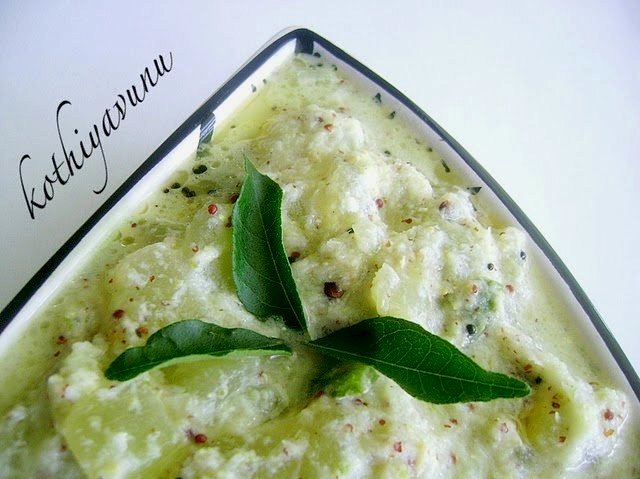 Pachadi is a simplest South Indian dish that falls somewhere between curry, salad and condiment this is a common dish served in Kerala Sadya (feast). Pachadi can be made of any vegetable like cucumbers, squash, mango, bitter gourd, mango, pineapple or carrot, etc. The main flavors are sweet from the coconut and sour from the yogurt. Try this healthy, refreshing and simple pachadi /curry and Enjoy!
Vellarikka Pachadi Recipe – Cucumber Pachadi Recipe – Cucumber Yogurt Curry Recipe
Preparation Time : 5 minutes
Cooking time : 8-10 minutes
Serves : 4
Ingredients :
Cucumber /Vellarikka : 1 large (peel the skin and chop into small pieces)
Ginger : 1 tsp (finely chopped)
Green Chillies : 3 nos
Grated Coconut : 1 cup
Mustard Seeds : 1 tsp
Plain Sour Yogurt : 1 cup
Curry leaves: 1 sprig
Salt to taste
Coconut Oil : 1 tsp
How to make Vellarikka Pachadi – Cucumber Pachadi :
1. Cook the chopped cucumber with salt, adding little water till it turn to soft.
2. Grind the grated coconut, green chillies, ginger and 1/2 tsp mustard seeds into a smooth paste with 1/4 cup yogurt.
3. Add the coconut paste to the cooked cucumber and heat it over low flame. Allow to cool and add the rest of the yogurt and set it aside.
4. Heat oil for tempering in a small frying pan and add the curry leaves, mustard seeds, when the mustard seeds start popping, add it to the pachadi and mix well.
5. Serve with steamed rice and enjoy!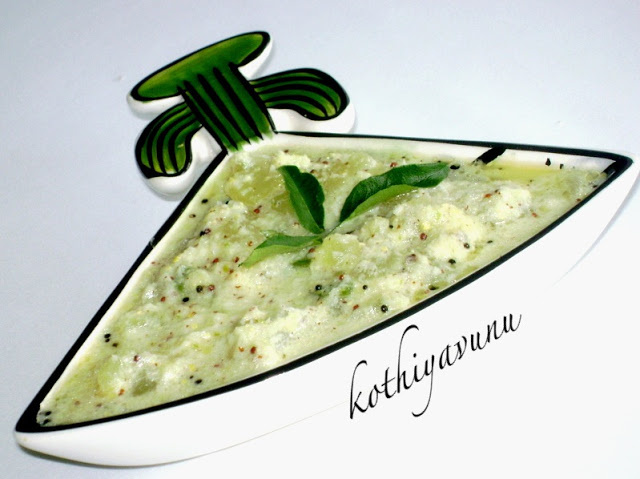 Click here for more Kerala Sadya Vibhavangal
Cheers!
Sangeetha