Thanks a ton everyone for your kind good wishes and encourgement you've sent my way. It brings me so much joy to read them..Really appreciate your time!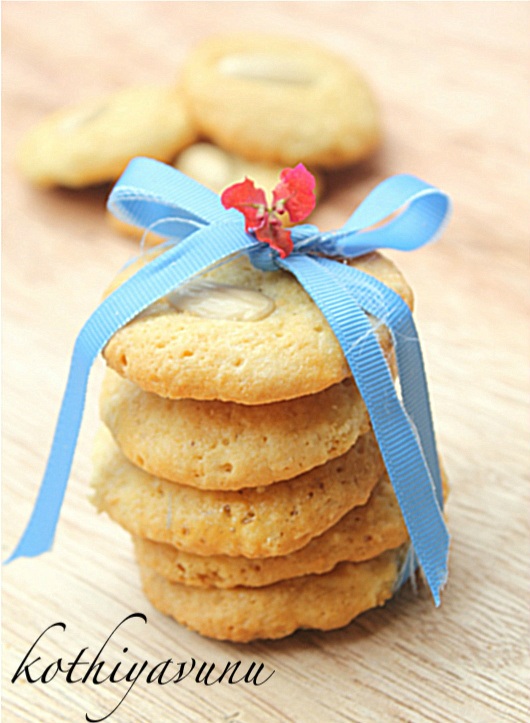 Let move on to the recipe..I was looking for the perfect almond cookies to make for my girls, and came across the recipe in Martha Stewart's cook book collections, so tried it and the outcome was perfect. They were so good, I had to share them with u all…My girls loved them, too, and within an hour, the entire dozen was nothing but crumbs and nowadays it has become our most of the time evening snack with a cup of tea.
Hope you all will enjoy making this cookies as much as we did..:-)
Recipes for Almond Cookies
Preparation Time : 30 minutes

Baking Time : 15 minutes

Makes : 28-30 cookies
Ingredients:
Toasted Almond : 1 cup (to toast almonds, see the notes)
All Purpose Flour : 1 cup (spooned and leveled)
Unsalted Butter : 1/2 cup /1 stick ( room temperature)
Orange Zest : 1 tsp (finely grated)
Egg : 1 whole and 1 white
Almond Extract : 3/4 tsp
Sugar : 3/4 cup
Baking Soda : 1/2 tsp
Salt : 1/2 tsp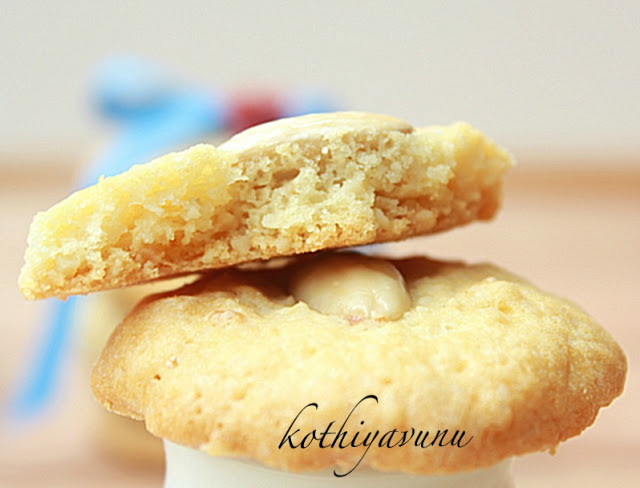 Method of Preparation :
To Toast Almonds : Preheat oven to 350 degree F /180 degrees C. On a rimmed baking sheet, toast almonds for 6-8 mins or until lightly golden brown in color and fragrant. Remove from sheet; let cool completely. (or) Boil 2 cups of water and add the almond; cook for couple of mins. Strain the water and peel the skin, dry on kitchen towel. Microwave them for a minute on high or satue on the stove top over low heat for couple of minutes.
1. Pre-heat the oven to 350 degree F /180 degrees C and line a baking sheet with parchment paper.Reserve about 28-30 almonds (1/4 cup) for garnish.
2. Pulse the remaining roasted almonds in a food processor until finely ground (Note : Do not over process; it should be neither too fine nor coarse.) Set aside.
3. In electric mixer or in hand mixer, beat butter and sugar until light and fluffy.
4. Add whole egg, orange zest, and almond extract scraping down sides of bowl as necessary; beat until smooth.
5. In another bowl, whisk together flour, baking soda, and salt.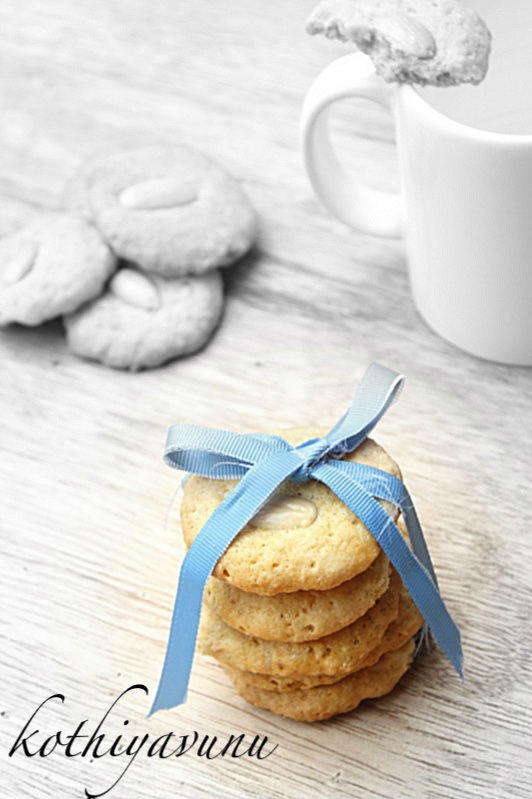 6. Gradually add dry ingredients to the butter mixture, beating just until incorporated. Takes about 2 to 3 minutes)
7. Mix in ground almonds (Note : Do not overmix). Cover and chill in refrigerator for 1-2 hrs. (Note : This step is optional, If you running out of time, then proceed without chilling.)
8. Drop one tablespoon of cookie dough onto the cookie sheet, Shape into small balls, flatten them slightly with your palms or with the floured end of a thick wooden spoon handle; placing about 1 1/2 inches apart so they have room to spread. (Note : Keeping your cookies the same size helps them to bake evenly)
9. In a small bowl, lightly beat egg white with 1 teaspoon water; brush over cookies.
10. Press an almond to the centre and brush the egg white on the cookies and bake at 350 degree F /180 degrees C for about 12-15 mins, rotating the baking sheets front to back and top to bottom halfway through the baking time until lightly browned at the bottom.
11. Cool on baking sheet for at least couple of minutes before transfering to a wire rack to cool completely.
12. Serve with cold milk or cup of coffee and Enjoy!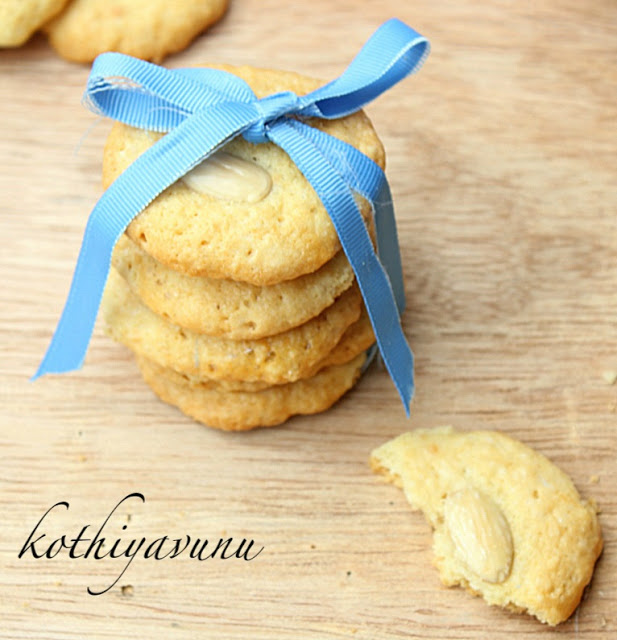 Courtesy: Martha Stewart
For more Cookies recipe click here
Happy Baking!
Sangeetha