Who doesn't love Ice Cream? And when you can have homemade, even better!
Ice cream is an anytime treat in our house because we make homemade Indian version of ice cream called Kulfi. It's a familiar for most Indians, and through this dish I was trying to recreate the sweet memories of my child hood days..My friend introduced this delightful dessert while I visited her and I have been hooked thereon..Here comes Kesar Pista Malai Kulfi/Saffron Pistachio Ice Cream to finish reminiscent of childhood..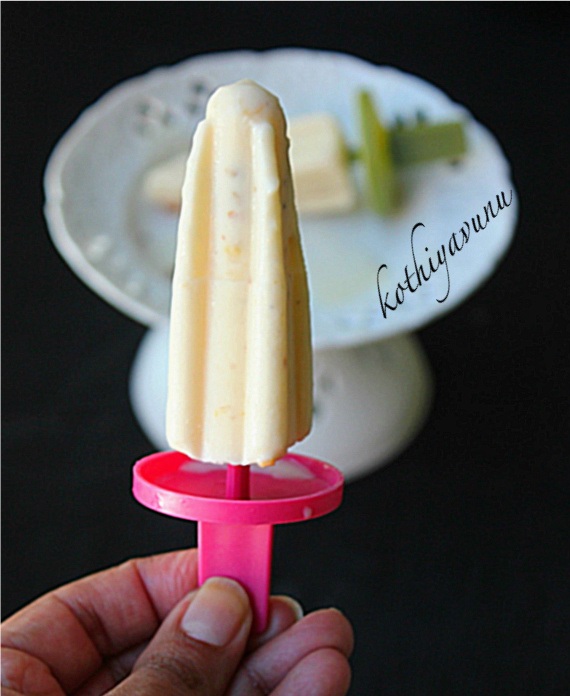 Kulfi is a traditional Indian frozen treat that is similar to ice cream but has a denser and creamier texture and a rich taste that come from the traditional way of preparing it…It also doesn't melt as fast as ice cream because it isn't whipped during the freezing process. It comes in various flavours like
pistachio
.
cardamom
/elaichi,
saffron
/kesar, cream/
malai
,
mango
, and rose water. In India, kulfi is sold by street vendors and these vendors are called "kulfiwallay" some people wrap the kulfi in a leaf and some serve it in the traditional matka, a clay pot meant to be tossed, that lends it's own unique flavour to this yummy dessert.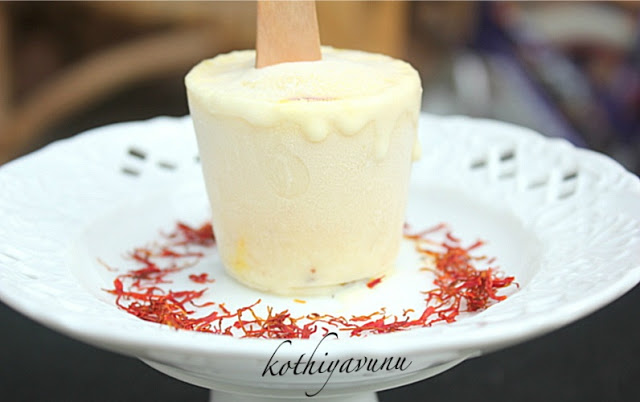 Try this yummy dessert, whenever you want to give your crew a special treat, just head for the freezer, and serve this Ice Cream and watch the smiles light up the room. No matter what time of day.:)
Recipe for Kesar Pista Malai Kulfi /Malai Kulfi
Preparation Time : 15 minutes +
6-8 hours of freezing time
Cooking Time : 45 minutes
Serves : 6-8 Kulfi (depending on the size of your popsicle molds) or 8 small dixie style plastic cups pops.)
Ingredients :
Whole Milk : 1 cup + 1/2 cup + 2 tbsp
Heavy Cream : 1 cup
Evaporated Milk : 1 cup
Bread : 1 slice
Sugar : 1/2 cup
Corn Flour /Corn starch : 2 tsp
Water : 2 tbsp
Pistachios : 15 nos (chopped)
Cardamon : 2 pods
Saffron /Kesar : A few strands dissolved in little luke warm milk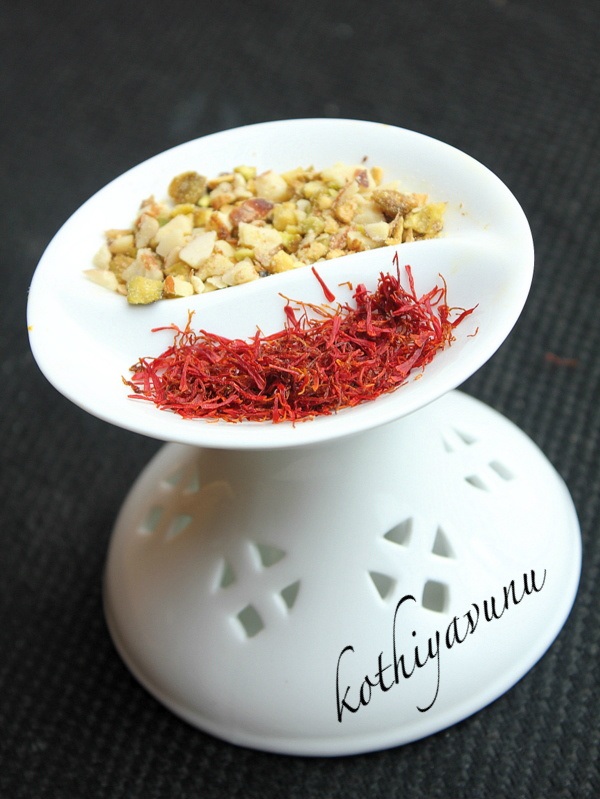 Method of Preparation :
1. Dissolve the safforn in 2 tbsp of luke warm milk and set it aside.
2. In a heavy bottomed nonstick pan, heat 1cup milk, heavy cream, evaporated milk together and bring to boil on a medium flame. Keep stirring and until it's reduced to half volume. (Notes : Stir milk as needed to keep milk from burning on the bottom of the pan. Stir the sides of the pan to avoid scalding.)
3. Remove the crust from all sides and soak in 1/2 cup of milk for 10-15 minutes. Make a fine pulp of this in a blender and set aside.
4. Dissolve corn starch in 2 tbsp water.
5. When the milk starts boiling; reduce the heat to medium and add bread mixture, corn starch mixture and stir well for 5 minutes. (Note : Bread and cornstarch are added to reduce the water crystallizing in kulfi during freezing.)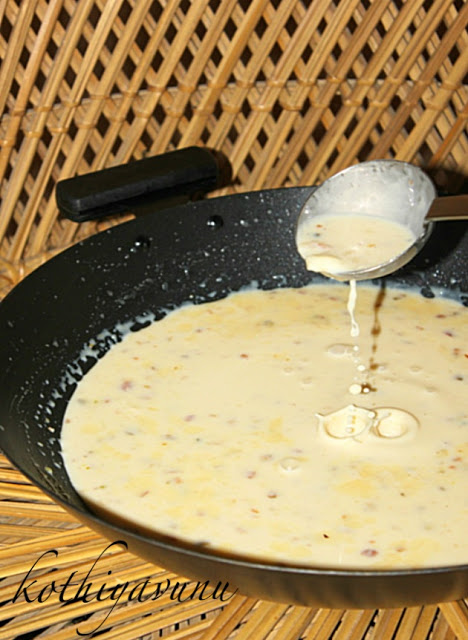 6. Add sugar and grated pistachios and cook for 2 more minutes.
7.Turn off the heat and add cardamon powder, saffron milk; stir well and allow it to cool, once cooled.
8. Pour it in kulfi mould or use your popsicle moulds, paper disposable cups, plastic cups or into blow. When inserting the popsicle stick into homemade molds, allow the kulfi to freeze until it is firm but not solid and insert it down the center and cover with aluminum foil or plastic wrap and continue to freeze for about 6-8 hours or overnight or until frozen solid.
9. When you are ready to serve unmold them gently by washing the sides of mold with running water or rub all sides with both hands. Garnish more with chopped pistachios.
10. Serve and Enjoy! I am sure you'll fall in love with this homemade ice cream with just one lick.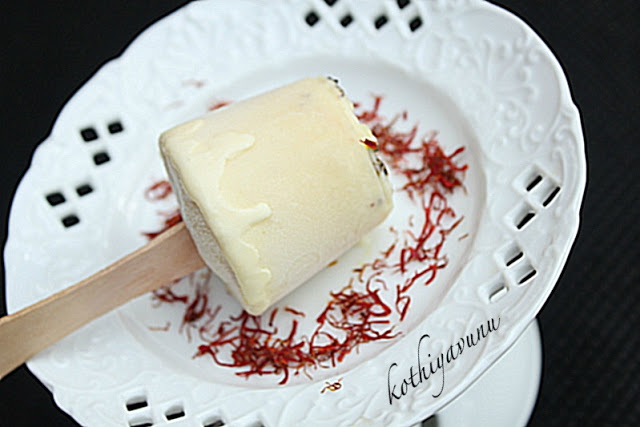 Notes :
Covering them with aluminum foil or plastic wrap will allow the sticks to be centered while the mixture is still liquid: it will hold the stick in place while it is freezing. If you are pouring into a bowl then wrap the aluminum foil or plastic wrap over milk covering it completely. Make sure that the wrap touches the milk.