Hello!! Hope you all had a wonderful & blessed Diwali 🙂
Here comes yet another chicken curry from the God's own country! Pepper Chicken Curry is one of our family favorite chicken curry that I regularly prepare, which all of us love to eat, especially my my husband's..He just love adding freshly ground pepper to any dishes. Like any other spice, freshly ground pepper is much more flavorful and aromatic than the ground powder in a tin, and once you've had freshly ground black peppercorns to your dishes, there is no turning back..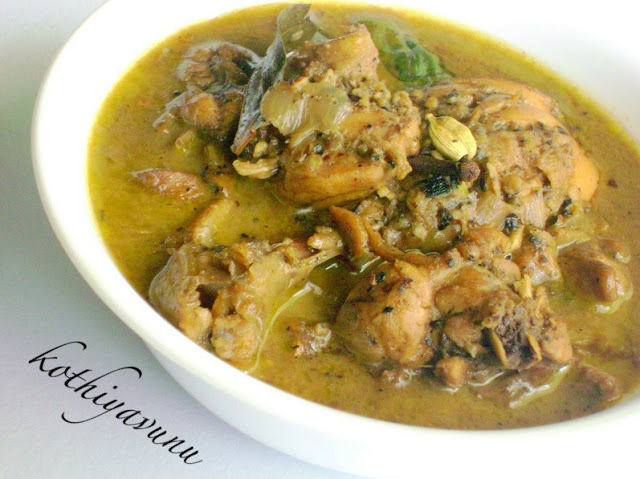 In this recipe freshly ground pepper powder and fennel seeds powder are used, which enhances the flavor of the curry tremendously. Aside from culinary deliciousness and unique flavor, these black beauty have lots of medicinal benefits that includes, antioxidant and antibacterial effects, improving circulations, reduces intestinal gas, helps in digestion, etc.
It's very simple yet tasty and very easy to cook curry that goes well with
Rice
or
Biryani
or with any
Indian breads
. So, incorporate black pepper in your diet and stay fit and healthy…Do give it a try & Enjoy!
Recipe for Keral Pepper Chicken Curry/Nadan Pepper Chicken Curry/Kurumulaku kozhi curry
Preparation Time : 20 minutes
Cooking Time : 30-45 minutes
Serves : 5-6
Ingredients:
Chicken : 2.2 lb /1 kg (washed and cut into medium sized pieces)
Onions : 2 large (chopped & crushed)
Ginger : 2 tsp (crushed)
Garlic : 2 tsp (crushed)
Green chillies : 3-4 slit length wise
Tomato : 1 large (finely chopped)
Turmeric Powder : 1/2 tsp
Coriander Powder : 1 tbsp
Freshly Ground Fennel Seeds Powder /Perum Jeerakam : 1 tsp
Freshly Crushed Black Pepper /Kurumulaku : 2 tsp or (according to your spice level)
Home made Garam masala : 1 tsp (To Make Fresh Homemade Garam Masala : Fennel Seeds /Perum Jeerakam : 1 tsp, Cinnamon Stick/karugapatta : 2 inch pieces, Cloves/Grambu : 2, Star anise / Takkolam : 2, Green Cardamom //elakka : 2 pods (or) Use Store Bought Garam Masala : 1 tsp)
Coriander leaves for garnish
Salt to taste
Oil : 2 tbsp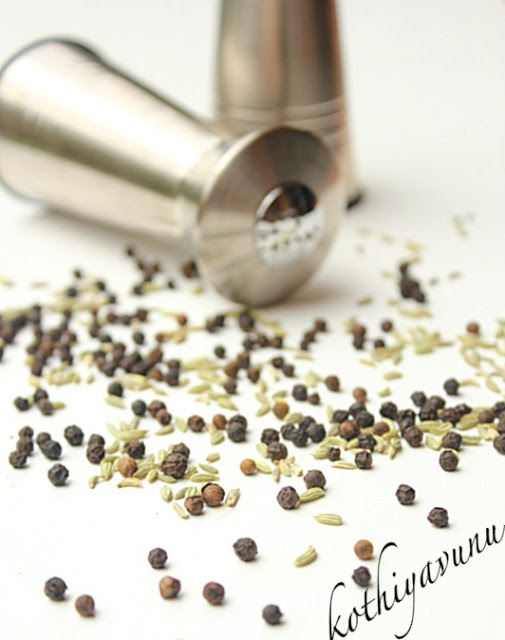 Method of Preparation :
To make Fresh Homemade Garam Masala :
1. Dry roast all the ingredients listed above for "To Make Fresh Garam Masala" and grind to fine powder and keep it aside. (Note : You can prepare this in bulk and store, but fresh masala taste too good or use store bought garam masala.)
Preparation Method of Pepper Chicken Curry :
1. In a pan, heat the oil, add the chopped onions and saute till it turns to translucent and light pink color.
2. Add the green chillies, crushed ginger, crushed garlic and saute for couple of minutes on medium heat.
3. Add the chicken pieces and cook on high heat for 4-5 mts, stirring once in a while.
4. Add the turmeric powder, coriander powder, fennel seed powder, crushed black pepper and salt, combine well.
5. Reduce heat to medium, cook covered for another 5 mins
6. Open the lid and add the chopped tomatoes and let it cook for couple of minutes and combine well; cook till oil separates.
7. Cover the pan and cook for 4-5 mins and let the chicken cook in its own water.
8. Now add half a cup of water and cook covered for another 5 mins or till you get the desired gravy consistency.
9. Finally add the home made garam masala powder, combine well and garnish with fresh coriander leaves.
10. Serve hot with white steamed Rice or Biryani or with any Indian breads. and Enjoy!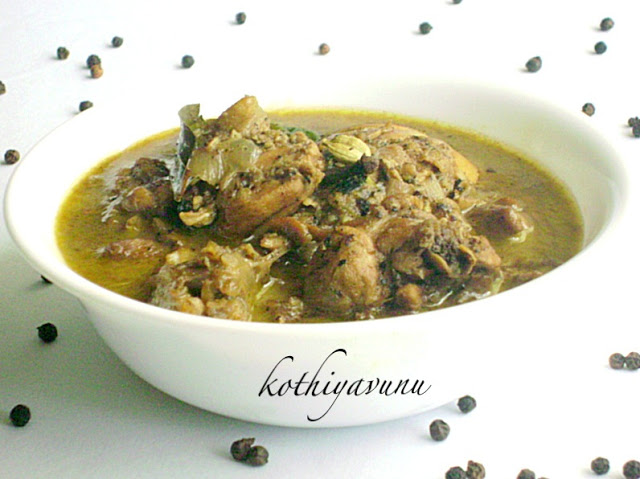 Click here for more Kerala Nadan Recipes.

Happy Cooking!
Sangeetha