Kerala cuisine offers many delicious dish that are popular amongst foodies all over the country..That include appam and stew which is specialty and favorite breakfast among most of keralites and its our family's favorite too 🙂 When my mom asks me what I want special on reaching home, this dish is always on the top of my list…
Appams are circular soft centred, lacy pancakes made of fine ground raw rice flour, coconuts and fermented with a small amount of fresh
Toddy
/Kallu, since fresh toddy is difficult to get, many use yeast nowadays. The best pair to palappam is stew. This appetizing stews are generally made with potatoes, chicken, lamb and duck along with onions simmered gently in a creamy sauce flavored with spices and coconut milk. Do try this delicious breakfast Palappam & Mutton /Lamb Stew and is sure to be a hit..Enjoy!
Palappam Recipe – Vellappam Recipe – Appam Recipe – Kerala Appam Recipe
Preparation Time : 15 minutes +Soaking and Fermenting time : 6 hrs
Cooking Time : 15 minutes
Serves : 4

Ingredients :
Raw Rice or Rice Flour : 2 cups (Can also use long grain)
Thick coconut milk : 11/2 cup or Grated Coconut : 1 cup
Salt : a pinch
Toddy : 1/4 cup or substitute with Tender Coconut water : 1 cups or use Yeast : 1 tsp (I have used yeast)
Warm Milk or Water : 2 tsp
Sugar : 1 tsp
For Cream of Rice /Thari kurukkuiyathu /Kappi Kachuka :
Pacha Aripodi /Raw Rice Flour (sieved well) or Ground rice batter : 1/2 cup or substitutewith Rava/Semolina /Farina : 1/2 cup
Water : 1 1/2 cup
How to make Palappam-Kerala appam :
For the Batter :
1. Soak the raw rice in water for at least 4-5 hrs. (Note : To make it more easier, instead of soaking and grinding the rice, you can use rice flour (sieved well) and follow the same.)
2. If you are using toddy, in a bowl mix it with sugar and keep aside to rise or if you using yeast, then mix sugar with warm milk or water and add yeast; keep aside for 10-15 minutes or until a froth appears on the surface.
3. Mix well until sugar and yeast granules are dissolved and well risen. (Note : Always use fresh yeast ) or
If you wish to add tender coconut water, add only a pinch of yeast and 1/4 cup sugar to rise.
4. Grind the rice by adding required amount of water to fine paste and reserve 1/2 cup of this batter, now add coconut milk or grated coconut.
5.Transfer the grounded coconut rice paste to big bowl and add yeast mixture, salt; combine well and make a smooth soft batter and keep it aside. (Note : If necessary use more coconut milk or water a little at a time. The consistency of the batter should be like idli batter)
For Thari kurukkuiyathu (cream of rice) /Kappi Kachuiyathu :
6. Heat a pan and add rice flour or reserved batter mixed with water and bring it to a boil, lower the flame and stir continuously for a few minutes until you get a thick paste, remove from the fire and allow to cool. (Note : This is done to make softer palappams)
7. Mix the cream of rice /thari kurukkuiyaithu well with the grounded rice yeast batter.
8. Leave the mixture for fermentation for 6- 8 hours or over night. Quantity will be double after fermentation.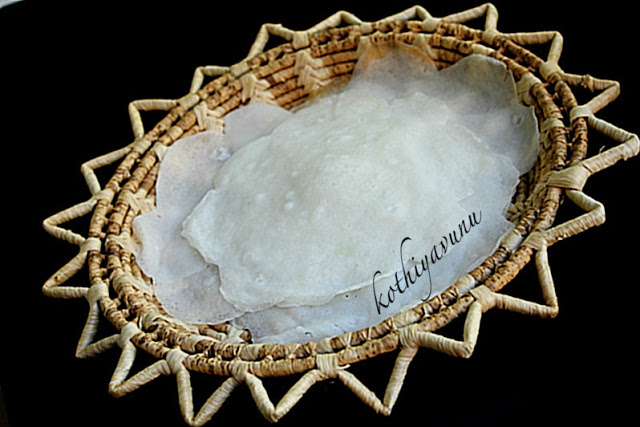 How to make Kerala Palappam /Kerala Appam :
4. Before making appam, check for sugar & salt and if batter if thick then dilute it by adding milk or coconut milk.
3. Heat non stick appachatty on a medium flame. If it is not nonstick then smear the appachatty with little oil.
4. When making appams, keep stirring the batter as frequently as you can and pouring small quantities into a small sized bowl makes the stirring process more handy. (Note : Stirring the whole fermented batter which comes bubbling up may cause the appams to lose their softness.)
5. Pour one ladleful of appam batter to the appachatty.
6. Lift the pan from the stove and slightly twist around to spread the batter in the pan to make circular shape.You need to swirl it only once for a thin lace on the edges.
7. Close it with a lid and cook on low heat till the edges are golden brown. When the appam is ready the edges resemble crisp lace and centre soft. It will take around 2-3 mins at low flame
8. Serve it with
Stew
,
Fish Moli
/
Egg Curry
,
Chicken Curry
,
Kadala Curry
, or with any curry as u wish or serve with coconut milk with sugar.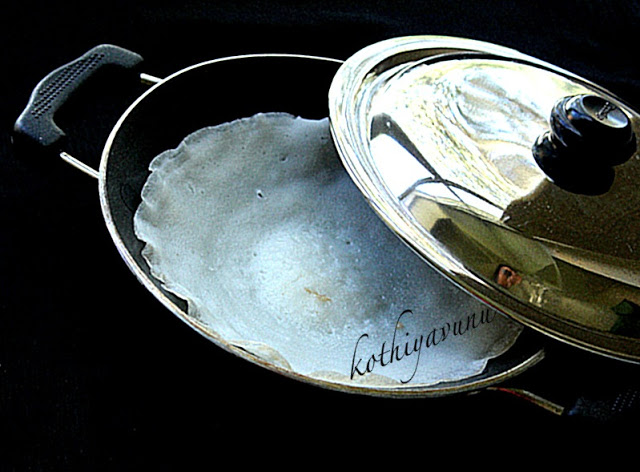 Notes :
Palappams can be made without coconuts too..Two cups of raw rice are ground well with half cup of cooked raw rice to which the fermented yeast is added and the batter is kept aside the night before.
Kerala Mutton Stew Recipe – Mutton- Lamb Stew Recipe
Preparation Time : 15 minutes
Cooking Time : 30 minutes
Serves : 4
Goat/Lamb meat with bones : 2.20 lb /1 kg (cut into medium sized pieces)
Lemon juice : 1tbsp
Shallots /Red Small Onion /Cheriya ulli /Kunjulli : 1/2 cup (thinly sliced)
Ginger : 2 tbsp (thinly julienned)
Garlic : 2 tbsp (thinly sliced)
Green Chillies : 2-3 (slit lengthwise, remove seeds if you don't like spicy)
Thick Coconut Milk (First extract) : 1 cup or The milk of one grated coconut (first milk to be extracted by squeezing the milk with your hands, or mixing in a blender for a minute, after adding a 1/4 cup of warm water, The second and third milk are to be extracted by adding 1 cup of warm water in a similar manner and kept aside.)
Thin Coconut Milk (Second & Third extract) : 1 cup
Whole Black Peppercorns : 1 tsp
Cardamom /Elakka : 6
Cloves /Grambu : 6
Cinnamon /Karugapatta : 1″ piece
Bay Leaves : 4
Star Anise : 2
Curry leaves : 1 sprig
Vinegar : 1 tbsp
Cashew paste – 1 tbsp (optional)
Black Pepper Powder : 1/4 tsp or to taste (Optional)
Coconut Oil : 1 tbsp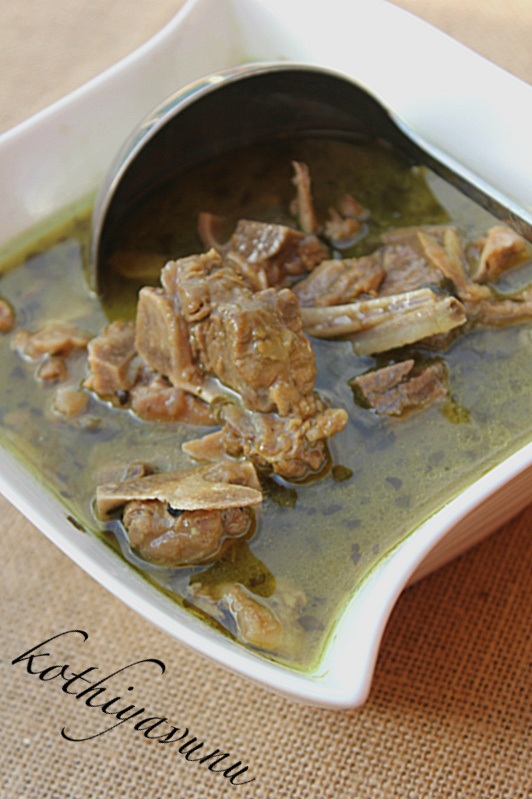 How to make Mutton Stew – Kerala Style :
1. Soak the meat with lemon juice for couple of minutes; clean and wash well for 2-3 time and drain it in a strainer and keep it aside. This helps to sanitize the meat.
2. In a large pressure cooker or in a pan, heat oil and add the cardamom, cloves, whole pepper corn, cinnamon, star anise and bay leaves and sauté for a minute.
3. Add the sliced shallots, ginger, garlic and green chilies and saute till it turns to soft and pink in color.
4. Add the meat and curry leaves and saute the mutton until all the water has evaporated and the mutton begins to fry.
5. Add salt and the second and the third extract – thin coconut milk and cook the mutton until done. (
Note :
If you are cooking in pressure cooker, cook on high till the first whistle, when it has reached the full pressure and simmer on low flame and cook for about 10-12 minutes or one and a half hours on a slow fire.)
6. Now add the first extract -thick coconut milk. As soon as the mixture boils take it off the fire and add the vinegar and the pepper powder.
7. Delicious mutton Stew is ready to serve..Serve with
Appam
,
Bread
or
Rice
and Enjoy!
Notes :
Mutton may be substituted with chicken and vegetarian can replace the mutton with vegetables. carrots, potatoes, whole small onions, peas, mushrooms or just plain potato and onion.
Note that if the stew is too thin you can thicken it by soaking 6-8 cashews in hot water and ground into smooth paste and add with thick coconut milk and add it to the gravy or with cornflour or maida mixed in a little water.
This stew tastes better a day after it is made, letting it rest in the fridge overnight helps the flavors to blend well.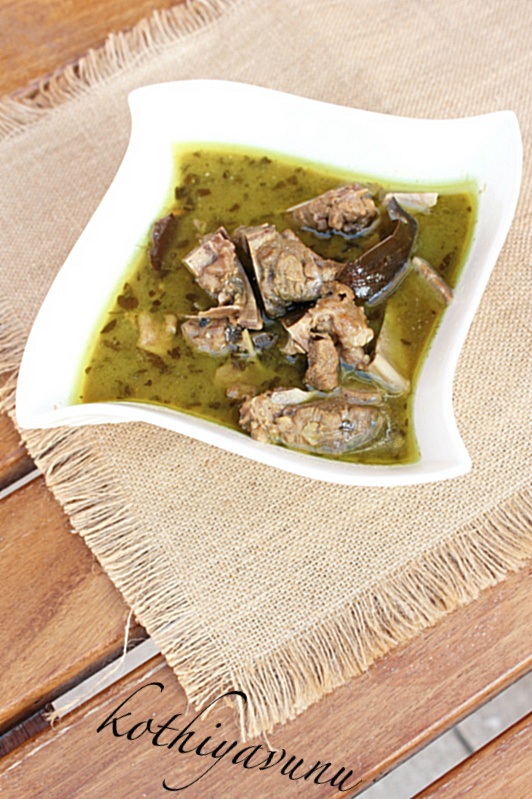 Click here for more
Nadan Recipes.
Until next time, Bon Appetit,
Sangeetha