I haven't posted a sweet dish here in a while; so here goes one, a childhood favorite sweet of mine 🙂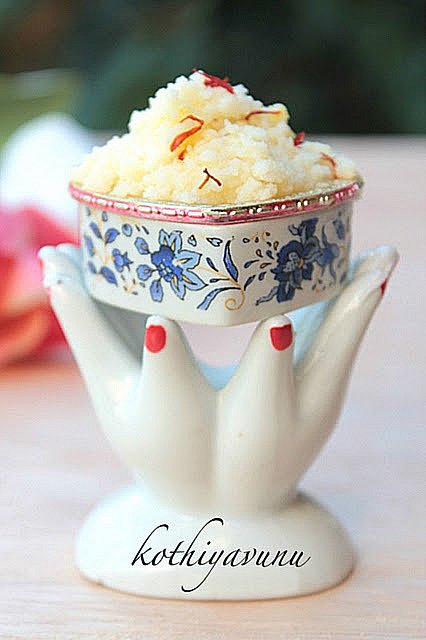 A week before, we were just sitting back and enjoying a family movie time, when suddenly my kids & hubby expressed their desire to enjoy something sweet…I always have a special corner for most delicious palkova (milk sweet) and I have been thinking to make this for a while, then I thought, why not I try this one! It would be a nice sunday sweet, though it is little time consuming to make, but its worth all the effort. Making palkova has always made be nostalgic!
Palkova /Palgova, a sweet made up of milk and sugar and it's popular all over the state of Tamil Nadu India. It is usually sold wrapped in tiny packets. The uniqueness of this sweet is the taste. Even though it is irresistible, you cannot eat a lot since it is sugary and filling. If you love homemade sweets like me then good news this sweet is perfect and simple to make from scratch. Try it!
Now, lets move into the recipe!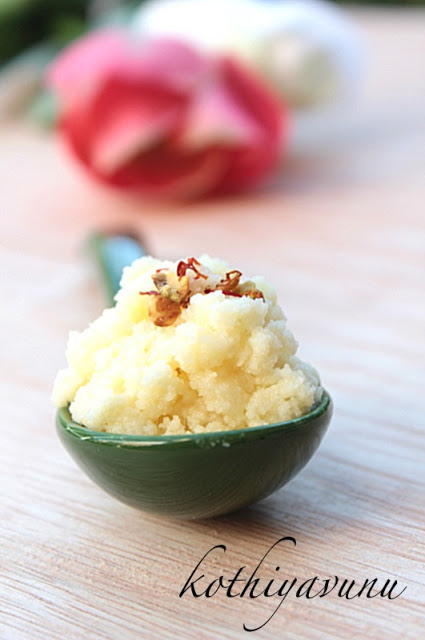 Palkova – Palgova Recipe | Thirattupal Recipe – Thickened Sweetened Milk Sweet
Cook Time : 2 to 3 hours
Serves : 4 Makes about 2 cup

Ingredients :
Whole Milk : 1 Gallon /3.78 liters
Sugar : 2 cup or adjust to your taste
Lemon Juice : 1 tsp
Cardamom Powder : 1/2 tsp
Ghee
: 4 tbsp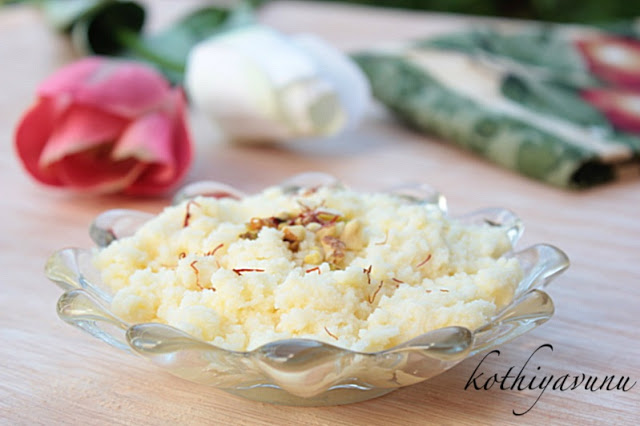 How to make Palkova-Palgove- Thurattupal :
1. Heat the milk in a wide thick bottomed pan and bring it to a boil.
2. Once it starts boiling, reduce the heat to low-medium. Stir it once every 5 minutes to make sure that the milk does not stick to the bottom. About an hour and half or so, slowly milk starts to reduce in volume and you may also notice the slight colour change in the milk.
3. Let it boil for another 45 minutes; when the colour of the milk changes to slightly yellowish in color.
4. Add lemon juice and sugar at this point and keep stirring for another15-20 minutes. Keep stirring continuously till the milk get thickened (semi solid consistency) (Note : Its must to stir continuously, otherwise it will stick to the bottom.)
5. Remove it from the pan, add
ghee
, stir it well.
6. Optional – Garnish with nuts of choice. Serve and Enjoy!
Notes :
If you get raw milk that would be perfect, pasteurized and ultra-pasteurized takes longer to thicken.
When boiling milk you can add steel spoon or small steel bowl to the pan to avoid sticking. It seems to help though that does not completely eliminate the need to stir.
It keeps well in the refrigerator covered in wax paper.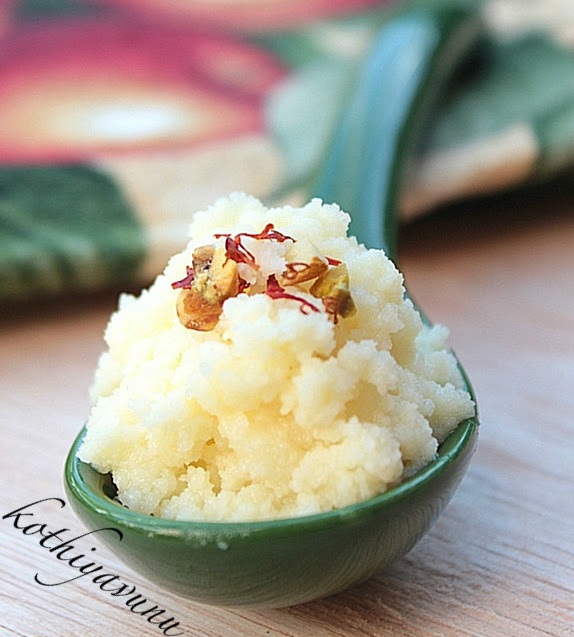 Click here for more Sweets
Until next time, Bon Appetit,
Sangeetha