Tired of usual breakfast? Thinking of trying out something easy today?
Here's just what you are on the look out for – Kappayum Mulaku Chammanthium /Boiled Tapioca /Yuca /Cassava with Hot Green Chilly Dip. More taste and less work! This is a timeless and popular cuisine of Kerala that sets the mouth watering and the taste-buds tingling.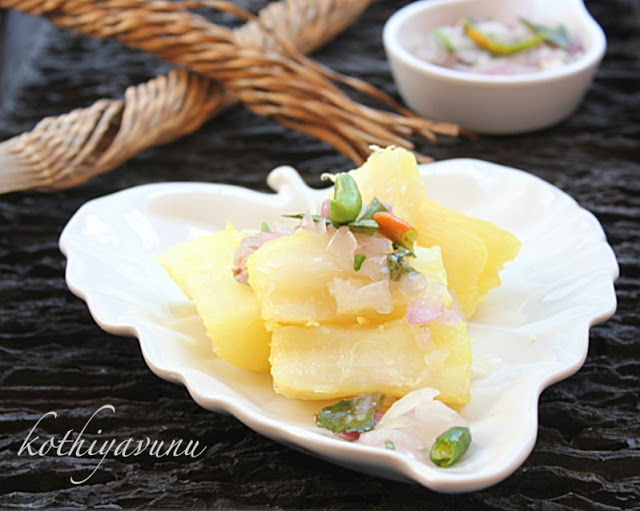 Varieties of delectable dishes can be prepared from fresh Tapioca/ Kappa among which the most popular one is Kappayum Meenum /Boiled Tapioca/Yuca with Kerala Fish Curry, or served with Kanthari Mulaku (Bird's eye chilies) Chammanthi or Ulli Chammanthi.. This can be eaten in breakfast, evening snacks or dinner…Ready to eat in less than 20 minutes! If you haven't tried this combo yet, give it a try..you and your family is sure to love it! Enjoy!
Kappa Puzhungiyathu Recipe – Chendamuriyan Kappa Recipe – Boiled Tapioca/Yucca/Cassava Recipe
Preparation Time : 10 minutes
Cooking Time : 15 minutes
Serves : 4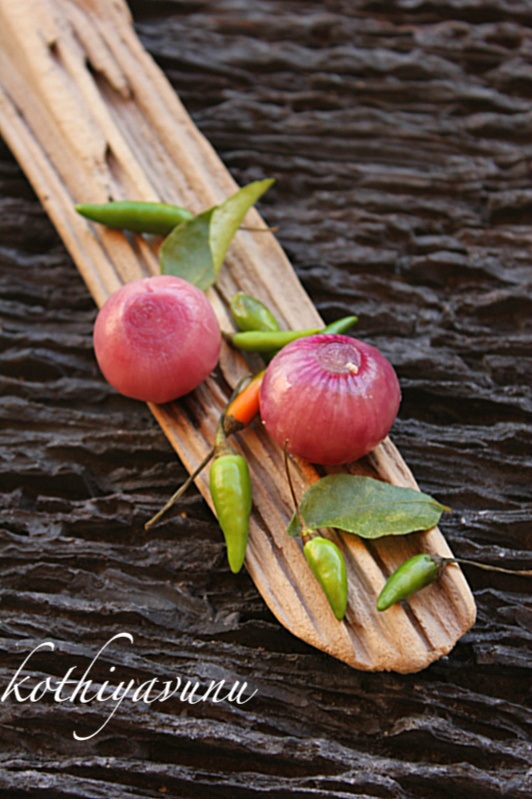 Ingredients :
Tapioca /Yuca /Cassava /Kappa : 2 large
Salt to taste
Turmeric Powder : Depending upon the quantity of the Kappa/Tapioca (optional)
Water – As required to cook
How to make Kappa Puzhungiyathu /
Boiled Tapioca -Yuca – Cassava
:
1. Clean the impurities of tapioca/kappa and peel the skin and dice into 4-5 round long pieces.
2. Pour enough water to the cleaned tapioca so that all the pieces will be immersed completely,cook uncovered and allow to boil.
3. When the water boils, remove and drain the water and again add the same amount of water, salt and pinch of turmeric powder and cook for for 10-15 minutes or till it turns to very soft and tender
4. Remove from the fire. Drain the excess water and keep it aside.
5. Serve with Mulaku Chammanthi (recipe below) or with Spicy Fish Curry or with any curry of your choice & Enjoy!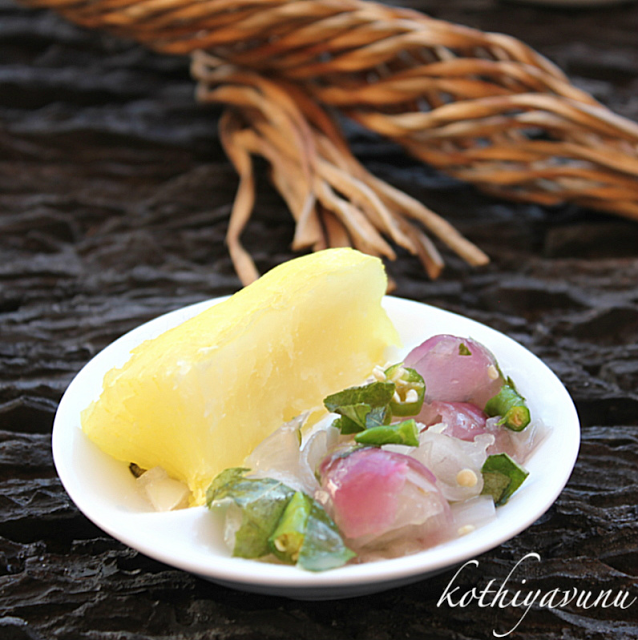 Kanthari Mulaku Chammanthi Recipe -Pacha Mulaku Chammanthi Recipe – Ulli, Pachamulaku Chathachathu Recipe – Green Chilly Dip Recipe
Preparation Time : 3-5 minutes
Cooking Time : No Cooking Involved
Serves : 6
Ingredients :
Bird's eye chilies or Green chiles /Kanthri Mulaku or Pacha Mulaku : 15
Shallots / Pearl Onion /Kunjulli : 10
Curry leaves : few
Coconut oil : 3 tbsp
How to make Kanthari Mulaku Chammanthi Recipe -Pacha Mulaku Chammanthi-Green Chilli Dip
1. Crush the green chilies, pearl onion and curry leaves in a motor and pestle or pulse them couple of times in a food processor or in a mixer.
2. Transfer to a bowl and add salt and coconut oil and combine well .
3. Serve with boiled tapioca.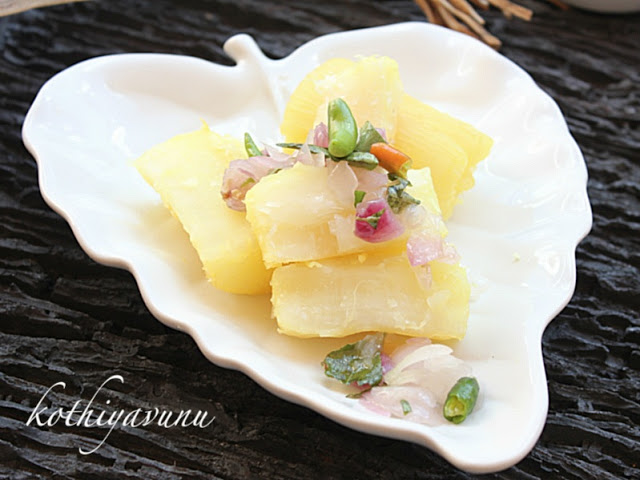 Related Post: