If you're in the mood for preparing a sweet curry then here is the one to suit everyone's taste. Fruits intake is must and necessary in daily routine for its medical values. Best way is to have it directly but occasionally I prefer serving them in curry. Mudhura Pachadi!! Madhuram stands for 'sweet' in Malayalam. Bite-size pieces of fruits are boiled and then combined with yogurt and chilly-coconut paste.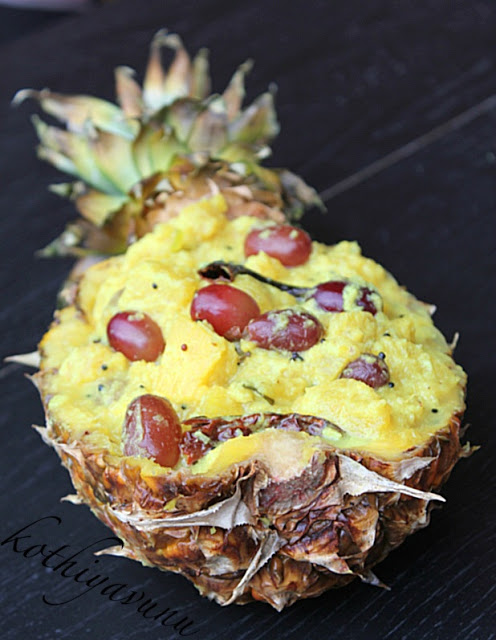 You'll love the unique taste of this dish, as well as its healthy combination of fruits.The recipe is also quite flexible, allowing you to add your own choice of fruits depending on what you have on hand. This is one of the signature dishes of Kerala, South India, often served on Sadya- Kerala Feast. It's a true crowd pleaser, and is sure to be a hit at your table. Enjoy!
Madhura Curry – Madhura Pachadi Recipe – Kaidachakka Eathapazham Munthiri Madhura Pachadi |Sweet Fruit Curry
Ingredients :
Pineapple /Kaidachakka : 1 cup (cubed in small bite size)
Banana /Eathapazham : 1 cup (cubed in small bite size)
Black grapes /Munthiri : 8-10
Turmeric Powder : 1 tsp
Red Chilly Powder : a pinch
Yogurt : 2 tbsp
Sugar : 1 tsp
For Grinding
Grated Coconut : 1/2 cup
Green Chillies : 2
Mustard Seeds : a pinch
For Tempering
Coconut Oil : 3 tsp
Mustard seeds : 1 tsp
Whole Red chillies : 4-5
Curry leaves : a few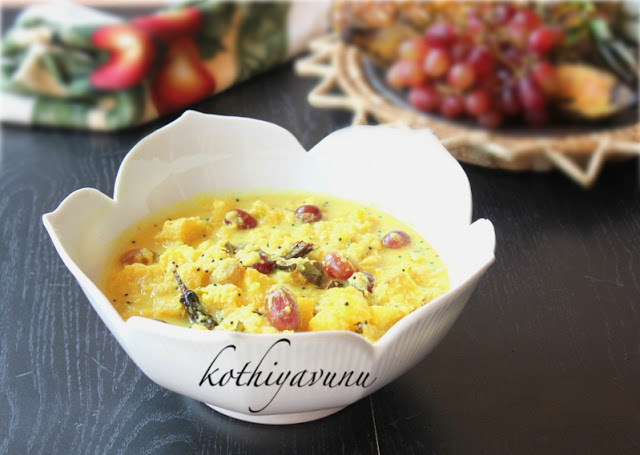 How to make Madhura Curry – Madhura Pachadi :
1. In a nonstick pan, cook the chopped pineapple first by adding turmeric powder, red chilli powder, and salt with 3 tsp of water ,when it half cooked add the chopped bananas, and grapes.
2. Close and cook together, until it becomes tender and soft and all water is absorbed.
3. Meanwhile, grind the above listed ingredients 'For Grinding' and make a thick paste.
4. Add this grounded coconut paste to the cooked fruits and cook on low medium flame till it starts to boils. when it starts to boil, add sugar and mix well.
5. Add yogurt; adjust the salt and sugar and mix together.
6. Take a small pan, heat the coconut oil; when it gets hot add mustard seeds, when it splutters, add dry red chilly and curry leaves sauté well ,turn off the flame and add this seasoning to curry.
7. Close and let it rest it for couple of hours before serving, so that the gravy absorbs all the flavors of fruits.