Another simple and quick-to-make vegetable side dish!
In our house okra is one of our favorite vegetable..this is one that I have made the most number of times in my kitchen, very simple and easy to prepare, mildly flavored and so pleasing to the palate that it leaves a persisting desire to reserve yourself as soon as you finish it!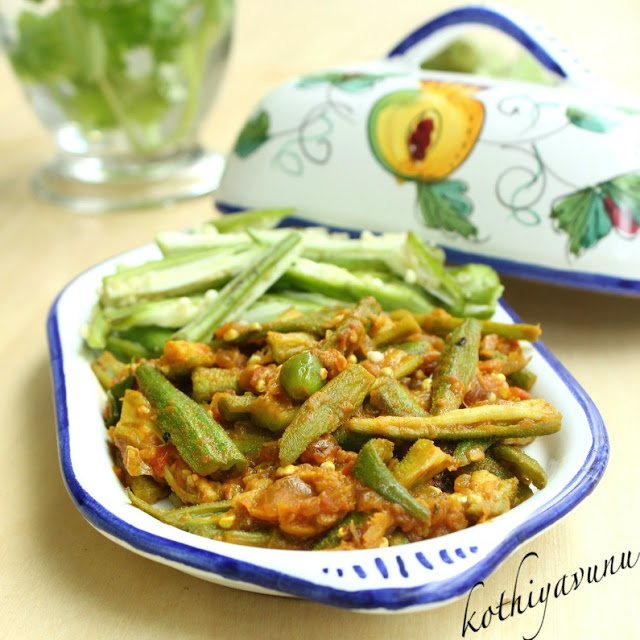 In addition, Okra /Bhindi/Vendakka is very healthy, low in calories, contains no cholesterol or saturated fat and loaded with numerous vitamins..Serve with any Indian Bread or as a side dish to rice and Enjoy!
Recipe for Okra Masala /Bhindi Masala /Vendakka Masala – Microwave Version
Preparation Time : 15 minute

Cooking Time : 15 minutes

Serves : 4
Ingredients:
Okra /Ladies finger/Bhindi /Vendakka : 1/4kg /250 grms
Red Small Onions /Shallots : 4-6 nos
Tomato : 1,medium /1/2 cup (chopped)
Ginger : 1,small piece (crushed)
Garlic : 3 cloves (crushed)-
Green chillies : 2 (slit lengthwise)
Turmeric powder : 1/4 tsp
Red Chilli powder : 1/2 tsp
Coriander powder : 1 tsp
Dried fenugreek leaves /kasuri methi : 1 tsp
Curry leaves : few
Olive Oil or Cooking Oil : 2 tbsp
Salt to taste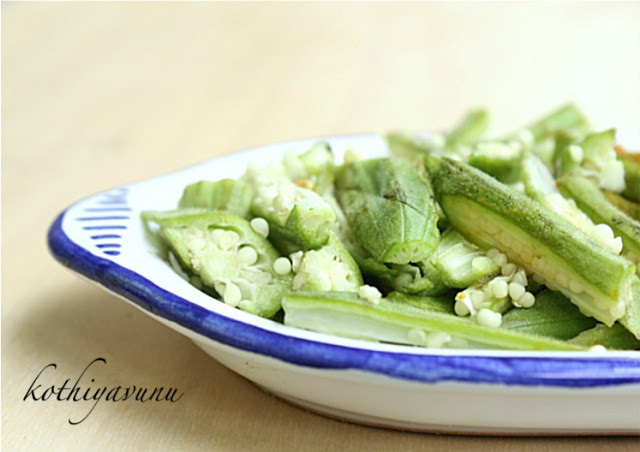 How to make Okra /Bhindi Masala /Vendakka Masala :
1. Cut Okra/Ladies finger/Bhindi/Vendakka diagonally.
2. In a microwave-safe dish, add olive oil and microwave on high for a minute.
3. Add crushed ginger, crushed garlic, chopped shallots, green chillies, curry leaves and microwave on high for 6 minutes, uncovered and give a stir in between.
4. Add the all masala/ spice powders; mix everything well and microwave it for 2 mins in high.
5. Add the chopped okra/ladies finger, mix well; cover and microwave on high for 5 minutes.
6. Add the chopped tomatoes, kasoori meethi, and salt; microwave for another 2 minutes, so that the gravy is coated on the Okra/Bhindi.
7. Serve hot with any
Indian Bread
and Enjoy!!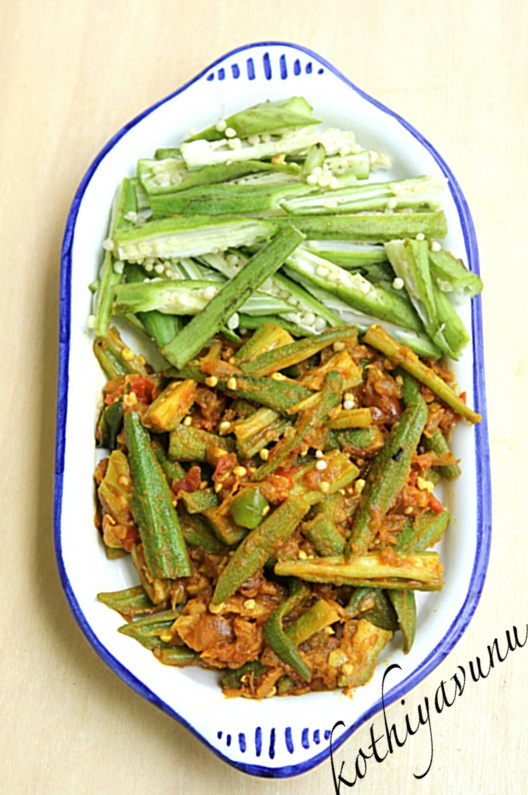 Notes :
Cooking time may vary depending on microwave, so adjust the timing accordingly.
When making okra, first wash and dry it completely else the okra becomes sticky and stringy.


Related Posts :

Cheers!
Sangeetha