Never tried Red Cabbage? Now is your chance!
Recently, my friend re-inspired me to include more red cabbage into my diet. Red cabbage
is a vegetable packed with goodness. Though its taste and smell/odor may not appeal to everyone, it is a wonder vegetable that have lots of health benefit.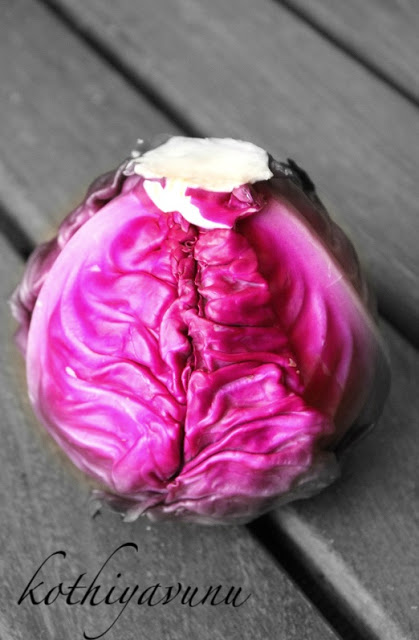 Red cabbage
is a low calorie nutrition powerhouse with many antioxidants that detoxify the body and which has potent anticancer properties.To know more about the health facts read
here
. During my childhood days I hate eating cabbage and avoided it simply without knowing its health benefits. When I grew up my food habits changed and as all of us, focused on healthy foods. So why do you want to wait friends, head out to the market, pick up some fresh cabbage – purple, green or savoy and cook up this easy stir fry or eat them raw with your favorite dressing for a truly healthy and taste-sensational treat!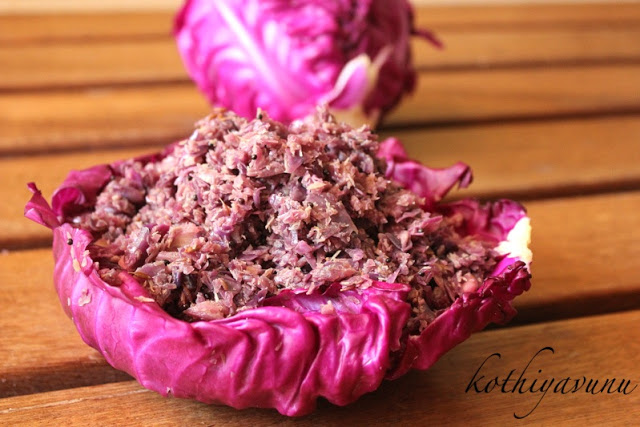 Red Cabbage Stir fry/Thoran Recipe
Preparation time : 15 minutes
Cooking time : 15 minutes
Servers : 3-4
Ingredients :
Red Cabbage : 1/2 of one medium sized cabbage (shredded or finely chopped)
Small Red Onions /Shallots or Onion : 1/4 cup (finely, chopped)
Grated Coconut : 1/2 cup
Garlic : 2-3 pods (finely chopped)
Cumin Seeds : 1/4 tsp
Green Chillies : 3-4 (slit lengthwise)
Turmeric Powder : a pinch
Mustard Seeds : 1/2 tsp
Curry Leaves : a sprig
Salt to taste
Oil : 2 tbsp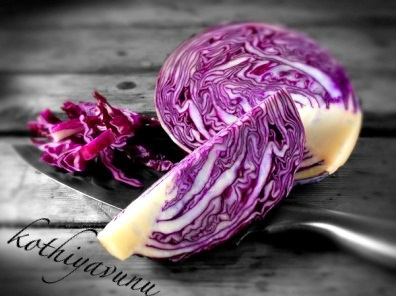 How to make Red Cabbage Thoran Recipe-Red Cabbage Stir Fry :
1. Using your hands mix grated coconut with turmeric powder, shallots, cumin seeds,garlic or you can just pulse 1 time everything together coarsely in blender.
2. Heat oil in a pan and splutter mustard seeds and when it starts to splutter, add curry leaves and saute for a minute.
3. Add the shredded cabbage; saute and close and cook for a minute.
4. Add the coconut mixture and mix everything together.
5. Cover the pan and cook on low heat,stirring occasionally; after 5 minutes remove the lid and stir fry for another 5 minutes. Serve as side dish with rice or for roti's and Enjoy!
Notes:
Cabbage should never be overcooked, it tastes good when it is slightly crunchy.
Do not add water while cooking cabbage; it will turn soggy.
Related Post