Yes the Joys of Christmas is here..I know everyone is busy with holiday shopping, wrapping presents, parties, good food, family, friends and anxiously waiting for Santa to come down the chimney…
Wait wait…take a time out because, I have one more special holiday treat to share blossom "Cherry Cranberry Eggnog Tea Bread".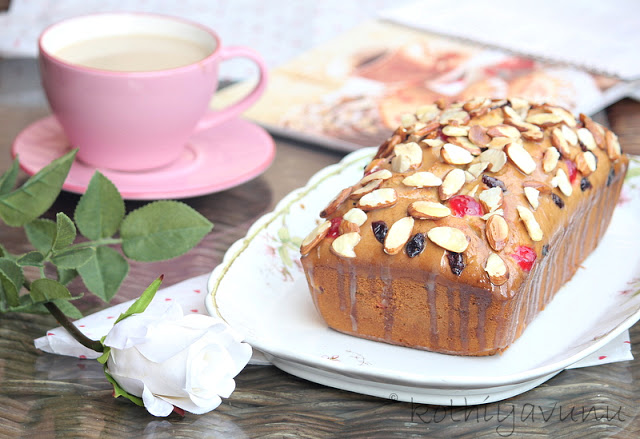 My baking list is very long this year, Finally, I am done with the holiday baking and packing off to friends.We love seeing so many of our friends celebrating the joyous season.Now, it's my time to enjoy the festive season and I am set for holidays 🙂
We decided to travel this year. so I thought of posting my Christmas wishes and treat from my kitchen to you all in advance..
If you like cherry, cranberry and eggnog together, you are in for a real treat. This recipe is going to blow your mind and your taste buds!I adapted this recipe from a cookbook called The Pampered Chef's "Celebrate"! my friend presented to me.Of course, being me, upon receiving the book I flip right to it and start reading all the recipes but then its very hard to settle with a recipe, because each and every recipe sounds yum, finally I got stucked with this festive, cherry-studded wonderful quick bread.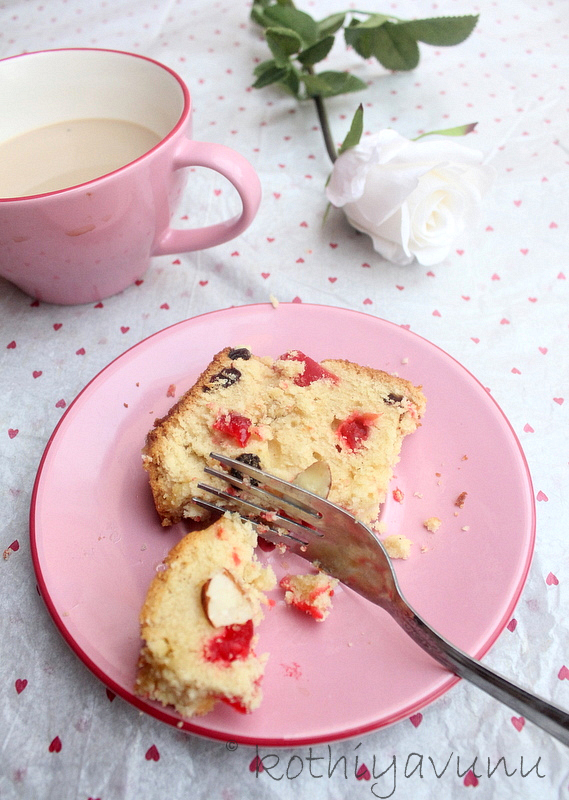 The basic recipe just calls for glazed cherry and ground nutmeg, but I belive that sky is the limit for variations, so I played around added cranberry, raisins and cardamom.You can use your imagination and put your own spin on it.They are fun, festive, and oh so delicious! The ultimate treat whether served for a brunch, an afternoon tea or as a simple dessert. My girls loved it so much, I may switch up the flavors and make it for their birthday this year. But, no matter what time of year you decide to make it, everyone will fall in love with this incredible treat!
Merry Christmas everyone! We hope you all have a safe and joyous holiday!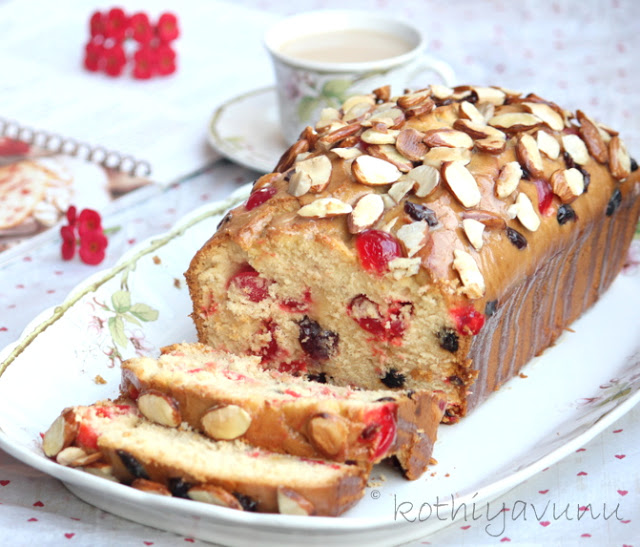 Cherry, Cranberry Eggnog Tea Bread Recipe with Eggnog Glaze Recipe
Preparation Time : 25 mins
Baking Time : 1 hour 20 minutes
Serves : 12 (one large loaf)
Ingredients :
Marashino Cherries : 3/4 cup (chopped and well drained)
Dried Cranberry : 1/4 cup
Raisins : 1/4 cup
All-Purpose Flour : 2 1/4 cup
Baking Powder : 1 1/2 tsp
Ground Nutmeg : 1/2 tsp
Cardamom Powder : 1/2 tsp
Salt : 3/4 tsp
Granulated Sugar : 1/2 cup
Brown Sugar : 1/2 cup
Unsalted Butter : 3/4 cup (softened)
Eggs : 3
Eggnog : 1 cup
For Glaze :
Powdered Sugar : 1/2 cup
Eggnog : 3-4 tsp
Toasted Sliced Almonds : 1/4 cup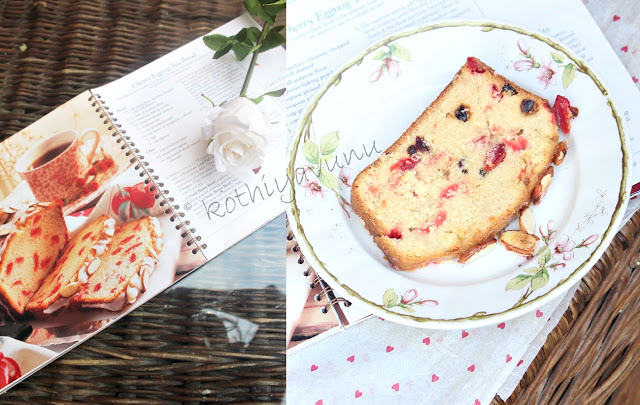 How to make Cherry Cranberry Eggnog Tea Bread with Eggnog Glaze :
To Make
Cherry Cranberry Eggnog Tea Bread :
1. Preheat oven to 325° C /165 ° F. Spray a 9-by-5-inch loaf pan with nonstick cooking spray. Set aside.
2. Chop the cherries and place it on a paper towel ; Pat dry.
3. In a small bowl, combine flour, baking powder, ground nutmeg powder, cardamom powder and salt, mix well and set it aside.
4. In a large bowl, using electric mixer or hand mixer; beat the granulated sugar, brown sugar and butter on high until mixture is light and fluffy.
5. On the medium speed, add eggs, one at a time, beating until blended.
6. Add one third of the flour mixture, beating on low speed just until combined.
7. Beat in half of the eggnog.
8. Add the another one third of the flour mixture, the remaining eggnog, and then the remaining flour mixture, beating after each addition just until combined.
9. Gently stir cherries into batter; pour batter into prepared loaf pan.
10. Bake 1 hour 20 minutes or until the cake tester inserted in center comes out clean and top is golden brown.
11. Cool in pan for 5 minutes. Loosen sides of the loaf; remove from the pan to cooling rack; cool completely.

To Make Eggnog Glaze :
1. Mix the powdered sugar and eggnog until smooth; drizzle half of the mixture over cooled loaf.
2. Sprinkle evenly with almond slices; drizzle remaining glaze over almonds.
Cut into slices using serrated knife and Enjoy!
Notes :
To make well in advance : Prepare bread as directed in steps 1 to 11. Wrap securely; freeze up to 1 month. When ready to serve, thaw bread at room temperature; unwrap. Prepare glaze and drizzle over bread as recipe directs.
To Toast the almonds, place in small pan and heat over medium heat until light golden brown, stirring constantly. Remove from the pan and cool completely.
Almond Cookies

Again, Wish you all a very Merry Christmas !
Sangeetha